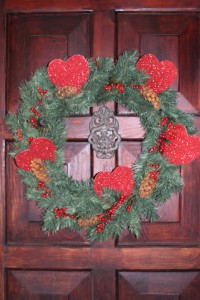 Valentine's Day … a time to celebrate love!!  As many of you know, I love to decorate the house for each holiday celebration, it brings me a lot of pleasure and I know my family appreciates my efforts.  This year I am adding a couple of new Craft projects, Rosebud Hearts and a Heart-shaped Door Wreath.  For Valentine's Day I don't have very many decorations like the other holidays so I will keep it simple and easy!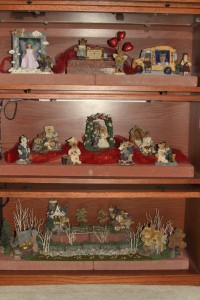 To greet visitors at our front door or guests attending the Queen of Hearts tea luncheon, I am hanging a new Heart-shaped Door Wreath.  In the library, there is the glass-front lawyer bookcase filled with my Boyd's Bear Collection, and I will add my special Valentine's Day figurines.  I will repurpose the red sparkle netting that I used on the chair backs for the tea luncheon and arrange it among the Boyd's Bear figurines on the top two shelves.  On the bottom shelf that holds the Boyd's Bear Village, which is still decorated for winter, I will sprinkle tiny red hearts.  In the dining room, the table is still set with a red tablecloth and the deep pink rose floral arrangement from the family room.  I've added red feather sprays and three red sparkle hearts on sticks for the tea luncheon.  In the kitchen, I will hang several red and silver glass ornaments from the light fixture and maybe I will add some red ribbons to make it more festive.  Lastly, I will hang the Rosebud Heart from my daughter's bedroom door with a special note attached so she finds it in the morning when she wakes up for school.
Please look for the February Celebration post for Last Minute Valentine's Day Ideas, most of these ideas are projects to do with your child and one is something cute to do for the kids!