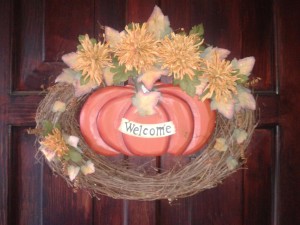 FALL … the weather turns a little cooler; there is a fire in the fireplace, and steaming hot chocolate in mugs to drink!  It is now the time to change out the spring/summer decorations and replace them with fall decorations.
Due to the unpredictable Midwest weather, I usually keep the exterior decorations of the house simple.  This year I decided to embellish a simple wooden pumpkin sign I used as a front door decoration from a previous year.  Because of the shape of the sign, I choose an oval wreath to match and added some gold chrysanthemums and fall leaves that I already had.
Since the fall season has two holidays, I have two different signs for our front porch.  For Halloween I have a "Trick or Treat" wooden black cat and for Thanksgiving I have a resin Scarecrow on a wooden stick tied with a raffia bow.  To complete the porch, I set out four pumpkins.
This year, I am excited to add one of my recent Craft projects.  The Corncob Luminaries were very easy to make and a great way to use recycled water bottles. On Thanksgiving Day, these luminaries will be placed on the walkway leading to our front door and will set a festive mood to greet our Thanksgiving dinner guests.
Now, it is time to decorate the interior of our house.
In our entry, I have a low bench and I place a wooden "scarecrow" crow (funny!) with a sign that reads, "Welcome, Happy Harvest".  On a pedestal next to the bench, I have a white rose floral arrangement and with the addition of some peasant feathers it changes to a fall festive look!  (Another idea is to add fall leaves or peacock feathers to an existing arrangement – these simple ideas can really stretch a holiday decorating budget – maybe you can buy a fabulous fall sweater with the money saved!)
In the family room, I arrange several pine sprays on the mantel over the fireplace and add several ceramic fall leaves and red berry sprays.  The pine sprays usually stay on the mantel and I will remove the Fall decorations and replace them with the Christmas decorations later – this saves time and expenses.  I also place two charming scarecrows on the fireplace mantel to complete this area.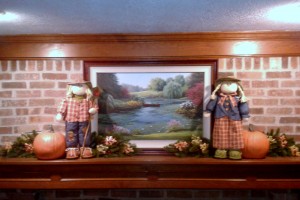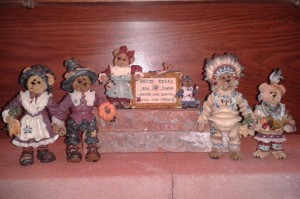 In the library, I have a small glass front lawyer's bookcase which displays my Boyd's Bear Collection.  On the top shelf, I add my seasonal figurines which for Thanksgiving are a set of Pilgrim and Indians Boyd's Bears.  On the middle shelf, I add fall leaves to my existing Bear figurine collection.  The bottom shelf holds my Boyd's Bear Village.  I usually decorate this for every season and for fall I replace the summer/spring trees with bare branch trees.  I add a pumpkin patch and a couple of turkeys to give this display the look of a crisp fall afternoon!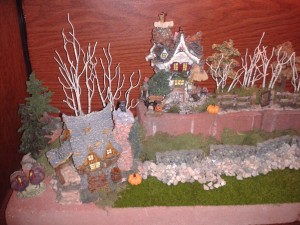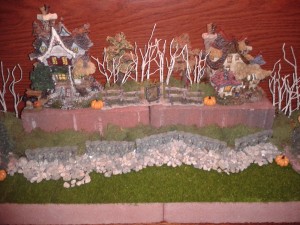 In the dining room, the main decoration will be a lovely Fall Victorian Centerpiece for the table.  This is another one of my recent projects for fall.  (Please, look for this week's Craft post for full instructions)  Since I am using this new centerpiece, I have moved the floral arrangement I use year round in the dining room to a table in the family room and add peasant feathers to give it a great fall look.  I love when my decorations are versatile, not specific to one area, and can be used in other rooms of the house.  This allows me to be creative with my holiday decorations and it keeps the process fresh every year!
In the china cabinet, I arrange three Currier and Ives porcelain house that I bought several years ago from a local craft store.  These are arranged on a mirrored silver display stand.  I add several small figurines and pine trees to create a charming display that transitions from Fall to Christmas.  I love when my holiday decorations can be used for more then one season!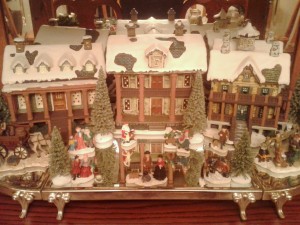 To complete the dining room, I place a "memory tree" on the tea table.  During the Fall season this small tabletop pine tree is decorated with small family photo frames and golden feathers.  Thanksgiving is a time to give thanks and with this special decoration it is a wonderful way to honor and remember our families.  (Please, look for an upcoming Craft post with full instructions on creating your own Memory Tree or Wreath)
In the kitchen, I have a basket of artificial vegetables placed in the corner and it usually stays there year-round.  For the Fall season, I add a resin pumpkin carved with the words, "Harvest Welcome".   Above the kitchen cabinets, I have a picture frame that reads, "Celebrate family, friends, traditions" which is perfect for Thanksgiving.  Normally it is displayed with a trio of decorative green plates and ceramic tea pots but I replace the teapots with two ceramic pumpkins for Fall.  Once again, I love to multi-purpose the items in the house by adding simple decorative items to an existing display and this saves both time and expenses.  (You've got to love that idea, right?)