My story begins in California during the 1950s.  I was born in the San Fernando Valley which is located near Los Angeles and I am the youngest of four girls.  Like all typical families at that time, my Dad worked and my Mom stayed home.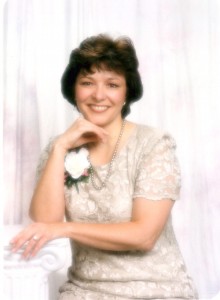 When I was a young girl, my Mom sewed my Halloween costumes and Barbie doll clothes. Years later when I was married, she created wonderful handmade holiday decorations for my home.  Then when my children were born, she crocheted baby blankets that I wrapped them in to bring them home from the hospital.  My Mom enjoyed crafting these items and they are now family heirlooms to cherish and pass onto future generations.  I still have the clown costume that my Mom made for me when I was a child and both my son and daughter have worn it as their Halloween costumes.
Life was simpler back then and so different from our hectic lives today but I have continued that tradition of crafting to preserve memories of the special events for my own family.  I have sewn my children's Halloween costumes, created floral decorations for my home, made party decorations and party favors for my children's birthday parties.
When I look back on my childhood I also remember the great times we had traveling as a family.  Some of the best times involved going to places like Disneyland, San Diego Zoo and Sea World.  One year we drove out to Chicago to visit relatives and we stopped at places like Yellowstone and Mount Rushmore.  Another year we drove up the coast to Oregon, Washington and British Columbia.  Such wonderful memories to look back on!
Now with my own family, I wanted to create those kinds of moments for my children.  We love getting in the car for day or weekend trips to local places or longer road trips to other states.  We visit museums and zoos or stop at National Parks and historic sites.  Seeing other areas of the country can be a great learning experience for kids.  (Heck, I've even learned some American history!)
This lifestyle blog will be my way to share my thoughts and ideas about décor, craft, celebration and travel. Future posts will have tips and ideas for decorating the home, simple craft projects with easy instructions, ideas for celebrations like holidays, children's birthday parties, weddings and also travel tips with vacation destination ideas. I hope you enjoy my blog and please return  often for ideas and inspiration!
Welcome to "The Enchanted Manor".  Come on in, sit down and let's talk.
Barbara Jones