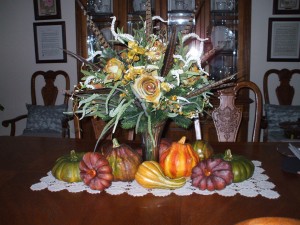 On Thanksgiving morning Jeff is up early in the kitchen to prepare the turkey for the oven.  The smell of onions and celery cooking on the stove always brings back wonderful childhood memories – I loved waking up to the smell of my Mother fixing Thanksgiving dinner back home in California.  Another heavenly smell coming from the kitchen is the pumpkin pies baking in the oven and Jeff makes wonderfully delicious pumpkin pies but my favorite is his pumpkin cheesecake!  (Gosh, I'm suddenly hungry!)
In our house, we have an ongoing family joke – Jeff is in charge of all the cooking and I am in charge of the presentation and setting a beautiful table.  Jeff actually enjoys preparing Thanksgiving dinner so I'm lucky that I don't have to cook! The decorations in our dining room usually start with a floral arrangement of golden roses in a lovely Tiffany crystal vase that stays on the dining room table all year. (The photo shown above was taken last year) I always add peasant feathers to the arrangement with several small pumpkins and gourds placed around to give it a fall festive look.  This Fall season I am making a Victorian inspired centerpiece with fruits and feathers, the rose floral arrangement will be moved to the family room.  I think the new Fall centerpiece looks lovely on our dining room table and adds the perfect elegant touch. (Please see last week's Craft post for full instructions for the Fall Victorian Centerpiece shown in the photo below.) When I change the holiday decorations it allows me the chance to be creative and make something new to keep the process fresh every year!
Since Thanksgiving is a time to gather for a wonderful dinner and give thanks, I wanted to have a special decoration to honor and remember our families.  Living so far from everyone on the west coast, we rarely have the huge celebrations like we had back in California.  Thanksgiving and Christmas celebrations were always the highlight of our holiday entertaining and we enjoyed having family and friends over to celebrate!  In the years since we moved to the Midwest, we have been very fortunate to spend Thanksgiving dinner with my Mother, Jeff's Mother, Grandparents and also his Aunt and Uncle.  Many of those family members have passed away over the last few years and we miss them very much.  So, to complete the dining room decorations, there is a "Memory Tree" on the tea table.  This small tabletop pine tree is decorated with small family photo frames and golden feathers.  (Please see next week's Craft post for directions on creating your own Memory Tree or Wreath as shown in the photo above.)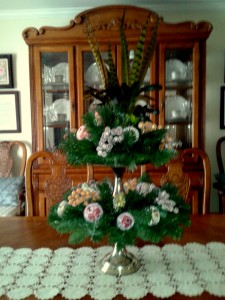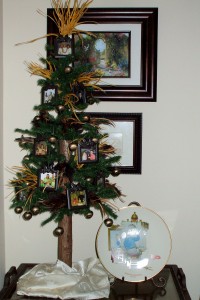 When the decorations are finished, I cover the table with an ivory tablecloth.  This year I will be using a lovely family crocheted tablecloth that I recently found in my Mother's house.  I will set the table with our best china, vintage silverware and lovely crystal glasses.  Since my Mother recently passed away this year I will remember her when I set the table with the Noritake "Rothschild" china that she bought for our wedding.  I love the classic pattern and the colors are a lovely silver and muted blue.  For serving I will use pieces from my silver bowl and platter collection that I have loved finding in antique stores over the years.  When you take the time to set a beautiful table it honors your guests and lets them know the meal you celebrate together is special.
How do you set the table for your Thanksgiving meal?