Throughout the year I keep the same floral arrangement, golden roses in a Tiffany vase, on my dining room table. This year I decided to make a special centerpiece with the rich colors of fall for our Thanksgiving table. I wanted something in a Victorian Style that was elegant, but not very complicated to create. The Victorians loved to mix fruit into their arrangements and this grand style reflects the era.  I thought an arrangement using these materials and this style would be perfect for our dining room.
Fall Victorian Centerpiece – supplies
2   cake stands
2   foam bricks, cut into pieces
8   pine boughs, cut into individual pieces
assortment of artificial fruits – grapes, apples, pears and pomegranates
3   pheasant feather sprays
Fall Victorian Centerpiece – instructions
Cut one foam brick lengthwise and use the two pieces for the bottom tier, cut the edges at an angle if needed.  Cut the other foam brick in half and use one piece on the top tier.
Cut pine boughs into individual pieces and insert each piece separately into the foam bricks, evenly spaced throughout each tier.
Insert toothpicks into the bottom of each individual piece of fruit.  Insert each fruit separately into the foam bricks, evenly spaced throughout each tier.  Grapes can be secured by inserting the stem into the foam brick.
To finish the top tier, insert pheasant feathers.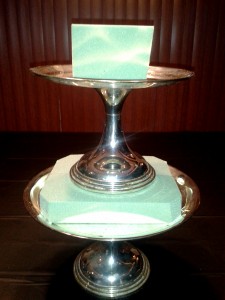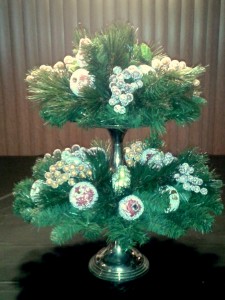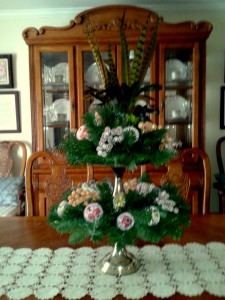 As you can see, the completed Fall Victorian Centerpiece looks lovely on our dining room table.  For this arrangement I used "sugared" fruit, but more realistic ones would work as well.  The look is very classic and elegant and will look beautiful when the table is set with our fine china, crystal and silverware for Thanksgiving dinner.