In part one of the series on the children of Queen Victoria's children I discussed her four sons including Prince Albert Edward (the future King Edward VII).  In part two, I will discuss their five daughters.  The Queen had a very uneasy relationship with her children that ranged from showing them a minimum amount of affection when they were infants, controlling their education through private tutors as they were small children and finally as young adults selecting their future marriage partners aimed at furthering her political plans for England.  Throughout the years, the Queen wrote letters to her children almost constantly not only to inquire about their personal lives and she also to voice her very strong opinions about all aspects of their lives.  Many of the daughters, especially after the death of the Queen's beloved husband, felt it was their duty to be a daily companion to their mother and often acted as nursemaid or personal secretary.
So, let's take a look at Queen Victoria's daughters …
Princess Victoria Adelaiede (future German Empress and Queen of Prussia)
born – November 21, 1840 at Buckingham Palace in London
died – August 5, 1901 at Castle Friedrichshof in Germany
Princess Victoria was the first child and eldest daughter of Queen Victoria and her husband, Prince Albert.  She was christened in the Throne Room of Buckingham Palace and she is named in honor of both her mother, Queen Victoria and her maternal grandmother, Princess Victoria of Saxe-Coburg-Saalfeld.  For the special occasion of the birth of her first child, the Queen commissioned a special silver baptismal font made by Barnard & Co. decorated with the symbol of the lily to represent purity and new life.  The Queen Victoria also commissioned a lovely christening gown made with Honiton lace and lined in white satin, it has a very long skirt with an elaborate collar and bow.  (Historical Fact: Since 1841 over 60 royal children have worn the gown for their christenings including four Kings, King Edward VII, King George V, King Edward VIII, King George VI and Queen Elizabeth II.  The original robe was very old and fragile so in 2008, to preserve the historical garment, an exact replica was made by the Queen's dresser, Angela Kelly.  Most recently the replicated christening gown has been worn by Prince George in 2013 and Princess Charlotte in 2015)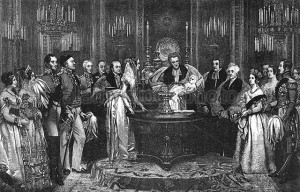 Victoria was the heiress presumptive (the person entitled to inherit a throne but whose position can be displaced by the birth of an heir apparent) until her brother, Prince Albert Edward, was born the next year.  At that time, the Queen gave Victoria the title of HRH the Princess Royal, a grand name for a one year old but the family called her "Vicky".
Victoria was her father's favorite child and he felt that her intelligent nature warranted her education by tutors alongside her brother in subjects such as: mathematics, literature, history, science, Latin, French and German.  Unfortunately, Victoria turned out to be the better student than her brother!  This only added to Prince Albert's pride in his daughter's accomplishments and the two became very close discussing politics and current events, this situation greatly distressed the Queen and she was extremely jealous of the close relationship between father and daughter.
Since the Queen controlled all aspects of her children's personal lives, by the time Victoria was 10 years old it was arranged that would met her future husband at the Great Exhibition of 1851.  He was Prince Frederick William of Prussia and he was second in line to inherit the Prussian throne, this alliance was a calculated move in which the Queen hoped to strengthen the political connections between the two countries.  By 1955, Victoria and Frederick were engaged but the public announcement was delayed for a few years because Victoria was only fourteen years old and Frederick was twenty-four.  Finally, after a long wait, their engagement was officially announced in 1857.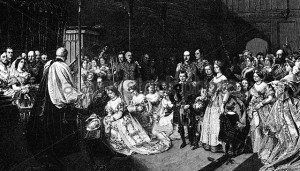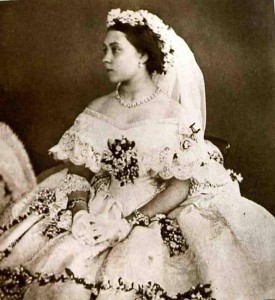 At the insistence of the Queen, the wedding of Victoria and Frederick took place in England on January 25, 1858 at the Chapel Royal at St. James Palace in London.  In 1861, Frederick's father became King William I of Prussia, Frederick and Victoria were now the Crown Prince and Crown Princess.  The couple went on to have a very happy marriage based on true love and mutual respect; they had eight children – Wilhelm (the future German Emperor), Charlotte, Henry, Sigmund, Viktoia, Waldemar, Sophia and Margaret.
During the early years of their marriage, Victoria was having a hard time adjusting to life in a foreign country and she was being encouraged through letters sent by the Queen and occasional visits home to England not forget her British heritage.  (Over 3,700 letters from the Queen to Victoria and over 4,000 letters from Victoria to the Queen have been preserved in the British Royal Archives which were secretly smuggled out of Germany after her death to avoid them being destroyed)
Sadly, after the difficult breech birth in 1859 of their first son, Wilhelm, it was soon discovered that he born with severe paralysis of his left arm which greatly upset Victoria.  This would be a foreboding sign that Wilhelm was to cause his mother's life to be filled with many more difficulties.  In regards to his education and military training, Victoria was determined that he would have lessons by private tutors that would be brought over from England but Otto von Bismarck, the powerful Prussian minister, was equally set on German tutors.  Bismarck would ultimately succeed with his plan and over the following years the young Wilhelm would ultimately become alienated from his own parents and favor the opinions of Bismarck.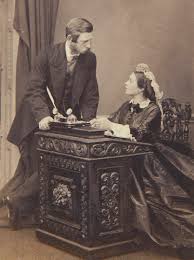 With the death of Frederick's father in 1888, he became the Emperor Frederick III and Victoria became the Empress of Prussia, their son was now Crown Prince Wilhelm.  Unfortunately, Frederick was already terminally ill with throat cancer at the time of his ascension and died after only 99 days on the throne, his son was now the Emperor.  Guided by Bismarck, one of the first things that Wilhelm did was to immediately banish the widowed Victoria to live at the Castle Friedrichshof located in the hills near Frankfurt.  By this time, Victoria had lost her father in 1861 and following the example of her mother's intense mourning, after the death of her own husband she dressed in black for the rest of her life.  The widowed Victoria built a satisfying life at Castle Friedrichshof and she continued her civic work in Berlin by establishing a training school for nurses and also as a patron of the arts helping to organize the 1872 Industrial Art Exhibition.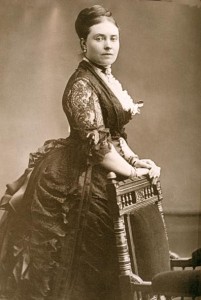 In 1899, while visiting her mother at Balmoral, Victoria was feeling ill and the British doctors soon determined a diagnose of breast cancer.  Sadly, upon her return to Germany later 1900, the cancer had spread to her spine and she died on August 5, 1901 at Castle Friedrichshof, she is buried in the royal mausoleum at the Friedenskircheat Postdam.
Princess Alice Maud (later Grand Duchess of Hesse)
born – April 25, 1843 at Buckingham Palace in London
died – December 11, 1878 at the New Palace, Darmstadt in Hesse
Princess Alice was the third child and second daughter of Queen Victoria and Prince Albert.  Her name was chosen by the Queen because it was Lord Melbourne, her first Prime Minister, favorite female name and Maud was also chosen to honor Princess Sophia Matilda of Gloucester, one of Alice's godparents.  To accommodate their growing family and to escape London during the summer months, after the birth of Alice Victoria and Albert purchased Osborne House located on Isle of Wight, it soon became a favorite retreat for the Queen and her family.
Like her siblings, Alice was educated with private tutors in English, French and German and other basic subjects.  She was also taught practical skills that would include sewing and knitting, housekeeping, cooking and gardening.  Although Alice was content with her family life she was intrigued by the daily lives of the average people outside the Palace walls.  In fact, during the Crimean War, the eleven year old Alice accompanied the Queen when she went to the London hospitals to visit the wounded soldiers.  Alice grew into a compassionate and sympathetic young adult with an interest in medicine and caring for patients.
Alice's nursing skills proved to be a comfort to her father when he fell ill with typhoid fever in 1861 and she was constantly at his bedside caring for him until his death.  (Although the initial cause of death was believed to be typhoid fever, recent history indicates that Prince Albert had been ill for at least two years possibly suffering from abdominal cancer)  After her father's death, the Queen went into an intense period of mourning and for the next few months she relied heavily on Alice to act not only as her own nursemaid attending to her constant care but also her personal secretary dealing with the Queen's correspondence and daily paperwork.  This was a very difficult time in Alice's life because not only had she lost a father but she was dealing with the increasing demands of her distraught mother.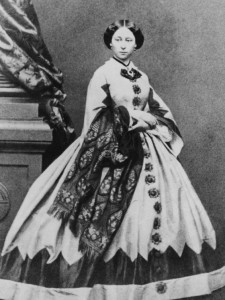 Perhaps out of despair and exhaustion living in an oppressive home of deep mourning Alice went forward with her engagement to Prince Louis of Hesse, this union had been approved by Prince Albert before his death.  Alice and Louis were married on July 1, 1862 in a private ceremony at Osborne House; it was a very solemn occasion which seemed to forewarn the possibility of future trouble within her marriage.  (Historical Note:  As a wedding present to Alice, the Queen gave her a gold, diamond and pearl bracelet with an unusual inscription that read in part "… from your loving parents … who though visibly parted are ever united …".  A strange message to be be given on the occasion of a wedding, but the Queen was always thinking of her problems!)    Alice and Louis went on to have seven children – Victoria, Elisabeth, Irene, Ernest, Fredrick, Alexandra and Marie.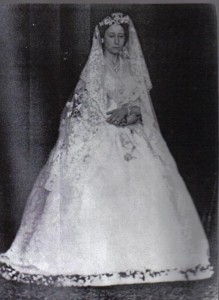 Now living in Darmstadt during the Austro-Prussian War, Alice became more heavily involved with the nursing profession and she developed a great interest in the work of Florence Nightingale (an English social reformer and considered the founder of modern nursing techniques).  It has been said that the Queen (dare I say, a prude!) was deeply concerned about her daughter's exposure to various aspects of medical care and in particular gynecological matters.  Sadly, Alice's youngest son had recently been diagnosed hemophilia when he accidentally fell from a window at their home and ultimately died from internal bleeding, it has been said that Alice never recovered from the death of her favorite son.  (Historical Fact:  The hemophilia disease has been traced back to Queen Victoria.  Besides affecting not only her son, Leopold, she unknowingly passed the disease onto future generations through Alice but also through her other daughter Beatrice)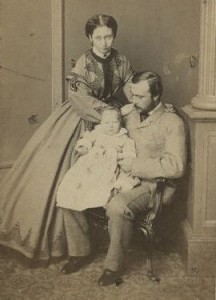 Then in 1877, upon the death of his father, Louis became the Grand Duke of Hesse and Alice was now the Grand Duchess.  Alice, perhaps still distraught over the death of her young son, had become increasingly worried about her own minor personal health issues, her marital problems with her seemingly disinterested husband and the ongoing problems of an extremely difficult relationship with her controlling mother.  Alice was also distressed that despite her involvement with the social and cultural activities she continued to have a difficult time being accepted by the people of Hesse, this was a problem very similar to her older sister Victoria troubles in Prussia.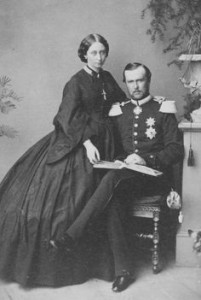 In November 1878, several members of the Grand Duke and Duchess family became ill with diphtheria.  Victoria was the first of the children to be diagnosed followed by Alexandra, Marie, Irene, Ernest and even the Grand Duke became infected with the disease.  Elizabeth was the only child not to be affected by the illness because Alice had the forethought to send her away to stay with mother-in-law.  After Marie died Alice broke a strict rule of no physical contact with the patients and embraced her son, Ernest, to comfort him upon hearing the news about the death of his sister.  As a result Alice became seriously ill with the diphtheria and she died on December 11, 1878; she was the first of Queen Victoria's children to die.  Alice is buried at the Grand Ducal mausoleum at Rosenhohe near Darmstadt and as a final salute to her English heritage the British flag was draped over her coffin at her funeral.
Princess Helena Augusta (later Princess Christian of Schleswig-Holstein
born – May 25, 1846 at Buckingham Palace in London
died – June 9, 1823 at Schomberg House in London
Princess Helena was the fifth child and third daughter of Queen Victoria and Prince Albert.  Like many of her other siblings, Helena was christened at the private chapel in Buckingham Palace.  She soon became known as Lenchen within her family, a name shortened from the German Helenchen.   
Helena was educated by private tutors arranged by her father and she soon proved her artistic skills when she began drawing, this brought the Queen great pleasure because she was also an accomplished amateur artist.  Also noticed at that time, was Helena's excellent needlework skills (she went on later in her adult life to promote the art of needlework and in 1872 became the first president of the Royal School of Needlework).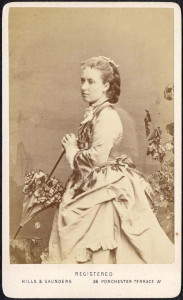 Then, with the death of Prince Albert, her father, the royal household fell into a deep mourning period prompted by the intensely grieving Queen Victoria.  The once happy home with children playing and laughing was drastically changed into a somber house where any type of outward joy or happiness was greatly stifled by the Queen.  Maybe out of rebellion or to bring some excitement in her life, Helena began a mild flirtation with Carl Ruland, the Royal librarian, he also taught German to the Royal children.  Of course when the Queen found out about this fledgling romance she quickly dismissed him and he returned to Germany.  (Nothing every escaped the watchful eyes of Queen Victoria!)
As with all her children, the Queen looked for a prospective marriage partner for Helena.   But unlike her older siblings who married into prominent European Royalty, the Queen stipulated that Helena and her future husband would be required to live in England and remain available to tend to the Queen's needs whenever she wished.  The Queen's unusual choice was Prince Christian of Schleswig-Holstein, which was an area in Europe that was at the time being fought over between Prussia and Denmark.  (Historical Note: This caused great friction with the family because the Prince of Wales' wife was from Denmark and Princess Victoria was married to the Crown Prince of Prussia.  Queen Victoria ruled over not only England, but her decisions regarding her family were ultimately always obeyed)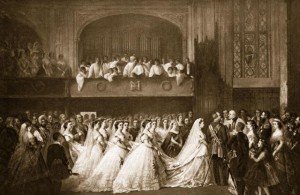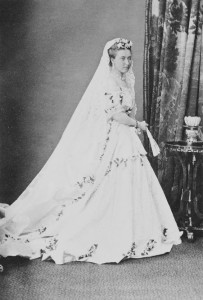 The wedding of Helena and Christian took place on July 5, 1866 in the Private Chapel at Windsor Castle and despite the family disagreements everyone attended the ceremony.  The royal couple, abiding by the Queen's personal request, moved into Frogmore House and later Cumberland Lodge.  They had five children – Christian Victor, Albert, Helena Victoria, Marie and Harald who died in infancy.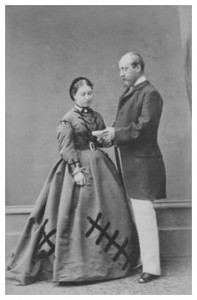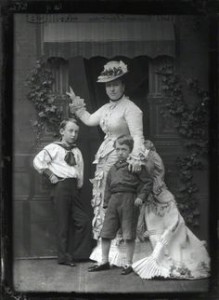 During her marriage, Helena continued to work as patron of several charities and she was a founding member of the Red Cross and later served as president of the Royal British Nurses Association.  Helena and Christian were granted an annual allowance, per the request of the Queen, and Christian also held the position of as the Ranger of Windsor Park and the High Steward of Windsor.  Helena was often called upon by the Queen performed personal duties for her as secretary alongside her younger sister, Beatrice.
Following the death of Queen Victoria in 1901, Helena began to distant herself from her siblings although she continued to support her eldest brother who was now King Edward VII.  She had a distant relationship with her nephew, now King George V.  She was to become the only child of Queen Victoria and Prince Albert that had lived to celebrate her 50th wedding anniversary in 1916, sadly her husband died a year later.  Helena lived another six years and died on June 9, 1923 at Schomberg House in London.  She was initially interred at the Royal Vault in St. George's Chapel at Windsor Castle but later reburied at the Royal Burial Grounds at Frogmore.
Princess Louise Caroline (later Duchess of Argyll)
born – March 18, 1848 at Buckingham Palace in London
died – December 3, 1939 at Kensington Palace in London
Princess Louise was the sixth child and fourth daughter of Queen Victoria and Prince Albert.  She was christened in the Private Chapel in Buckingham Palace, her first name of Louise was chosen to honor Prince Albert's mother.
Louise was brought up traveling with the Queen's Court from Buckingham Palace to Windsor to Osborne to Balmoral and she enjoyed a relatively happy childhood.  She was educated by tutors alongside her siblings and she proved to be an intelligent student.  She was also trained in the practical skills which she would use later to aid her in managing her future martial household.  Louise developed her artistic skills as an accomplished sculptor and a noted artist creating many beautiful drawings.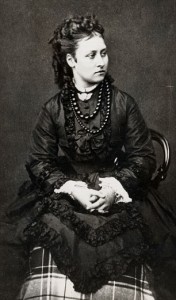 When her father, Prince Albert, died unexpectedly in 1861 the Queen fell into a deep period of mourning and the Queen secluded herself from public life alternating between staying in Osborne and Balmoral.  Surviving through this prolonged and intensely solemn time, when Louise was nearing her seventeenth birthday in 1865, she requested that a grand ball be held for her celebration but the Queen refused her request.  Then in 1866, when most young ladies were enjoying an active social life, the duty of being the Queen's personal secretary and nursemaid fell to Louise after her older sisters were married and she actually excelled in the position.  Later, when Louise fell in love with the much older Reverend Robinson Duckworth, much like her sister Helena before her had a dalliance with another tutor; the Queen heard about the romance and quickly put an end to it.   
As the result, the Queen was soon looking for a prospective husband for the seemingly wild Louise with her progressive ideas about feminine liberation; she found one in John Campbell of Lorne and the heir to the Duke of Argyll.  Louise and John were married on March 21, 1871 in St. George's Chapel at Windsor Castle.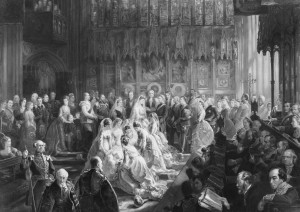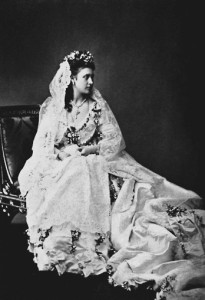 Within seven years, John was offered the position as Governor General in Ottawa, Canada.  The Queen was very pleased with this new appointment and hoped that this would continue to improve the political link between England and Canada.  John and Louise soon moved to Canada and took up residence in Rideau Hall which they decorated with Louise's watercolor and oil paintings and also several of her sculptures.
Despite the difficulties adjusting to life in a new country Louise found joy in skating and sledging during the long winter months.  Unfortunately, in February of 1880, Louise and her husband were involved in a severe sleigh accident.  As a result, Louise suffered from a concussion and when the news ultimately reached the Queen many anxious letters were sent between mother and daughter during the recovery process.
In 1883, Louise and John returned to England and they moved into Kensington Palace in an apartment arranged by the Queen.  While John continued his political career, the couple was having ongoing marital problems and it was rumored that John was a homosexual while Louise was engaging in numerous affairs to compensate for the lack of a sexual relationship with her husband.  The Queen was very insistent that the couple remain married and divorce was not an option (at that time for a member of the royal family.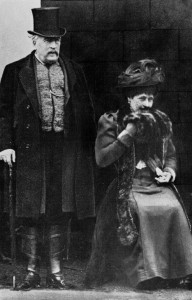 After the death of the Queen in 1901, Louise fully enjoyed the seemingly loose moral of the Edwardian era with an active social life by traveling frequently and sometimes living separate from her husband alternating between their London residence at Kensington Palace with Kent House on the Osborne Estate.  Despite the emotional distance between the couple, Louise returned to take care of John as he became increasingly senile and was devastated with the death of her husband in 1914 from bronchial problem exacerbated by double pneumonia.
Afterwards, Louise spent her final years at Kensington Palace occasionally making public appearances.  She had lived through the reign of her mother Queen Victoria, her brother King Edward VII, her nephew King George V, and the brief reign of King Edward VIII shortly before he abdicated.  Louise died on December 3, 1939 at the age of 91.  She was cremated and her ashes were initially placed inside the Royal Crypt at St. George's Chapel at Windsor then later moved to Frogmore.   
Princess Beatrice Mary (later Princess Henry of Battenberg)
born – April 14, 1857 at Buckingham Palace in London
died – October 26, 1944 at Brantridge Park in Sussex
Princess Beatrice was the youngest child and the fifth daughter of Queen Victoria and Prince Albert and, like many of her siblings before her; she was christened in the Private Chapel at Buckingham Palace.  Even though the Queen disliked babies, she was delighted with the infant Beatrice who became known to the family as "Baby".  Beatrice grew into a beautiful child with stunning blue eyes and long blonde hair; she seemed to be an angel on earth in the eyes of the Queen and her husband. 
Four years after her birth, the Queen's Royal household went through several traumatic events that came to greatly affect Beatrice and her entire family.  In March of 1861, the Queen's mother died and then December of the same year Prince Albert suddenly died.  As a result the Queen feel into a deep and prolonged period of mourning that brought an intense and constant somber mood to the household.  As her older siblings married and left the royal residence, Beatrice was able to offer unconditional comfort to her mother and the Queen came to rely heavily on her for daily companionship.  Later as she became older, Beatrice assisted the Queen with her correspondence and general nursemaid.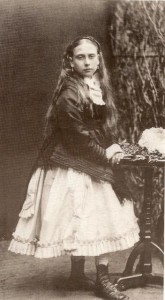 In 1878, upon the death of their sister Alice, the Prince of Wales proposed something rather unusual … that Beatrice should marry the widowed husband, the Grand Duke of Hesse.  He felt that this would be the solution in terms of the future upbringing of the Duke's young children.  At the time it was against the law for a sibling to marry another sibling's widower so to do this the British government needed to pass special legislation to grant approval, however the bill failed.
While attending the wedding in Germany, Beatrice met the groom's brother, Prince Henry of Battenberg, and they quickly fell in love.  Upon realizing that if and when Beatrice married the Queen would lose her last daughter and her constant companion thereby being alone (how could a Queen ever be alone?)  Finally the Queen granted her permission but on the stipulation that after the wedding the couple would remain in England and move into the Queen's house.
On July 23, 1885, Beatrice and Henry were married at Saint Mildred's Church in Whippingham near Osborne.  Beatrice was the only one of the Queen's five daughters to be given the honor of wearing their mother's precious wedding veil of Honiton lace.  (Royal Note: Throughout the years Queen Victoria wore her wedding veil to the almost all of the christenings of her children, the exception was for Prince Albert Edward when she wore the Order of the Garter Robes as befitting the christening of the heir to the throne.  Later she wore it on the occasion of two of her children's weddings, Princess Victoria and then Prince Leopold.  Finally, per her personal request, upon her death in 1901 the Queen was buried wearing her bridal veil)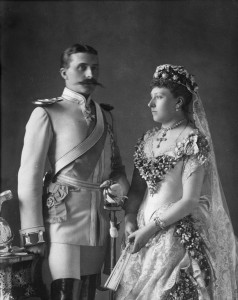 After a brief honeymoon, the newly married couple returned as promised to live with the Queen and Beatrice resumed her work as the Queen personal secretary.  Henry and Beatrice were able to attain a truly happy marriage and their love proved to be as deep as that of her own parents.  The couple has four children – Alexander, Victoria Eugenie, Leopold and Maurice.
As the years passed, Beatrice's work with the Queen proved to be very demanding and time consuming.  Henry became restless and in 1889 in response to this situation the Queen made him Governor of the Isle of Wight where Osborne House was located.  Eventually, Henry wished to serve in the military and finally in 1895, the Queen granted him permission to join the British forces fighting in the Anglo-Asante war.  Unfortunately, Henry contracted malaria while overseas and waiting to be sent home when he died on January 22, 1896. 
Beatrice was devastated in much the same way that her mother had been 35 years earlier when she lost her husband.  However, Beatrice spent only a brief month in mourning before returning to the constant demands of the Queen.  At this time, the Queen gifted Beatrice with an apartment in Kensington Palace; in fact it was the same set of rooms in which the Queen had occupied with her mother before her ascension to the throne.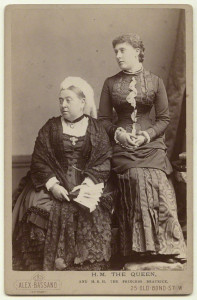 Five years later, Queen Victoria died and per the Queen's request, Beatrice soon set upon the enormous task of transcribing and editing the massive volumes of her mother's journals.  The journals were of great historical significance because the Queen had recorded within their pages her views on important political events and details of her daily life.  The journals also included the Queen's personal information, perhaps expressing her true feelings about various events not only in her life before, during and after the death of her beloved Prince Albert but also about her relationships with her children.  Maybe it was for this reason that Beatrice seemed to do the unthinkable and in transcribing the journals and preparing them for publication she deleted private and sensitive passages in the final version because she felt there might be hurtful opinions toward any living person and then … she destroyed the original journals.  In the end, when Beatrice finished in 1931, there were 111 volumes of the edited journals that have now become part of the Royal Archives at Windsor Castle.  (This poses the question, what was in the original journals that Beatrice felt would be so detrimental to the history of England? It boggles the mind when you think of the important information that has been lost!)
As the years passed, Beatrice continued to make infrequent public appearances.  She lived mostly in her apartments at Kensington Palace and occasionally traveled to Osborne Cottage, her personal home on the Osborne Estate, until it was sold in 1913. On a personal note, Beatrice unfortunately passed on the hemophiliac disease onto future generations and those affected were her son Leopold and her grandson Alfonso.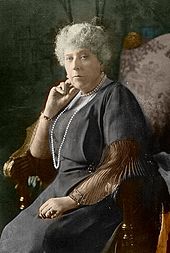 Beatrice died on October 26, 1944 at the age of 87 years old; she was the last of Queen Victoria and Prince Albert's children to survive.  Her funeral took place in St. George's Chapel at Windsor Castle and she was initially buried in the Royal Vault before being moved a year later to the cemetery alongside her husband at St. Mildred's Church in Whippingham, which was the site of her wedding to Henry 60 years earlier.