This year on May 20th Victoria's Day will be celebrated in Canada.  It is a federal holiday and the day is observed on the last Monday before or on May 24, which was the actual birthday of Queen Victoria.  The day is also known in Canada as the "official" Sovereign's Birthday for the current British monarch, which is Queen Elizabeth II.
Years ago, I read several books by Jean Plaidy, aka Victoria Holt, about the life of Queen Victoria of England and I became fascinated by her.  I enjoyed reading about her life from the time of her ascension to the British throne, to her marriage to Prince Albert and her sudden widowhood after his untimely death, to the birth of her nine children and her difficult relationship with her son who was destined to become the future King Edward VII, through to the time of her death at the beginning of the 20th century.  For this particular post I will concentrate on Queen Victoria's personal life and leave the political information and details of her almost 64 year reign for the experts!
A not so brief history of Queen Victoria
Queen Victoria (Alexandrina Victoria born: May 24, 1819 died: January 22, 1901) was the monarch of the United Kingdom of Great Britain and Ireland; later in 1876 she received the additional title of the Empress of India.  Queen Victoria reigned from 1837 to 1901, which is longer than any other British monarch.  (Queen Elizabeth, the current British monarch will soon break that record)  The almost 64 years of her reign became known in history as the Victorian era.  This period brought great industrial, cultural, political and scientific changes within the United Kingdom and also was a time that marked by the great worldwide expansion of the British Empire.
Victoria was the daughter of Prince Edward, the Duke of Kent and the Duchess Victoria, formerly the German born Princess of Saxe-Coburg-Saalfeld.  Prince Edward was the fourth son of King George III and she became fifth in the line of succession.  Within a year after her birth both Prince Edward and King George III died in 1820, making her uncle King George IV.  When the Duke of York died in 1827 and King George IV died in 1930, her last surviving uncle became King William IV making Victoria the heir presumptive.
Victoria was raised at Kensington Palace in London under the close supervision of her extremely protective mother.  Victoria's life was very lonely and she was isolated from other children and most of her time was governed by private lessons with tutors and very little free time spent with her dolls and her King Charles spaniel, Dash. Victoria was held under a constant watch by her governess, Baroness Louise Lehzen, and at night she shared a bedroom with her mother.  These rules and restrictions were devised by the Duchess and the ambitious Sir John Convoy and they became known as the Kensington System.  With this system, the Duchess and Sir Conroy were positioning themselves to take power as regents if an underage Victoria took the throne before turning 18 years old.  Luckily King William IV lived long enough so this was avoided thus ending the plans of the Duchess and Sir Conroy.   At this same time another person was trying to control the life of the young Victoria.  Her uncle on her mother's side, King Leopold of Belgian, hoped that his niece would marry his nephew Prince Albert.  A meeting was arranged in 1836, but fate soon intervened and King Leopold's marriage plans were postponed. (Victoria's mother, Albert's father, Ernest the Duke of Saxe-Coburg-Gotha, and King Leopold were siblings and this lineage made the future Queen Victoria and Prince Albert first cousins)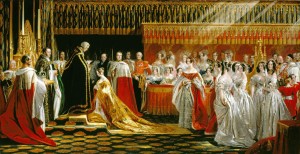 King William IV died in 1837, and a young Victoria became queen of Great Britain at the age of 18 years old.  Almost a year later, her elaborate coronation took place at Westminster Abbey on June 28, 1838.  The crown that was previously used by the former British kings weighed seven pounds, too large for the young Queen's head.  A new crown was made that was smaller, weighed about 31/2 pounds, and was covered with over 2,100 precious stones such as diamonds, pearls, rubies, sapphires and emeralds.  To prepare for the coronation, the streets of London were festively decorated and soldiers on foot and horseback lined the streets.  On the morning of the coronation, the future Queen Victoria left Buckingham Palace in a Grand State Carriage pulled by eight cream-colored horses.  Westminster Abbey has been the site of every coronation since Edward I in 1274 and every monarch has been crowned sitting in the Chair of St. Edward. (For more information regarding the Coronation regalia, please click on the link Crown Jewels of England – Part One)
Queen Victoria and Prince Albert quickly became engaged after their second meeting in 1839.  They were married on February 10, 1840 in the Chapel Royal at St. James's Palace in Windsor followed by a wedding breakfast held at Buckingham Palace and a honeymoon at Windsor Castle.  Prince Albert was dressed in a red British Field Marshal's uniform and proudly wore the Order of the Garter Star on his chest.  Queen Victoria wore a white satin wedding gown trimmed with Honiton lace and orange blossoms.  Instead of wearing a jeweled royal tiara, Victoria choose to wear a wreath of more orange blossoms over a long Honiton lace veil.  At the time, orange blossoms were traditionally worn by brides as a symbol of fertility.  The clothes of a royal wedding tend to be very lavish, but a normal bride would simply have chosen to wear her "best dress".  It has been said that Queen Victoria started the fashion tradition of wearing a white wedding dress.  (For more information about the wedding of Queen Victoria and Prince Albert, please click on the link British Royal Weddings – Part One and for more information about Queen Victoria's wedding dress, please click on the link British Royal Wedding Dress – Part One)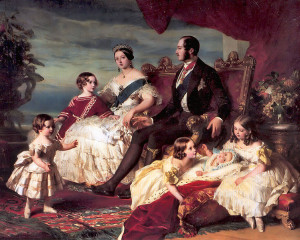 It took a little time after their marriage for Queen Victoria to trust Prince Albert with any government information but eventually he came to be her most trusted political adviser and a very dominant and influential person in her life.  The royal couple had nine children: Princess Royal Victoria in 1840, Prince Albert Edward (known as Bertie, the future King Edward VII) in 1841, Princess Alice in 1843, Prince Alfred in 1844, Princess Helena in 1846, Princess Louise in 1848, Prince Arthur in 1850, Prince Leopold in 1853 and Princess Beatrice in 1857.  Despite the fact that she had so many children, Queen Victoria greatly disliked being pregnant and thought newborn babies were ugly.  Queen Victoria and Prince Albert's choose wisely and married their children into royal and noble families throughout Europe.  With her nine children, forty-two grandchildren and thirty-seven great grandchildren who are all related throughout the world's royal families Queen Victoria has been called the "Grandmother of Europe".
In 1861, Victoria's mother, the Duchess of Kent died.  The two had been estranged since the time of Victoria's ascension.  Her mother's death greatly affected Victoria and she went into a great depression cause by her intense grief. Unable to function, Prince Albert took over most of her duties despite the fact that he was ill with chronic stomach pains. Then, when their son Bertie, the Prince of Wales, became involved in a scandalous relationship with an actress and Prince Albert traveled to Cambridge to confront his son.  Prince Albert had extremely high moral standards and felt his son's behavior was unacceptable and advised Bertie to remember his royal responsibilities. When Prince Albert returned from his trip he became very ill and was diagnosed with typhoid fever and died shortly after on December 14, 1861.  Queen Victoria was devastated by the death of her beloved husband and felt that Prince Albert's intense worry over Bertie's scandalous behavior brought on her husband's illness and hastened his death.
With the death of Prince Albert, Queen Victoria went into deep mourning and withdrew from her royal duties too distraught to function.  She immediately cancelled all the royal court calendar events and after a period of official mourning never worn anything but black clothing, her widow's veil and a small diamond crown.  Because of the way she dressed after Prince Albert's death, Queen Victoria was called the "Widow of Windsor".  She left London and remained isolated in her other royal residences and divided her time between Windsor Castle, Osborne House and Balmoral Castle in Scotland.  It was at Balmoral Castle that Queen Victoria came to increasingly rely on her personal servant named John Brown.  There have been rumors of a romantic relationship between them and even a possible secret marriage.  Despite these scandalous rumors, John Brown has been credited for coxing Queen Victoria out of her deep mourning and severe depression, causing her to return to her royal duties and a public life.
Unfortunately, more sorrow and death came to Queen Victoria's life.  In 1871, her son Bertie contracted typhoid, the same disease that killed Prince Albert.  Bertie made a full recovery and his estranged relationship with his mother greatly improved after he was so close to death.  Sadly, in the following years three of Queen Victoria's children died.  In 1878 Princess Alice died of diphtheria, in 1884 Prince Leopold died from a cerebral hemorrhage and in 1900 Prince Alfred died of throat cancer. Then, in 1883, John Brown's loyalty to Queen Victoria ultimately cost him his life when he ignored his own health concerns, refusing to take care of himself when he first became ill and instead stubbornly continued to attend to his duties as her servant, he died from pneumonia.
In the remaining years of Queen Victoria's life and reign as monarch, she eventually returned to a public life after her self-imposed isolation and eventually regained her popularity with the English people as their beloved matriarchal Queen.  In 1887, she celebrated 50 years on the throne with a lavish Golden Jubilee that was celebrated throughout England.  Then, in 1896, Queen Victoria became the longest reigned monarch in British history and she requested that any special celebration be postponed to coincide with her Diamond Jubilee.
In 1900, Queen Victoria continued to observe her annual tradition of celebration of Christmas at Osborne House on the Isle of Wright.  Severe rheumatism in her legs had made her unable to walk and her eyesight was extremely poor due to cataracts.  By the start of the new year and the dawn of a new century, she had become increasingly weak.  Queen Victoria died on January 22, 1901 at the age of 81 years old.  Her funeral took place at St. George's Chapel at Windsor Castle and she was interred beside her beloved Prince Albert in the Frogmore Mausoleum.
Queen Victoria facts and trivia
When Victoria was still heir presumptive to the British crown and before she became queen, she was forbidden from walking up or down the stairs by herself without holding onto someone's hand.  Her over-protective mother had a strict set of rules and was fearful that her daughter would be pushed or tripped down the stairs and killed to make way for another heir.  From birth, Victoria was forced to share a room with her controlling mother and, as a defiant act of independence, one of her first orders after becoming Queen was to have her bed removed from her mother's room and into another bedroom far away in another part of the palace.
When Queen Victoria ascended to the British throne in 1837, it prohibited her from receiving a marriage proposal from a man.  Then in 1839, five days after their second meeting, Queen Victoria quickly fell in love with Prince Albert and wished to marry him but protocol prevented him from asking for her hand and she had to propose to him!
There is a legend that all British Royal brides carry a sprig of myrtle that was grown from Queen Victoria's bridal bouquet.  The origin of the myrtle is false, although it is still a fact that British Royal brides do carry a sprig of myrtle in their bouquets on their wedding day.  The true story is that Prince Albert's grandmother gave Queen Victoria a posy of myrtle when she visited Germany.  The Queen had the myrtle planted at her home, Osborne House, on the Isle of Wight.  The myrtle plant still grows there today and this is the source of the myrtle that is carried in the British Royal bridal bouquets.
Queen Victoria youngest son, Prince Leopold, was affected by the blood-clotting disease hemophilia and two of her daughters, Princesses Alice and Beatrice, were also carriers of this disease.  Several of Queen Victoria's descendants including her great-grandson, Tsarevich Alexei of Russia, also suffered from this disease.  The presence of the disease in her descendants and not her ancestors led to speculation that the Duke of Kent was not Victoria's true father since male carriers always suffer from this disease.  There is no documented evidence of a hemophilia connection thru her mother, the Duchess of Kent.  It is likely possible that the hemophilia gene mutated because the Duke of Kent was over 50 at the time of Victoria's birth and hemophilia frequently accurses in the children of older fathers.
Queen Victoria publicly endorsed the 19th century cocaine-based drink Vin Mariani; this drink would later inspired Coca-Cola in the United States.  Vin Mariani was a medicine or tonic created in 1863 by a French chemist named Angelo Mariani.  Originally the drink was made from Bordeaux wine and coca leaves and contained 7.6 mg of cocaine per fluid ounce of wine.  Vin Mariani was very popular during this time and other notable people endorsed the drink.  Thomas Edison claimed that the drink helped him stay awake for long hours and Ulysses S. Grant began drinking it while writing his memoirs.
Queen Victoria keep a series of detailed journals throughout her long life writing on an average of 2500 words per day.  After her death, her daughter Princess Beatrice had the daunting task or transcribing and editing the 122 volumes that covered Queen Victoria's life from the time of her ascension to her death.  Unfortunately, Queen Victoria's personal and intimate history, private feelings and observations that were written by her own hand were lost when Princess Beatrice burned the original journals.
Several years prior to her death, Queen Victoria had written very specific instructions regarding her death and funeral.  Her son and successor, King Edward VII gently put her into her coffin and she was dressed in a white dress and her wedding veil.  Within the coffin were several mementos: on her right side was an article of Price Albert's clothing and a plaster cast of his hand, on her left side were a lock of John Brown's hair and a small photo of him wrapped in a handkerchief and place in her left hand and concealed by a carefully placed bouquet of flowers.