Queen Victoria reigned from June 20, 1837 to January 22, 1901 as Queen of England and Ireland and later Empress of India (she had been the longest reigning monarch for 63 years and 216 days until Queen Elizabeth II broke the record in 2015 at 64 years and still counting!)  Throughout the years numerous history books have been written about Queen Victoria and how she influenced British traditions and customs at a time that later would become known as the Victorian Era.  Several books, some historical and others romance novels, have also been written about her relationship with her beloved husband, Prince Albert.  (For more information on life of Queen Victoria, please click on the link)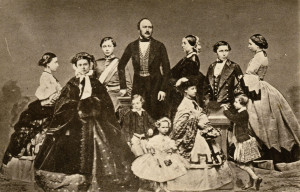 This two part series about Queen Victoria and Prince Albert's nine children will try to answer the following questions – what was the Queen like as a mother and what happened to her children?  Part One will discuss her four sons and Part Two will be about her five daughters.  It has been said that when her children were young she treated them coldly without any affection and with little interest in their daily lives with the exception of their education.  Later, as the children became older, she controlled their personal lives and was determined to arrange their marriages not based on finding the best possible love match but to further her personal and political plans for England.  Perhaps her most difficult and problematic child was her eldest son, Prince Albert Edward, who was the heir to the throne.
So, let's start by discussing the sons of Queen Victoria …
Prince Albert Edward (later King Edward VII)
born – November 9, 1841 at Buckingham Palace, London, England
died – May 6, 1910 at Buckingham Palace, London, England
Prince Albert Edward was the second child and eldest son of Queen Victoria and Prince Albert.  He was christened at St. George's Chapel at Windsor Castle and received the name Albert to honor his father and Edward for his maternal grandfather but in the family he was known as Bertie.  He was the heir apparent in the British line of succession and just a month after his birth the Queen bestowed on him the title of the Prince of Wales (Prince Albert holds the record as the longest-serving Prince of Wales at 59 years, 1 month and 14 days. Prince Charles, the current Prince of Wales, will surpass this record in September 2017)
At the age of seven the Queen and Prince Albert were determined that Bertie should receive the proper education to prepare him in his future role as a British monarch.  Prince Albert set a very difficult educational plan to be implemented by Bertie's tutors.  Unfortunately, Bertie proved to be a very poor student although he tried very hard to please both his mother and father by reaching their scholastic expectations.  In 1859, at the age of 18, Bertie went on a grand tour of Europe mainly studying the art and architecture of Rome before going to the University of Edinburgh for the summer.   He later went on to become an undergraduate at the Christ Church, Oxford and then transferred to Trinity College in Cambridge.  Bertie's academic performance at college was much better than his education under his father direction and his attitude toward higher learning improved dramatically.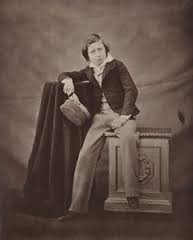 In 1860, his studies were interrupted briefly when he was sent to North America to represent the Queen on his first Royal tour as the heir to the British throne.  During the four month tour Bertie traveled to many parts of Canada and he visited the United States and went to Washington, D.C., nearby Mount Vernon and also New York City.  The tour was a great success and Bertie was praised by the media for his charming manner and his diplomatic skills which brought a new-found confidence and self-esteem to the nineteen year old Prince of Wales.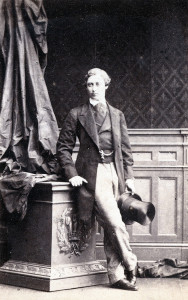 At this point in his life Bertie had received the reputation as a playboy carousing with women of questionable character, gambling and drinking.  All these activities upset both his parents and the Queen felt that the solution to quickly ending Bertie's scandalous behavior was to find him a suitable wife with the hopes that it would force him to settle down.  Queen Victoria thought that she had found the perfect wife for Bertie; it was Princess Alexandra who was the eldest daughter of Prince Christian of Denmark.  On the recommendation of Bertie's eldest sister, Princess Victoria, a meeting was quickly arranged to introduce them and Bertie was very impressed with Alexandra's beauty, charming ways and mild manner. (For more information about the fashion style of the future Queen Alexandra, please click on the link)
Of course, the Queen was very wrong in thinking that the prospect of a wife and children would put a stop to Bertie's wild ways!  When Bertie was sent to Ireland to continue his military training he became involved in a brief sexual relationship with a local actress.  Upon returning to Cambridge, word of his indiscretions reached the Queen and she sent her husband, Prince Albert, to have a serious talk with their son.  A short time later, Prince Albert became seriously ill and died in December 1861.  Wrongfully, the Queen claimed that the stress of dealing with Bertie's affair weakened Prince Albert's health and she unjustly blamed Bertie for the death of her beloved husband and she became lost in her grief and completely withdrew from public life.  (The initial cause of death was believed to be typhoid fever but recent historical evidence indicates that Prince Albert had been ill for at least two years and the probable cause of death was abdominal cancer).
On March 10, 1863 Prince Albert Edward and Princess Alexandra were married at St. George's Chapel, Windsor Castle.  (For more detailed information about the wedding, please click on the link to British Royal Weddings – Part Two)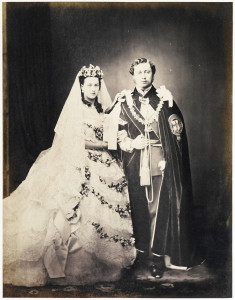 The young couple moved to Marlborough House, their official London residence, and they also spent time at Sandringham, their country home in Norfolk.  Bertie and Alexandra had six children – Albert Victor, George (the future King George V), Louise, Victoria, Maud and Alexander John who died in infancy.  (For more information about the history of Sandringham, please click on the link)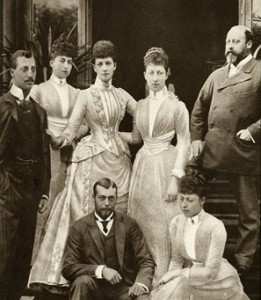 The couple entertained lavishly with elaborate balls and dinners in London and large weekend "house parties" at Sandringham where their guests enjoying horseback riding, fishing and hunting.  Despite the appearance of domesticity, Bertie continued his playboy lifestyle having numerous affairs with married women and he also enjoyed gambling at the horse races and private illegal card games.  Bertie also began to cultivate both British and International political alliances with prominent leaders while the Queen remained in seclusion obsessed with her grief and away from London for an extended period of time.  The Queen, always disapprovingly aware of Bertie's indiscretions, tried to control him by not relinquishing any of her political power to him during the remainder of her long reign.  This situation did not go unnoticed by both the British government and the British public who absolutely adored the Prince of Wales.
Ultimately, upon the death of Queen Victoria on January 22, 1901, Bertie was crowned King Edward VII.  Due to an appendicitis and subsequent surgery, his coronation was postponed while he recovered.  The rescheduled coronation took place at Westminster Abbey on August 9, 1902.  The newly crowned King proved to be a popular monarch, he immediately sold Osborne House, refurbished the other Royal Palaces and reintroduced many of the traditional British ceremonies, such as the State Opening of Parliament, that the Queen had discontinued after the death of Prince Albert and her self-imposed removal from public life.  He also modernized the British Navy and reorganized the British Army.  Being related to many of the Kings and Queens of numerous European countries, King Edward became known as being just and fair in negotiating differences although he had a very difficult relationship with his nephew, Kaiser Wilhelm II.  During his brief reign, it was barely nine years, the Edwardian era at the turn of the century brought significant advancements in technology.  In the final year of his reign, King Edward was intent on solving a constitutional crisis which would ultimately be resolved after his death and would restrict the power of the House of Lords with the Parliament Act of 1911.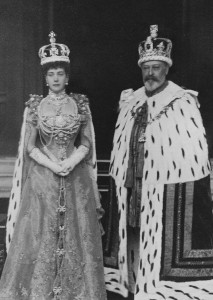 King Edward smoked incessantly averaging numerous cigarettes and cigars each day for most of his adult life.  He developed an ulcer and later bronchitis and as his medical condition continued to deteriorate in his final days he suffered from several heart attacks.  King Edward died on May 6, 1910 at Buckingham Palace in London and he is buried at St. George's Chapel at Windsor Castle.
Prince Alfred Earnest (later the Duke of Saxe-Coburg and Gotha)
born – August 6, 1844 at Windsor Castle, England
died – July 30, 1900 at Rosenau Castle near Coburg, Germany
Prince Alfred was the second son and fourth child of Queen Victoria and Prince Albert, to his family he was known as Affie.  He was christened at Windsor Castle in the Private Chapel and became second in the British line of succession.  Alfred was tutored alongside his older brother, Albert Edward.  In 1856 his parents decided that he would join the Royal Navy, later he was promoted to lieutenant in 1863 and then captain in 1866.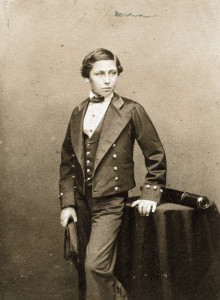 Upon the abdication of King Otto of Greece in 1863 the British government was influenced by the Queen to block the plans for Alfred to succeed him.  It seems that the Queen and Prince Albert wanted Alfred to eventually inherit the Duchy of Saxe-Coburg.  Meanwhile, Alfred position in the line of succession was pushed back further when his elder brother, Albert Edward, had a son.  Then, in May 1866, the Queen's bestowed on Alfred the title of Duke of Edinburgh and a month later he was granted a seat in the House of Lords.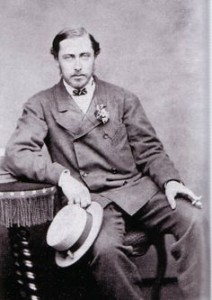 At the beginning of the year 1867, Alfred embarked on a Naval voyage aboard the HMS Galatea.  He left Plymouth in January, then Gibraltar in June, reaching Cape Town in July and finally landing in Australia in October.  This five month historical visit to Australia was the first by a member of the British Royal Family and Alfred received an enthusiastic welcome in Melbourne, Sydney, Brisbane and Tasmania.   On his return trip to England, Alfred stopped in New Zealand, Hawaii and Japan before continuing on to India.
On January 23, 1874, Prince Alfred married the Grand Duchess Maria Alexandrovna of Russia the daughter of Emperor Alexander II at the Winter Palace in St. Petersburg.  Alfred's new wife, who was used to an elevated status in Russia, had a difficult time adjusting to the higher precedence of not only the Queen and her daughters but also the Princess of Wales.  After much fuss, the Queen denied Maria's request for special treatment being the daughter of the Tsar but eventually she granted her precedence before her daughters but after the Princess of Wales.  Alfred and Maria had one son and four daughters – Alfred, Marie, Victoria, Alexandra and Beatrice.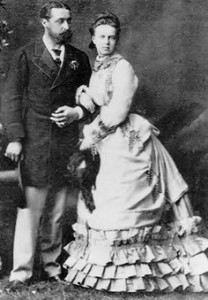 In regards to Alfred's naval career, while stationed in Malta, he was promoted to rear-admiral in 1878, then vice-admiral and finally Commander-in Chief of the Channel Fleet in 1882 and the Mediterranean Fleet in 1886.  Finally in June 1893 Alfred was promoted to Admiral of the Fleet.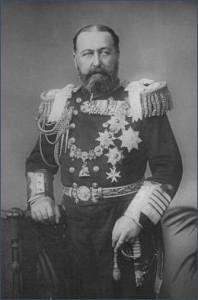 Upon the death of his uncle Ernest II, the Duke of Saxe-Coburg and Gotha, on August 22, 1893 Alfred inherited the duchy.  To accept the title, Alfred was required to relinquish his seats in the House of Lords and the Privy Council to avoid a conflict of interest.  He also was also denied his British allowance but he was allowed to keep the money used to maintain Clarence House, his London residence.
Sadly, although the people of Saxe-Coburg and Gotha came to accept a "foreign" ruler, Alfred did not hold the duchy long.  He died of throat cancer on July 30, 1900 at the Rosenau Castle and is buried at the ducal mausoleum in the Friedhof am Glockenberg in Coburg.  The duke's only son had died a year earlier and the next in the succession, his nephew Prince Arthur of Connaught had previously renounce his right and Prince Charles Edward, the son of his brother Prince Leopold, inherited the title.  
Prince Arthur William (later Duke of Connaught and Strathearn)
born – May 1, 1850 at  Buckingham Palace, London, England
died –  January 16, 1942 at Bagshot Park in Surrey, England
Prince Arthur was the third son and seventh child of Queen Victoria and Prince Albert.  He was christened in the Palace's Private Chapel and it has been reported that he was the Queen's favorite son.  Like his other siblings, Arthur received his education for private tutors until he was 16 years old.  In 1874 the Queen, much like she had previously done with her other children, bestowed an honorary title on Arthur and he became the Duke of Connaught and Strathearn and the Earl of Sussex.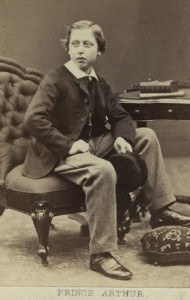 Arthur was enrolled for military service and he was sent to the Royal Military Academy at Woolwich in 1866.  After two years Arthur graduated and received a commission as a lieutenant in the Corps of Royal Engineers.  Then in 1869 Arthur transferred to the Royal Artillery Regiment and had a long career in the Army serving in South Africa and Canada in 1869, Egypt in 1882 and India in 1886.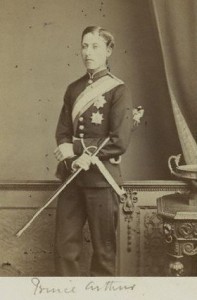 Meanwhile, in regards to his personal life, Arthur married Princess Louise of Prussia at St. George's Chapel in Windsor Chapel on March 13, 1879.  Louise was the great-niece of the German Emperor Wilhelm I who was not only Arthur's cousin but also his godfather.  The couple had three children – Margaret, Arthur and Patricia.  They had a London residence at Clarence House and a country home of Bagshot Park in Surrey.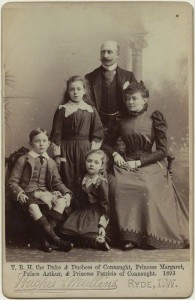 During Arthur's time in Canada he had attended state functions and social events leaving a very favorable impression and he became extremely popular with the Canadian people.  Then, on the recommendation of the Prime Minister Asquith, he was appointed by his nephew, now King George V, as the Governor General of Canada in 1911 and served until 1916.  His wife and children moved from England to be with him in Canada during the length of this service.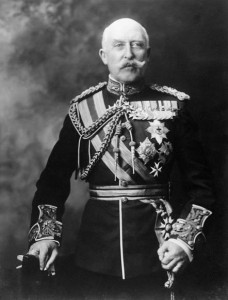 When Arthur returned to England he continued his military career, briefing serving in both World War I and II.  He also represented the King and his country by continuing to perform his royal duties and he served as president of the Boy Scouts Association which had officially formed in 1910.  Princess Louise died in March 1917 of influenza and bronchitis, she was the first member of the British Royal Family to be cremated and her ashes were buried at Frogmore.  Her husband, Arthur, survived her by almost twenty-five years and he died on January 16, 1942 at Bagshot Park and he is also buried at Frogmore.
Prince Leopold George (later the Duke of Albany)
born – April 7, 1853 at Buckingham Palace, London, England
died – March 28, 1884 in Cannes, France
Prince Leopold was the fourth son and the eighth child of Queen Victoria and Prince Albert; he was given the name in honor of King Leopold I of Belgium who was the uncle to both his parents (remember that the Queen and her husband were first cousins).  The birth of Leopold was different than the labor she experienced with her other children; it was the first time that chloroform was used as an anesthesia for a royal birth.
Unfortunately, this was not the only medical condition that was to affect Leopold's life.  As a young child he was diagnosed with hemophilia, a hereditary genetic disorder that impairs the human body's ability to control blood clotting.  As a result of his disease, it was decided by his parents that Leopold would be under constant watch and that his physical activities would be severely restricted.  (Historical Fact:  The hemophilia disease has been traced back to Leopold's mother, Queen Victoria.  Besides affecting not only her son, she unknowingly passed the disease onto future generations through her daughters, Alice and Beatrice, children eventually affecting several of members of the Royal families of Spain, Germany and Russia)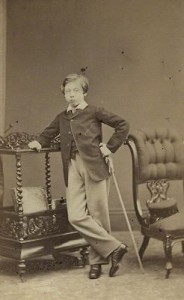 Despite his health problems, Leopold proved to be a good student studying under with private tutors appointed by Prince Albert.  In 1872, Leopold was enrolled at Christ Church in Oxford and through his interest in the game of chess became the president of the Oxford Chess Club.  While at university, Leopold was initiated into the local Freemason lodge in Oxford after being recommended for membership by his older brother, Prince Albert Edward.  After leaving university with an honorary doctorate in civil law, he spent time traveling in Europe and then Canada.   In 1881, the Queen bestowed on him the tile of Duke of Albany, Earl of Clarence and Baron Arklow.
As a young man, Leopold was upset about not being able to pursue an active military career like his brothers because of the risk of injury would cause him to bleed uncontrollably.  The Queen, who was constantly worried about her son's health, eventually allowed Leopold to receive an honorary position as the Colonel-in-Chief of the Albany Highlanders 72nd Regiment which later combined with the Seaforth 78th Regiment.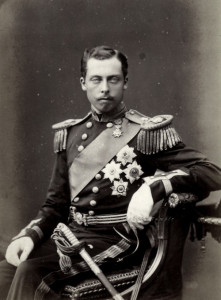 In regards to Leopold's personal life, unlike her other children, Queen Victoria did not pursue arranging a marriage for her son because the life expectancy of someone with hemophilia was rarely beyond childhood.  Leopold did consider several women as possible brides, one of those was Alice Liddell (it was said that a friend of her family, Lewis Carroll used her as the inspiration for his classic novel "Alice's Adventures in Wonderland").  Eventually, Leopold married Princess Helene Friederike on April 27, 1882 at St. George's Chapel at Windsor Castle.  The couple had a truly happy marriage and soon became parents to a daughter, Alice.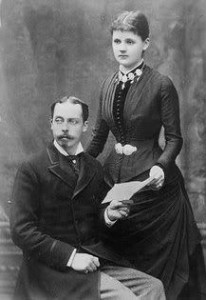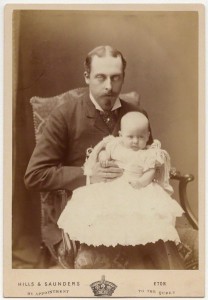 Then, while his wife was expecting their second child, Leopold went to Cannes to recover from severe joint pain brought on by his hemophilia which the harsh winter in England exacerbated while Helene stayed at home.  Unfortunately, during his time in Cannes Leopold fell hitting his head and injuring his knee.  He died the next morning from a possible cerebral hemorrhage and his body was returned to England and he is buried in the Albert memorial Chapel at Windsor.  Helene gave birth four months later to a son named Charles Edward.  (Historical Fact: Since the hemophilia gene is carried on the X chromosome and passed through a female, Leopold's daughter Alice inherited the gene and her oldest son, Rupert, had hemophilia)