Floral arrangements are the perfect decorative accessory for any room of a home.  Floral arranging is a favorite hobby of mine; I find the process very relaxing.  By using my creative skills to create lovely arrangements, I can get the exact colors and style that I need for the room's decoration.  Most of the arrangements used throughout our home were used for the many special events during our family's lives together and each one has great sentimental value.
Before I start describing the floral arrangements in our home, I would like to say that I use artificial flowers.  I know most people would say to use only fresh flowers when decorating a home, but the quality of artificial flowers currently available are very realistic looking.  Fresh flowers can be very expensive to purchase weekly throughout the year.  Buying artificial flowers keeps the cost to a reasonable low onetime expense. When shopping in your local craft store, be selective in choosing artificial flowers for the arrangements because there are still very poor quality ones available but there are also some excellent and realistic looking ones.  Before shopping it is helpful to have a basic idea of the style and colors needed for a particular room and to also pre-select the vase.
In our entry, there is a dark wood pedestal next to a low bench.  On the pedestal, for most of the year, there is a beautiful white rose arrangement.  This one is very special because it was used on the buffet table at our small and intimate wedding ceremony/reception in our home in California several years ago. Seasonally, I add blue feather sprays in Spring and several peasant feathers in the Fall.  This slightly changes the look of the arrangement for each season.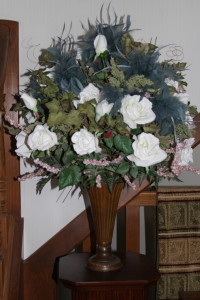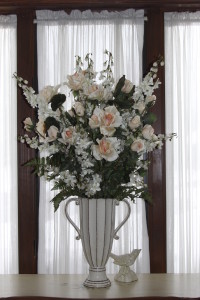 In the library, on a painted table in front of the window, is a lovely arrangement of pastel flowers in a tall ivory vase.  This tall floral arrangement was used last year for my Mother's rosary and funeral.  I knew I wanted to make something special to honor my Mother and creating the arrangement allowed me some quiet time to think of our shared memories and to grieve for her.  After the funeral, I brought the arrangement back to our home.  It is not a sad remembrance but a joyful one for the life of a very special person in my life.
In the family room there is a table behind the sofa with two tall lamps.  Years ago, when I was creating the floral arrangements for our small and intimate wedding ceremony/reception at our home in California, I used a ceramic vase with dark pink roses and some greenery.  This floral arrangement was used on the welcome table at our wedding and it now sits on the sofa table between the lamps.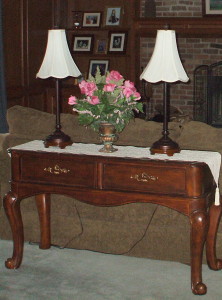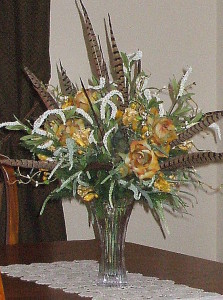 In our dining room, there is a floral arrangement of golden roses and greenery in a crystal vase, a wedding gift from a dear friend.  It sits on our dining room table with an antique crocheted doily that was bought a few years ago on one of our road trips.  Seasonally, I add several peasant feathers in the Fall.  This slightly changes the look of the arrangement and with the golden roses fitting in with the fall colors there is no need to purchase an additional seasonal one.
This is not a floral arrangement, but in the kitchen there is a straw basket filled with artificial fruit.  This basket sits on the kitchen counter year-round and for the different seasons I add a chocolate bunny for Spring and a jar filled with wooden candy canes for Christmas.  This is a perfect example of adding something to a display that makes it fit the season without purchasing additional items.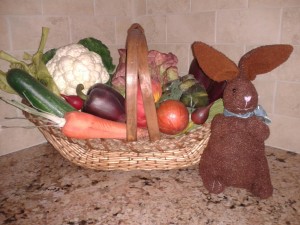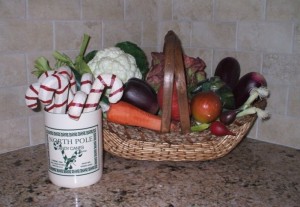 Upstairs in our master bedroom we have lovely dark wood furnishings; a bed, dresser/mirror, armoire, old-fashioned roll-top desk and in the corner a reading area with a comfortable recliner chair.  On the dresser I have displayed our wedding photos plus photos of both of us as children.  I recently added a small floral arrangement of pale pink roses, white and green hydrangeas in a small ivory porcelain vase.  As a finishing touch I tied a pale green ribbon to the vase.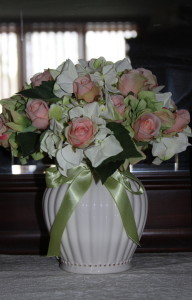 As previously shown in last month's Décor post, Home Office, there is a lovely small floral arrangement that sits on my office desk.  It started as a small ivory porcelain container that held several sprigs of green berries, clear and green crystal beads.  It is something that I look at every day.  I really liked the arrangement but it seemed like it was incomplete, so I recently added several pale pink roses.  Sometimes a little "tweaking" of an existing arrangement is required and I think it looks better.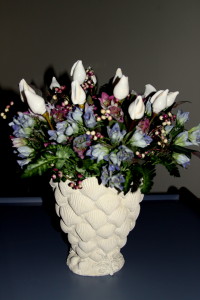 We jokingly refer to our downstairs as the "California Room".  It is decorated with items that remind us of our home back in California.  There is an entire wall of black bookcases filled with our Disney memorabilia, check out this month's Décor post for photos.  The first few years that we lived in the Midwest, we really missed Disneyland.  We also missed spending time on the weekends at the great beaches in Southern California.  On the wall opposite the Disney bookcases is a lovely oil painting of a seascape that we bought in Santa Barbara.  There are lots of seashells and other beach themed items that decorate our downstairs space.   For our daughter's fourth birthday back in California we had an Ariel themed party.  I had purchased several dozen seashells over the internet to use as decorations around the house and for cake decorations.  With the remaining seashells, I made an arrangement of seashells that looked like white rosebuds.  It was a simple arrangement made with the seashells hot-glued onto long stems that we left over from another project.  A couple of years ago I was in Home goods and found a resin vase that resembled stacked seashells.  With the new vase and I rearranged the seashell "roses", added some greenery and this is the arrangement that sits on the bar area in our downstairs room.
That completes the tour of the floral arrangements in our home.