When decorating our home, we have purchased several lovely landscapes by renowned artists but we also have many inexpensive pieces of art work hanging on our walls.  I think this balance of both types of art work keeps our home very interesting for visitors but more importantly these inexpensive and unusual wall art pieces express our family history and varied interests.
When decorating your home consider special photographs to add a personal touch.  In the hallway on the second floor of our home are several framed photographs.  These types of wall art are a very traditional alternative to formal landscape or floral paintings.  When my husband and I married, it was a second marriage for both of us so we had a small intimate wedding ceremony and catered reception at our home in California.  Before our wedding, my husband and I had a series of formal pictures taken.  We had one of these photographs framed in an ivory mat with a brass plate engraved with our names and wedding date.  Instead of a guest book, our family and friends signed the mat and it is a wonderful remembrance of that special day.  Since our wedding was so small, about 50 guests, we decided that during the wedding reception we would have the photographer take our picture with each group of guests sitting at the reception tables. Hanging next to our wedding photograph is a collection of the family group photographs in an ivory mat and golden frame.  These photographs are an important way to remember our wedding day which was celebrated with our family and friends.  Recently these photographs have taken on a very sentimental purpose since my mother, my husband's grandparents and his young nephew have passed away over the last few years.
Further down the upstairs hallway, near her room, are several photographs of our daughters taken over the years.  These photographs will change from time to time but one that always remains and my personal favorite is a photograph taken when she was just a baby.  This cute photograph shows her wearing a pair of angel wings, but the best part is the expression on her face.  Tucked into the frame is a sweet memento of her hand print taken when she was in preschool and it is the perfect finishing touch to add to the frame.
Not all art work or photographs need to hang on the walls of a home.  In our master bedroom, on our lovely dark wood dresser, are two framed wedding photographs.  These photographs rest against the dresser's mirror and as a sweet touch I added childhood photographs of both my husband and me.  All these framed photographs are flanked by two bronze lamps with ivory lampshades decorated with amber beading.  As I mention in another Décor post this month, Floral Arrangements, on the master bedroom dresser there is a beautiful floral arrangement of green and white hydrangeas with pale pink roses in an ivory vase tied with a pale green ribbon.
In our daughter' bedroom I used this same technique of resting framed pictures on a piece of furniture instead of hanging them on the wall.  On her dresser are framed copies of two Marty Bell paintings, the Hansel and Gretel Cottages, with ivory mats and beautiful golden frames which rest against the dresser's mirror.  In two different ivory frames are childhood photographs of our daughter and between them is a lovely porcelain doll that bears a striking resemblance to our daughter.  There is more unusual art work in this room and hanging over the bed are two very special framed pieces.  These two pieces commemorate our daughter's baptism and her first birthday.  In the scrapbook aisle of the local craft store I found special paper for both events, for the baptism I used a scrapbook paper designed with a sweet baptism dress and for her first birthday I used a Winnie the pooh themed scrapbook  paper.  At both of these events, guests signed the paper and wrote sweet messages to her.  Later, after the parties, my intention was to frame both for her bedroom.  I started by centering the papers onto two matching antique gold mat boards and then framed them both in matching dark wood frames.  Both of these special pieces commemorate two of the important events in our daughter's life and add the perfect personal touch to her bedroom.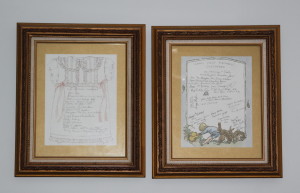 In the dining room of our home there is a mixture of both traditional and unusual art work.  On either side of our china cabinet are two Marty Bell rose paintings.  When I first hung them on the wall above the two chairs flanking the china cabinet they looked so small on the dining room's large wall.  To add a more substantial presence to these paintings I decide to pair them with framed sheet music that I found in an antique store and with these two pieces I was hoping to add a unique personal touch to the room.  The first framed sheet music is of the song "My Kind of Town" sung by Frank Sinatra, the song is better known and often referred to as the Chicago song.  My mother was born there and my parents met, married and lived in Chicago before my family moved to California.  At weddings and special events my mom would always request her "hometown" song. The second framed sheet music is of the song "San Fernando Valley" sung by Bing Crosby.  After my parents and their growing family moved to California, they settled in San Fernando Valley.  This is where I was born and raised during the 1950s and 60s.  I have very fond memories of spending my childhood there, so this piece honors my personal history.
On the other side of the dining room is an antique tea cart and on the wall above handg two framed art works.  The first is a copy of a Marty Bell painting called, "Sweetheart's Gate", this is a nice complement to the two Marty Bell rose paintings across the room.  (During the Christmas season I replace this print with a framed sheet music of "Rudolph the Red-nosed Reindeer decorated with several pine boughs and red berries)  Hanging below the Marty Bell print is a framed personalized label from the wine we served at our wedding.  Before our wedding we took a pre-honeymoon trip to Napa Valley in northern California and when we were there we ordered the wine and champagne for our wedding reception from one of the wineries that we visited.  It is a very sentimental memento of that special day and this personalized piece represents a special event in our lives and is always a great conversation starter at our dinner parties.
The library room is our home is filled with several bookcases of books and travel souvenirs from our trips around the United States and Europe.  As mentioned in a previous Décor post, Decorating with Plates, this room is also filled with different collections from nature, such as our National Park plates, a couple of other wildlife plates as well as my husband's rock collection, ostrich and emu eggs, abandoned bird nests, etc. are displayed in the library bookcases.  (Don't laugh about the rock collection, I know it sounds like very strange items to collect, but my husband has done several presentations at our daughter's school for her science class.  He does a very informative lecture on all the different types of rocks and minerals from his collection and he has become known as the "rock guy"!!)  Anyway, on one wall of the room there is a framed painted feather that we got at the Illinois State Museum and a framed owl butterfly that was a birthday present for my husband a few years ago.  Recently on a road trip to North Carolina, we stopped in West Virginia at an artist studio and bought a framed bear painted on bark.  All these items reinforce the nature theme of our library room decor.
On another wall of our library near the bookcases are two framed souvenirs from our trip to Hawaii a few years ago.  The first is a framed sheet music cover of "Aloha Oe" I had at the small gift shop at the Iolani Palace in Honolulu, Hawaii.  This song was written by Princess Lili'uokalani in 1877 and has become synonymous with Hawaii.  The second piece is hung below and is a beautiful print of the Hawaiian Islands (formerly known as the Sandwich Islands) that was purchased at the Polynesian Cultural Center located on the island of Oahu, Hawaii.  Tucked under the framed "Aloha Oe" music cover is an interesting item from one of the demonstrations at the Polynesian Cultural Center, it is an intricately woven palm leaves shaped into a bird.
Travel items purchased during our road trips make wonderful and unusual art work to hang in our home.  Downstairs in our basement, which we call the "California Room", is a framed print of a map showing the 21 California Missions which was purchased in one of the mission gift shops.  When we lived in California and during our travels throughout the state we loved stopping at these iconic and unique destinations.  At each visit to a mission I would purchase a small metal mission charm.  These charms grew into a collection and when I framed the California Mission map I thought it was a great opportunity to displays the mission charms.  As you can see from the photo, we have visited 16 out of the 21 missions and we've got 5 more to visit on future trips back to California!
On the wall near our kitchen's pantry are two California fruit crate labels.  The crate labels have become very popular collectible items and can be purchased easily online from Ebay or other websites.  The two framed labels are from a lemon packaging plant located not far from my childhood home near the San Fernando Mission in California. The packaging plant had been converted into retail shops and recently on our last visit the facility now stands vacate.  The crate labels are a nostalgic piece of California history and they make very interesting art work to hang in our home.
Finally, whenever I am antiquing during our road trips I always look for beautiful Audubon wildlife prints.  These can be relatively inexpensive depending on the size of the print so I always try to purchase a couple of them whenever I see them in the antique stores.  The art work is beautiful and the colors are usually very vibrant.  We have several of these Audubon wildlife prints hanging in our master bathroom.
Art work for a home does not always have to be expensive paintings or lithographs.  Consider unique items purchased during your travels or nostalgic items that have personal meaning or family photographs that mark special events in the lives of your family.