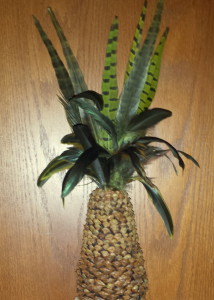 Sitting on a table in our library is this floral pineapple decoration that I recently made, I had seen one in a magazine several years ago and I thought it would make a lovely arrangement for our home.  The original arrangement was larger and used artificial apples but I altered the craft project to a smaller size and used pieces from pinecones because I thought the seed scales would resemble the "texture" of a real pineapple and the finished piece would have a more realistic style.  The project is a little time consuming, it took a couple of hours to complete, but I think it turned out wonderful!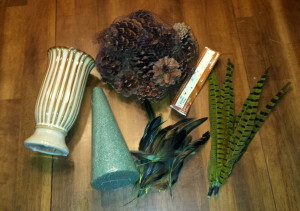 Pineapple decoration supplies
Several pinecones
Several pheasant feathers and some additional feathers in a coordinating color
1 Styrofoam cone
1 urn, vase or other container
Hot glue gun and glue sticks
Scissors and tapered pliers
Craft gloves (optional)
 Pineapple decoration instructions
Using the tapered pliers, deconstruct a pinecone by removing each individual seed scale. If you wish to protect your hands from the sharp edges of the pinecone, craft gloves can be used during this process.  Using the scissors, trim the bottom of each individual seed scale leaving a straight edge to help it lay flat on the Styrofoam cone during the gluing process. Sort the pinecone seed scales into three different sizes – small, medium and large.  (Craft note: This step was the part of the craft project that took the most time)

Cut off the top and "carve" the bottom section of the Styrofoam cone.  The shape of the cone should be altered to resemble a pineapple form – narrow and tapered top, wide and fuller middle section and slightly tapered, rounded bottom.   (Craft note: My completed floral decoration is more elongated then a real pineapple, if a shorter and wider style is desired  I would suggest using a Styrofoam block instead of the cone)
Starting at the top of the Styrofoam cone, glue the individual pinecone seed scales in rows, overlap each additional row until the entire surface of the Styrofoam cone is covered.  Use the small pinecone seed scale for the top portion, the medium for the middle and the large for the bottom portion of the Styrofoam cone.


        

Insert the pheasant feathers and additional feathers to the top of the Styrofoam cone.
Place the completed pineapple decoration onto a urn or other container, secure with glue if you wish to attach it permanently.