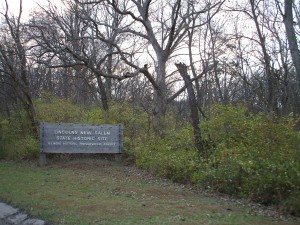 We have been to many Abraham Lincoln's sites over the years; his Kentucky birthplace, his Springfield home and the place he was buried, the site of his famous speech in Gettysburg, and of course Ford's theater where he was assassinated.  Lincoln's New Salem State Historic Site was always on our list to visit, so in the fall of 2011 we decided to get in the car and take a day trip.
Lincoln's New Salem is located about 20 miles northwest of Springfield, Illinois.  22 buildings were rebuilt on the original foundations by the Civilian Conservation Corps during the Great Depression.  Furnished as they would have looked in the 1830s, the current village has twelve log houses, ten workshops, various stores and a tavern, a mill and a school house where church services were held.
The weather was very cold on the day we visited, but we walked around the village looking into places like the Berry-Lincoln store and Rutledge Tavern.
The visitor center had a very nice museum and a theater that showed a film about Lincoln's time in New Salem.  We learned that a 22 year old Lincoln arrived and spent six years working several different jobs in the village.  He split rails and work on a river boat, was a store clerk and general store owner, served as the postmaster and deputy surveyor and enlisted as a soldier in the Black Hawk War.  He owned several businesses that failed before being elected to the Illinois General Assembly in 1834.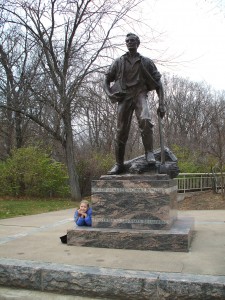 Visiting in the fall was a great (no crowds!) but I think we might plan a trip back to New Salem during the spring or summer months.  At that time, it becomes a living history experience with costumed interpreters who demonstrate their crafts as a blacksmith, shoemaker, carpenter, cooper, tanner and hat maker scattered throughout the village.
We enjoyed learning about Lincoln's time in New Salem and I highly recommend a visit especially if you have school aged children.
Before planning a trip to Lincoln's New Salem in Illinois, check out their website for directions, hours and other general information.  www.lincolnsnewsalem.com
For additional Abraham Lincoln sites and landmarks in other parts of the United States, please click on the link to the Lincoln Memorial which is located in Washington, D.C. and Springfield, IL Part One for information about the Lincoln Presidential Library and Springfield, IL Part Two for information about Lincoln's Home, Law Offices and the Lincoln Tomb which is his final resting place.