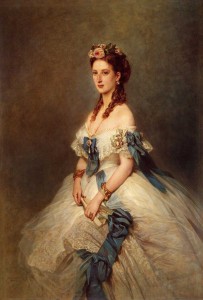 The Princess of Wales was a fashion icon in her day … but wait, I'm not talking about Diana but Princess Alexandra.  Princess Alexandra of Denmark married Prince Albert Edward, the son of Queen Victoria, at St George's Chapel, Windsor Castle on March 1863.  Princess Alexandra was barely 18 years old at the time of the wedding and she was very beautiful and tall in stature with a slim figure which was in sharp contrast to the women of the time who had much fuller figures.  (Queen Victoria was barely five feet tall and rather plump!)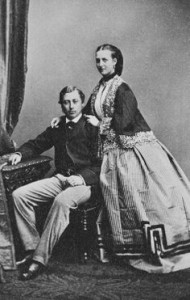 Princess Alexandra's wedding dress was created by Charles Worth, an English fashion designer working in France, who dominated Parisian fashion at the end of nineteenth century.  Following the tradition started by Queen Victoria, Princess Alexandra's ivory gown, with a separate bodice top and full skirt, was made of English silk with a Honiton lace overlay featuring elaborate embroidered symbols of an English rose, an Irish shamrock and a Scottish thistle.  The silver moiré train was 21 feet in length and the gown was further embellished with orange blossoms and myrtle garlands and she wore a veil of Honiton lace with a wreath of even more orange blossoms and myrtle.  Her bridal bouquet was made of white rosebuds, lilies of the valley, rare orchids, orange blossoms and of course the traditional sprigs of myrtle said to have been grown from a planting taken from Queen Victoria's wedding bouquet 23 years earlier.  Prince Albert Edward gave her a wedding present of a pearl necklace, earrings and brooch which she wore along with an opal and diamond bracelet that was a gift from Queen Victoria.  (For more information about the wedding of Prince Albert Edward and Princess Alexandra, please click on the link British Royal Weddings – Part Two)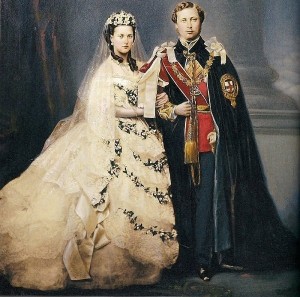 At the time that Alexandra came to England to marry the heir to the throne it had been a few years since the death of the Queen Victoria's husband, her beloved Prince Albert, and the Queen had withdrawn from society stifled by her grief and she went into a self-imposed period of prolonged mourning.  Prince Albert Edward was heir to the throne and as the Prince of Wales he was put into service as the Queen's representative for official functions and together the royal couple proved to be extremely popular with the public.  Prince Albert Edward soon became obsessed with royal protocol and dressing in proper clothes for every occasion and it was not unusual for him to completely change his clothing a dozen times a day.  Taking on her new role as Princess of Wales, Alexandra was always acutely aware of her royal duty to dress appropriately for official functions and whenever she was seen in public she was always elegantly dressed in fashions that flattered her body type that would made with the finest fabrics.
Princess Alexandra was also very creative in adapting her style of clothing to mask several physical impediments.  It was said that she had a scar on her neck, possibly from surgery when she was a child, and she took to wearing day dresses with high collars and in the evening she wore multiple layers of pearls or diamond necklaces that would cover her neck, these were known as collier de chein meaning collar necklace.  This style of jewelry became very popular with society ladies and a fashion trend was soon started.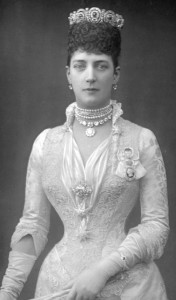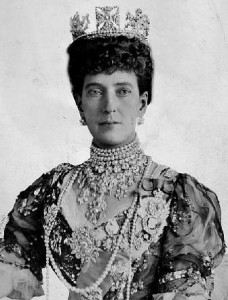 Princess Alexandra also developed a curvature of the spine which was a complication from rheumatic fever that she contracted in 1867.  As a result, she walked with a distinct limp for several years and very cleverly adapted her clothing to distract from the physical disability thereby minimizing attention to the problem, or so she thought!  The public noticed anyway, calling it the "Alexandra Limp", and in a strange way it caused another fashion trend.  Ladies so admired everything about Princess Alexandra that they were soon emulating the limp by wearing special pairs of shoes in different heel heights or walking with canes.  The strange trend did not last long because women fashions were soon changing from dresses with full skirts to more tapered ones causing women to walk with smaller steps and thus eliminating the "need" to limp.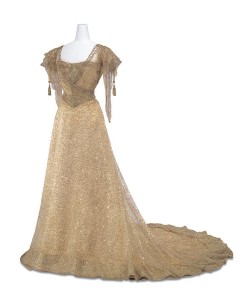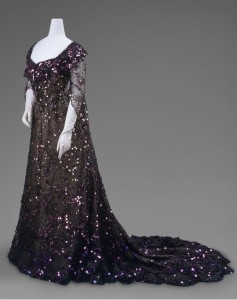 In 1901, Queen Victoria died and Prince Albert Edward became King Edward VII.  As Queen Alexandra prepared for the coronation she knew she wanted a very special gown and she called upon her friend, Lady Curzon, to help her.  The Coronation Day was set for June when the weather in London would be hot and since the Queen would already be wearing a heavy velvet robe as part of her coronation regalia the material for the dress was made of lightweight net with metallic embroidery.   Lady Curzon oversaw the making of the beautiful material which was created in India and the fabric was embroidered with the symbols of England (rose), Ireland (shamrock) and Scotland (thistle) that would represent the countries that King Edward would rule.
Part of Queen Alexandra's coronation regalia included a Queen Consort crown that was especially made for her to wear.  In 1849, the East India Company had acquired the large 186 carat diamond, known as the Kohinoor Diamond, which was given to Queen Victoria.  The Kohinoor diamond was said to be cursed and if any male wore it he would surely lose the throne.  Queen Victoria, being female, did not fear the curse and the Kohinoor diamond was cut into a smaller 105 carat diamond which Queen Victoria wore set in a brooch.  After the death of Queen Victoria, the Kohinoor Diamond was set into the Queen Consort's crown instead of King's crown to avoid the possibility of the validity of the curse.  Queen Alexandra's crown had a platinum frame designed as circlet accented with four large crosses (the center cross was set with the Kohinoor Diamond and the other crosses set with "smaller" diamonds) and four large fluer-de-lis for a base.  Four arches set with three rows of diamonds each gently curved to join together and topped with a diamond encrusted orb and cross at the center., approximately 3688 diamonds were used.    An inner lining of purple velvet was used under the arches and ermine lined the base so that it would set comfortably on the Queen's head.
(Special Royal Note: The custom continued afterwards with the Kohinoor Diamond always worn in the Queen Consort's crown, this was done for Queen Mary at the coronation of George V and Queen Elizabeth at the coronation of George VI but for their daughter's coronation, Queen Elizabeth II wore the St. Edward's Crown that has been used to crown every sovereign since 1661.  For more information, click on the link Crown Jewels of England – Part Two)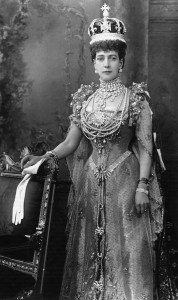 To complete her coronation ensemble, Queen Alexandra wore Queen Victoria's diamond bracelet and earrings.  Then she layered even more jewels across the front her coronation gown and they were stitched onto the fabric.  At her waist she wore the Dagmar necklace (a reminder of her Danish heritage) as a stomacher and several diamond earrings were added to the necklace as pendants.  She also wore a set of Queen Victoria's diamond bow brooches pinned down the front of the gown with additional emerald earrings suspended from the bows as pendants. Around her neck Queen Alexandra wore Queen Victoria's large diamond necklace and her customary strands of several pearl necklaces.  Needless to say, the bodice of her coronation dress sparkled beautifully!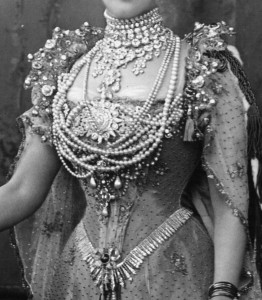 During the reign of King Edward and Queen Alexandra, which became known as the Edwardian Age (1901-1910), women fashions changed from dresses with full skirts worn with several layers of undergarments to dresses with tapered skirts, tight laced corsets and bustled trains accented with layers of lace and beaded appliques.  Queen Alexandra continued to influence fashion and King Edward spent lavishly on a large wardrobe of dresses and countless pieces of jewelry including necklaces, bracelets, brooches and tiaras.  The King was very interested in what the Queen wore and he was always aware of royal protocol and correct dress, in fact the King once reprimanded the Queen for wearing her Garter sash incorrectly and had her change it immediately before leaving the palace!
Shown below are two dress examples, the one on the left is a Victorian style dress and the one on the right is a Edwardian style dress.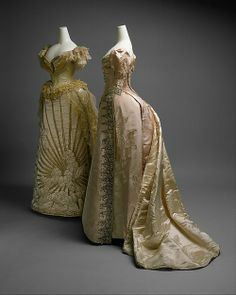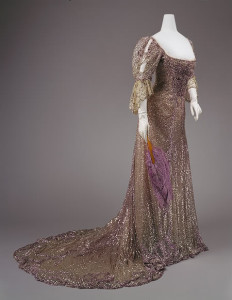 After the death of King Edward VII in 1910, Queen Alexandra took on a smaller role as Queen Mother and she quietly retired to her country home of Sandringham to allow her son, King George V to begin his reign.  The youthful appearance that had remained with her throughout the years had begun to fade and she took to wearing heavy make-up and veils to shield her aging face.  She slowly removed herself from public as her hearing and eyesight began to fail and she spent an increasing amount of time with her children, grandchildren and her beloved dogs.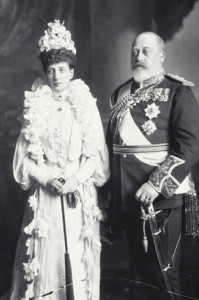 The life of Alexandra of Denmark, later Princess of Wales and Queen Alexandra
Alexandra of Denmark was born on December 1, 1844 in Copenhagen, Denmark.  Her father was Prince Christian of Schleswig-Holstein-Sonderburg-Glucksburg and her mother was Princess Louise of Hesse-Kassel.  Alexandra was the oldest of their five children, her brothers and sisters were George (later George I of Greece, Dragmar (later Empress of Russis, Thyra (Crown Princess of Hanover) and Prince Valdemar of Denmark.
In 1863, Prince Christian succeeded his distant cousin, King Frederick VII, to the Danish throne.  Prior to that time, Alexandra ("Alix") and her family had been living a very quiet and modest life in a "grace and favour" townhouse adjacent to the palace in Copenhagen.  It was a very normal childhood with one exception, the famous author, Hans Christian Anderson, was an occasional visitor to their home and he would tell the children his stories before bedtime!
The same year that her father became King Christian IX of Denmark, Alexandra left for England to marry the heir to the British throne.  At the age of sixteen years old she became engaged to Prince Albert Edward, the Prince of Wales and the son of Queen Victoria.  On the recommendation of her eldest daughter, Princess Victoria, Queen Victoria had personally picked Alexandra to marry "Bertie", as he was known in the family.  Prince Albert Edward was something of a wild playboy and the Queen wanted him to settle down and become more responsible.  At the time of the wedding it had been a few years since the death of the Queen's beloved husband, Prince Albert, and the Queen had blamed Prince Edward for his involvement in his father's death.  The story goes that Prince Albert had traveled down to Cambridge to have a serious discussion with Prince Albert Edward about his indiscreet affair with an actress that could possible bring shame to the royal family.  Father and son had taken a long walk in the rain to discuss the issue and shortly after returning home Prince Albert became seriously ill and died a few weeks later.  At the time it was believed that he died from typhoid fever but later medical research by historians showed that in reality he had been suffering from long term stomach problems for several years and his cause of death was possibly abdominal cancer.
The wedding of Prince Albert Edward and Princess Alexandra took place on March 10, 1863 at the St. George Chapel, Windsor Castle.  Because the Royal Court was still in mourning following the death of Prince Albert the wedding was a solemn occasion.  Queen Victoria refused to take part in the ceremony and watched from a secluded area in the St. George Chapel.  (For more information about the wedding ensemble of Princess Alexandra, please see the detailed description previously mentioned in this post)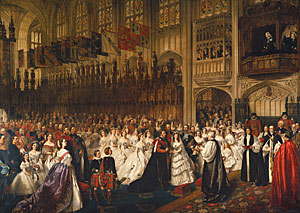 After the wedding, the Queen continued her self-imposed period of prolonged mourning and withdrew from society and was rarely being seen in public for royal functions.  The public was outraged and felt that their Queen had selfishly abandoned her royal duties to crown and country.  Prince Albert Edward was heir to the throne and he was put into service as the Queen's representative for official functions and together the royal couple proved to be extremely popular with the public.  Princess Alexandra was to hold the title of Princess of Wales the longest in British history, from 1863 to 1901.  Until very recently her husband, Prince Albert Edward held the title of Prince of Wales the longest, just over 59 years from 1842 to 1901.  (His great-great-grandson, Prince Charles, broke that record of the longest serving heir apparent in 2011; he has been Prince of Wales since 1952 to the present which makes it currently 63 years and still counting!)
As Princess of Wales, Alexandra became a fashion icon influencing the British clothing industry with her elegant style of dress that was copied for the society women who were demanding to emulate her style of clothes and jewelry.  In political matters, she failed miserably in her attempts to influence her husband and the British ministers to favor Danish and Greek interests over those of Germany and Prussia.  The reasoning behind this was that her father was King of Denmark and she also had a brother that later became King of Greece.  Furthermore she despised her husband's nephew, Wilhelm II, who was the German Emperor and King of Prussia.  As a result of her interference, Alexandra was restricted to uncontroversial public duties involving charitable organizations.
Princess Alexandra was known to be gracious and charming in her public life but in private she was often affectionate and carefree.  Despite a limp she developed as a result of rheumatic fever complications shortly after the birth of her third child, she enjoyed many physically challenging activities, such as dancing and ice skating, and she was also an excellent horsewomen.  One activity that Queen Victoria, her extremely strict and proper mother-in-law, did not approve of was Alexandra's participation in hunting which the Queen felt was unbecoming of a lady of her royal stature.
One aspect of the Prince and Princess of Wales marriage that drew severe criticism and disapproval from Queen Victoria was the royal couple's almost constant entertaining and the Prince's gambling and drinking.  Most troublesome to both Princess Alexandra and the Queen was the Prince's roving eye for beautiful women and his numerous affairs.  Princess Alexandra handled her husband's infidelities with dignity and silence but eventually the two began to live separate lives with her living most of the time at Sandringham and Prince Albert Edward staying at Marlborough House in London to perform his royal duties and allowing him freedom to carry on numerous relationships with his mistresses.  Despite this fact, Prince Albert Edward and Princess Alexandra had six children; they were Prince Albert Victor born in 1864, George (the future King George V) born in 1865, Louise born in 1867, Victoria born in 1868, Maud born in 1869 and John born in 1871 who sadly died shortly after his birth.  (For more information about the Sandringham estate , please click on the link)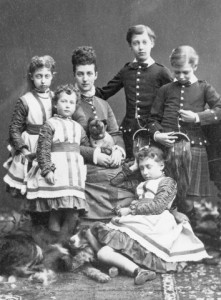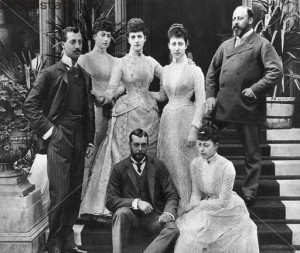 Throughout the years, there were two separate events that would have a direct effect on the lives of Prince Albert Edward and Princess Alexandra.  The first event occurred in 1871 when Prince Albert contracted typhoid, the same disease that supposedly brought about his father death which the Queen still earnestly believed Prince Albert Edward indirectly caused.  The mother and son were never close in childhood and even more so after the death of her beloved husband but upon hearing the new about her son's illness she quickly traveled to Sandringham to keep a vigil over her son's sick bed.  Luckily Prince Albert Edward recovered and Princess Alexandra, Queen Victoria and in fact the entire nation joyfully celebrated his recovery.  Afterward, the relationship of Queen Victoria and Prince Albert Edward improved slightly and they developed a better understanding of one another.
The second event that was to directly affect the lives of Prince Albert Edward and Princess Alexandra happened in 1892.  While participating in a few days of hunting at the Sandringham estate Prince Albert Victor, the royal couple's oldest son, developed pneumonia and died a short time later.  It was a great shock to the Royal Family since Prince Albert had always been in robust health and he had recently become engaged to Mary of Teck and preparations were underway for their upcoming wedding.  After the death of Prince Albert Victor their second son, George, became closer with his brother's former fiancée through their shared sadness and mourning.  George and Mary soon fell in love and were married a year later in 1893.  It was said that the ever meddling Queen Victoria, who had always had a deep fondness for Mary, encouraged the romance and approved of the marriage. (As a result of the death of his brother, George, took his place in the line of succession and later became King George V)
In 1901, Queen Victoria died and the Prince of Wales became King Edward VII with Alexandra as his Queen Consort, it was almost a year and a half between King Edward's accession to the throne to his official coronation day in June of 1902.  This long period of time was due to the fact that just days before the scheduled coronation, King Edward had appendicitis and the event was postponed to allow the King to have an operation and recuperate.  (For more information about the coronation regalia worn by Queen Alexandra, please see the detailed description previously mentioned in this post)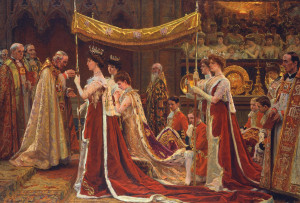 Very little changed in the daily life of Queen Alexandra and she continued her charitable work and spending time with her numerous grandchild.  After the death of her father, King Christian IX of Denmark, the Queen purchase a house near Copenhagen in 1907 which she used as a private retreat for her and her sister Dragmar, now the Dowager Empress of Russia.  In early 1910, she was visiting her brother, King George I of Greece, when she was called back to England when King Edward became seriously ill.  She arrived at Sandringham one day before her husband died.  Being the gracious person that she was and fully understanding her husband's needs she allowed his mistress, Alice Keppel, to visit King Edward's bedside to say their goodbyes.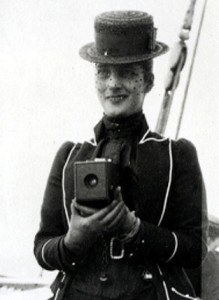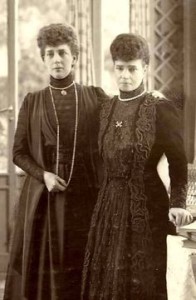 After waiting for so long, King Edward VII's reign was a relatively short 10 years.  Alexandra was now the Dowager Queen and her second son had ascended to the throne as King George V.  Being the ever dutiful son and sensitive to his mother's feelings and comfort, the new King allowed her to remain living in Sandringham and when he visited the estate he took up residence in a smaller home located on the property.  Over the following years, Alexandra health slowly declined and she developed severe rheumatism in her legs and her eyesight began to fail as well as her hearing due to a hereditary condition inherited from her mother, she was almost completely deaf.  On November 20, 1925 the Dowager Queen Alexandra died at Sandringham after suffering a heart attack.  She is buried next to her husband in St. George's Chapel at Windsor Castle.