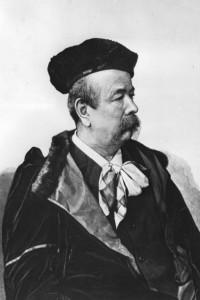 Charles Worth (born: October 13, 1825 died: March 10, 1895) was a British born fashion designer based in Paris, France.  He was the founder of the House of Worth that designed dresses for wealthy clients like Alice and Ava Vanderbilt, created stage costumes for actresses such as Sarah Bernhardt and Jenny Lind and royal clients like Queen Victoria, Czarina Maria Feodorovna of Russia and his most important client the Empress Eugenie of France.
Charles Frederick Worth was born in the small town of Bourne in Lincolnshire, England.  His parents were William Worth and Ann Quincey, his father was a solicitor and in 1836 he abandoned the family leaving them penniless and without any means of financial support.  So, at the age of 11, Worth was sent to work in a printer's shop. Then after a year, the young Worth went to London to work for several different textile manufacturers that supplied material for the local seamstresses and this is how he became interested in dress manufacturing.  Worth learned about the different types of fabrics and which worked best for a particular dress design and also the intricate structure of a dress and the sewing process required to make it.  Worth would sometimes go to the National Gallery in London to study the classic portraits and the clothing of the people in the paintings; this would be the inspiration for his future dress designs.
In 1845, Worth moved to Paris, France to work for a company called Gagelin and Opigez that provided material for the royal court dressmakers.  Worth soon became the lead salesman and later opened a small dressmaking department within the company.  In 1851, Worth married Marie Vernet and they had two sons, Gaston born in 1853 and Jean Philippe born in 1856.  Marie wore many dresses made by Worth and customers always inquired as to "who made your dress" and soon Worth decided to branch out with his own dressmaking company.  In 1858, Worth began a partnership with Otto Bobergh and they opened their store at 7 rue de la Paix in the fashion district of Paris.  Worth became one of the first men in the fashion industry to have his own store that designed and manufactured women's dresses exclusively.  Worth's designs were produced with the most beautiful and luxurious fabrics accented with beading or embroidery and he custom fit each dress to the client's specific body requirements.
To promote his business Worth developed new and innovated ways to market his fashions to his wealthy clients.  The main showroom had a wall of mirrors with mannequins placed in front to display the various dresses of the collection; female employees were standing by if the client requested the dress to be modeled.  In another room the client would have the opportunity to try on the dress before making a decision to buy and then there was a room in which the client could select the fabric and accents to use for the dress.  Worth became the first fashion designer to sew labels and soon women throughout Paris were eager to have a custom made "Worth dress".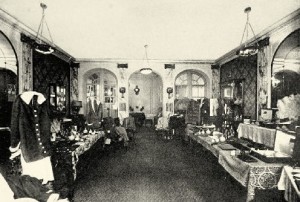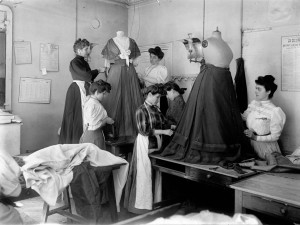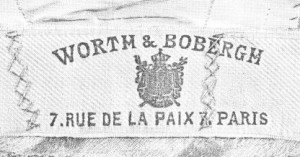 Worth's fashions were targeted for the wealthy women of Paris but soon he was custom designing dresses for one of the most important women in France … she was Empress Eugenie, the wife of Emperor Napoleon III.  The commission kept Worth very busy because the Empress' royal duties required her to change her wardrobe several times during the day for various events.  The Empress needed numerous dresses for both day and evening wear as well more elaborate ball gowns for special occasions and Worth designed and made them all.  (An example of the quantity of dresses Worth designed for his royal client is that for the Empress' short trip to Egypt for the opening of the Suez Canal in 1869 Worth created 250 dresses)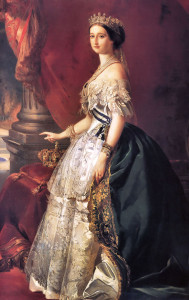 By 1862, Paris fashion magazines started commenting on everything the Empress wore and that Worth designed from the unique blue color of her dress (Empress blue) to the shorter dress hemline that exposed her beautiful shoes to her startling choice to omit wearing a shawl or cloak in public (unheard of at the time for a proper lady to do) because she didn't want to hide her elegant Worth dress.  Eventually, Worth and the Empress collaborated on a new dress design that would eliminate the need for crinoline (a stiff material sometimes made of horsehair used in a petticoat to add fullness to a skirt) which was something that they both greatly disliked.  The dress design was known as the fourreau, which was straight and narrow in the front to daringly show the shape of a women's body with extra material in the back that formed a bustle, it proved to be an instant success.  (Shown below are photos of the front and back of a beautiful Worth fourreau dress)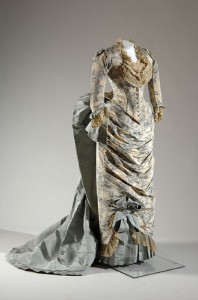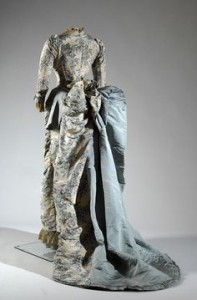 Worth's business continued to grow steadily and eventually Worth's connection with Empress Eugenie led commissions to design dresses for many other women of the royal courts of Europe.  Worth designed dresses for Queen Victoria of England, Czarina Maria Feodorovna of Russia and Empress Elisabeth of Austria.  The beautiful Elisabeth was wife of Franz Joseph of Austria and she was known for her slim figure, long brunette hair and exquisite taste in fashion.  She was already the Empress of Austria when the royal couple was officially crowned King and Queen of Hungary in June 1867.  (Shown below is the Worth dress she wore for the coronation.  Also shown below is another dress created by Worth, it is a lovely pink tulle ball gown the Empress Elisabeth wore with sparkling star pins in her long hair for a famous Winterhalter portrait)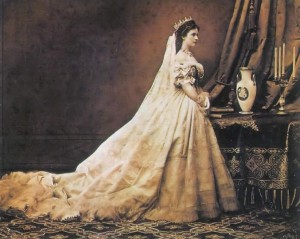 Unfortunately, Worth's company closed for the duration of the Franco-Prussian War (July 19,1870 – May 10,1871).  The brief war resulted in the collapse of the Second Empire, Emperor Napoleon III and Empress Eugenie were exiled from the country.  (While the Empress remained in exile, Worth would send her a large bouquet of violets tied together with a mauve ribbon embroidered with his name in gold thread)  Worth had lost his best client and had enjoyed his collaborations with the Empress throughout the previous years but now with the royal court gone he did not take any new commissions since many of his wealthy clients had left Paris when the war started.
After the war, Worth decided to reopen his company but without his previous partner Bobergh.  Worth was now working with his two sons, Gaston and Jean Phillippe, and he named the new company the House of Worth.  To promote his new business Worth put on fashion shows to advertise his twice annual collections and he also started supplying "ready-made" dresses to department stores, such as Le Printemps and La Samaritaine in Paris and the famous Harrods in London, England.  Buyers would come each year to view the latest dress designs and then place an order for the department stores.  English women were now able to purchase French style fashions at a reasonable price.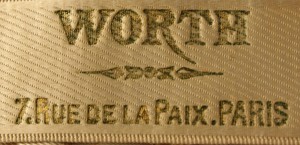 Meanwhile, word about his wonderful dresses quickly spread overseas to the United States.  Wealthy Americans that travelled to Paris would order an entire wardrobe made by Worth.  It would include morning dresses, afternoon tea dresses, elaborate evening dresses and ball gowns as well as undergarments and nightgowns.  The House of Worth also custom designed costumes for Sarah Bernhardt and Jenny Lind to wear for their stage performances.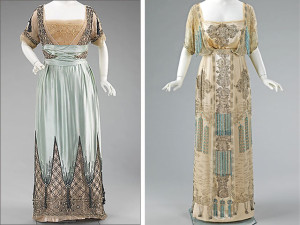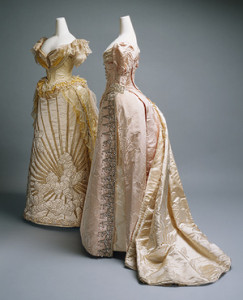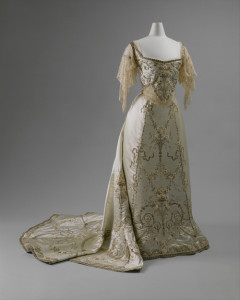 The House of Worth began designing custom dresses for rich Americans women such as Alice Vanderbilt, the wife of Cornelius Vanderbilt.  One dress of special note was designed for the famous Vanderbilt Costume Ball of 1883, hosted by William and Ava Vanderbilt.  It was a very unique and perhaps one the most famous dresses of New York high society and it was made for Alice Vanderbilt, the sister-in-law of the host.  It was the "Electric Light" dress which was a stunning costume made of golden satin with a dark blue velvet underskirt and a skirt that formed a bustle in the back of the dress.  The entire dress was accented with golden thread embroidery and gold beading used to create lightning bolts and starburst shapes.  The dress was also embellished at the shoulders with gold metallic tinsel and beaded tassels with golden fringe at the neckline and golden tulle attached at the shoulders that flowed down the back of the dress.  The dress cleverly featured hidden batteries so that Alice would be able to switch on to light up the dress like an electric light bulb, which was a recent invention of Thomas Edison.  (Shown in the photo below, which was taken at the ball, Alice also holds a torch in her hand that was battery operated)  Special Note: If you are interested in additional information about the Vanderbilt Ball that "changed New York society", please click on the link.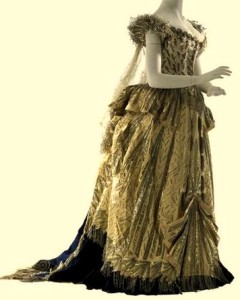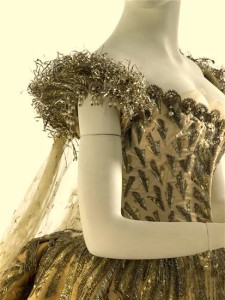 In the years since the House of Worth opened, Worth's sons began to take more control over the daily business involved with the company; such as management, finance and design decisions, leaving Worth with some free time at home.  He had a house in the Champs-Elysees and a villa near Bois Boulogne which had a garden and a stable of horses, it is said that some of the statues and stones which were used in the garden came from the Tuileries Palace which was former home of the Empress Eugenie.  In his final years, Worth's health began to deteriorate with a variety of medical problems, most notably severe migraines.  Sadly, Charles Worth died in 1895 from pneumonia, he was 69 years old.  His wife, Marie died three years later.
By the time of Worth's death, Paris was becoming the center of "haute couture", which is defined as the custom designing and the making of high-quality and expensive clothes by a prestigious fashion house.  Worth sons, Gaston and Jean-Philippe, continued to run the family business.  During the turn of the century, the House of Worth made two dresses of special note for Mary Curzon, the wife of George Curzon the Lord of Kedleston and later Viceroy of India.  The first dress was made in 1903 and is called the Oak Leaf dress and shows remarkable design and beautiful detailing.  The silk satin dress features over 400 oak leaves created individually with an outline of satin cord to create the shape of each leaf and then filled with chenille thread, the darker leaves were created by cutting the fabric in the shape of the leaf and then putting silk netting attached to the back. (The photos below show the entire dress and the old leaf detailing)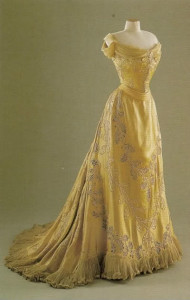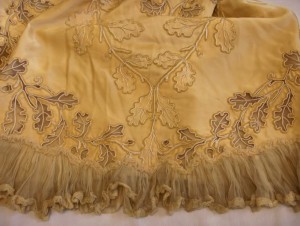 The second dress was commissioned for the Delhi Durbar in 1903 and is called the Peacock dress.  The Durbar was held in celebration of the coronation of King Edward VII.  The detailed gold fabric was made entirely in India to the specifications of the House of Worth and features a pattern of overlapping peacock feathers made of gold beading attached with gold thread.  An unusual element of the dress was the item used to create the eye of each individual peacock feather; it is the iridescent green wing of the scarab beetle.  When the elaborate beadwork was finished the fabric was sent to Paris and the completed dress also featured white fabric roses at the hemline and an intricate beaded bodice; the completed dress weighted over 10 pounds.  (Special Note: The Peacock dress is now over 100 years old, a little tarnished but still spectacular!  The dress is currently on display at the Curzon home, Kedleston Hall, located in Derby, England)