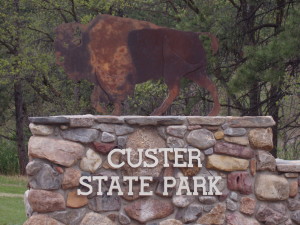 In 2004, we took our annual road trip from California (where we were living at the time) to visit relatives in Illinois.  We always seemed to take the same trip every year and visited the same places in Utah and Colorado.  Don't great me wrong; we really like that part of the country!  We enjoy the beautiful scenery along the route, visiting cities like Las Vegas, Denver and Salt Lake City and Zion, Bryce and Rocky Mountain National Parks.  This time we decided to make our return trip from Illinois to California by the northern route and planned to visit some different places.
Our major destination for this trip was Custer State Park.  This would be our "home base" for several days with daily trips from there to see nearby attractions, such as: Mount Rushmore, Crazy Horse, Wind and Jewel Caves and the Mammoth Site.  The Black Hills of South Dakota has so many historic places to visit and the scenery is absolutely amazing and beautiful in this area of the United States.
Custer State Park, founded in 1912, is named for the famous Lt. Colonel George Custer.  It is the first and largest state park in South Dakota with over 71,000 acres of spectacular views of granite peaks and an abundance of wildlife with more than 186 species of animals that live or migrate through the park.  Visiting this area a person can truly gain a sense of why the Native Americans considered this area so scared.  There are a variety of outdoor activities available at the park, such as: fishing, canoeing, horseback riding, hiking, mountain biking, rock climbing, chuck wagon cookouts and Buffalo Jeep Tours.  (Our daughter was only four at the time we visited, so we didn't participate in many of those activities but it gives us a reason to come back!)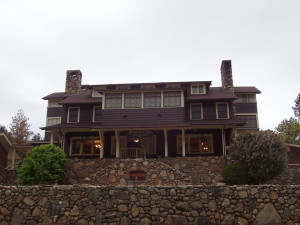 We stayed at the State Game Lodge during our visit to Custer State Park.  This location was the "Summer White House" for President Calvin Coolidge in 1927 and was visited by President Dwight D. Eisenhower in 1953.  We actually stayed in the Coolidge Room, which was a comfortable two-room suite that the President Coolidge stayed in during his time at the State Game Lodge.  (It was a little pricey, but how often do you get to sleep in a room that a President once slept in?)  The beautiful stone and wood lodge, built in 1920, is located in a picturesque mountain valley filled with ponderosa pines and oak, birch and aspen trees with the Coolidge Creek running through the valley.  The lodge served as a perfect location and "home base" for several days while we visited all the attractions in the surrounding area.
During our stay, we ate at the Historic State Game Lodge Dining Room.  It offers a casual but elegant dining experience with a dinner menu of entrée selections featuring local game such as trout, pheasant, buffalo and venison.  (Our daughter was so excited to eat her first buffalo burger!) The dining room also serves breakfast and lunch.
Custer State Park is a wonderful place for scenic drives.  When we visited the park we saw bison, pronghorn antelope, mountain goats, deer, wild turkeys and burros and even an owl that my husband was able to spot!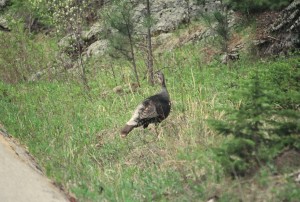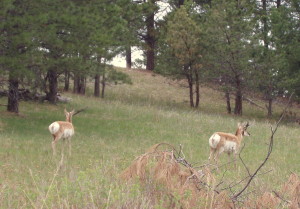 When driving on the park's roadways remember the following:
The speed limit is generally 25 miles or less.
Use caution as traffic can suddenly stop, especially for animals sightings.
Please pull off the roadway while photographing the scenery and wildlife.
Remember all the animals in the park are wild and can be potentially dangerous.  Bison can be extremely fast and lethal when provoked.
Don't forget a camera and a pair of binoculars!
We highly recommend the following three drives for their beautiful scenery and wildlife:
Wildlife Loop Road – This 18 mile drive takes visitors through open grasslands and hills.  In this area you are likely to see bison, pronghorn antelope, white-tailed deer, elk, wild turkeys and burros.    This particular drive is never the same twice, so if you are staying over several days, we recommend taking the Wildlife Loop Road drive more than once.  (When we visited the park in the off season, this area was so quiet and peaceful; we were almost the only car there.  We were very excited to see a large herd of bison, there were even some young calves.  The herd of bison was an amazing sight to see in the distance as they come over the hills!)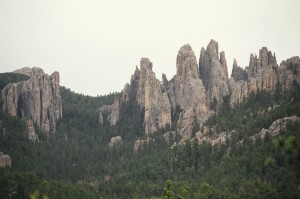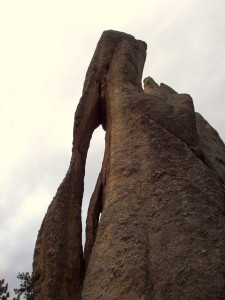 Needles Highway – (SD Highway 87 between Sylvan Lake and Legion Lake) The 14 mile drive takes visitors on winding roads through several granite tunnels into beautiful pine and spruce forests and meadows lined with birch and aspen trees.  The highlights of the drive are the amazing views of the granite rocks formations called "Needles".  (At the "Needle Eye" we stopped to take photos and even a fun video of my husband drive through the narrow tunnel!)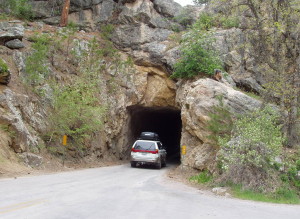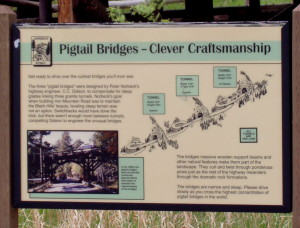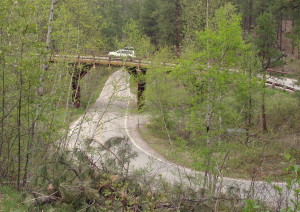 TRAVEL NOTE: Tunnels on the Needles Highway are as low as 10 feet, 7 inches and as narrow as 8 feet, 4 inches.
Iron Mountain Road – (U.S. 16A) Only 17 miles of this scenic highway are in Custer State Park.  If you are traveling to or from Mount Rushmore the highlights of the drive are the three granite tunnels which frame Mount Rushmore in the distance and the three wooden pigtail bridges that were built in the 1930s.  The particular drive is very popular and should definitely be on the list of things to do!
TRAVEL NOTE:  Tunnels on Iron Mountain Road are as low as 12 feet, 2 inches high and as narrow as 13 feet, 2 inches wide.
Custer State Park information
Custer State Park's biggest and most exciting attraction is the free-roaming herd of 1,500 bison.  The bison herd is one of the largest public-owned herds in the world.  Bisons, or tatanka, can weigh as much as 2,000 pounds and they were essential to the lives of the Lakota (Sioux) Native Americans who lived in this area and provided them with food and clothing.At the end of September is the annual Buffalo Roundup and auction which began in 1965.
Several hundred bison are sold at the auction each year so that the park bison herd can remain at a manageable number for the rangeland forage. The event, which is open to the public, attracts more than 11,000 people each year. Preceding the roundup/auction, is a Buffalo Roundup Festival where more than 150 exhibitors offer their western themed arts and crafts and there is also a chili cook-off with the only requirement being that buffalo meat be used.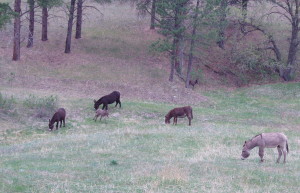 The "Begging Burros" of Custer State Park are located in a specific area, so check with a park ranger for their current locations during your visit to the park.  There are approximately 50 burros and they will approach a car to "beg" for food.  Be attentive when traveling through the park as sometimes the burros will block the roadway as they cross from one side to the other.
Be sure to stop by the Peter Norbeck Visitor Center in the park.  It is a wonderful place to find out about the park's natural history and cultural heritage.  The exhibits include wildlife dioramas and information on the annual Buffalo Roundup.  Many of the park's naturalist programs begin at the center.
Custer State Park is located nearby other Black Hills attractions, such as Mount Rushmore National Memorial, Crazy Horse Memorial, Jewel Cave and Wind Cave National Parks and the Mammoth Site.  By planning in advance, this area of South Dakota can be a wonderful family destination!
For more travel information on Custer State Park, please see their website at www.custerstatepark.com and for information about park accommodations at Custer State Park's four lodges, visit www.custerresorts.com