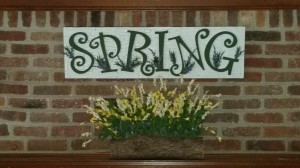 This Spring I wanted to create a special mantel decoration.  I decided to recycle an old seasonal sign that I had previously made.  The MDF board had several layers of paint and even though I had removed the previous decorations the surface still had a very rough surface and I sanded the board to try and remove most of the paint.  Also to solve the problem of the uneven surface I decided to use a crackle medium paint.
List below is a list of the craft project supplies I used and also complete instructions.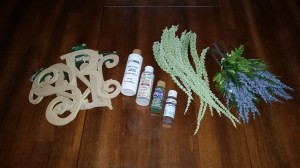 Spring Mantel Artwork supply list
MDF board, cut to size
Wooden letters which spell out "Spring"
Crackle medium "paint"
Dark brown paint for the base and whitepaint for the topcoat
Dark green paint for the letters
Paint brushes
Sandpaper
Hot glue gun and glue sticks
Flowers to use as decoration
Hooks and wire to hang the Spring Mantel Artwork
Spring Mantel Artwork instructions
Cut the MDF board to size, this is determined by the size and spacing of the wooden letters and the space in which it will be hung.
Sandpaper the MDF board to smooth any rough surfaces
Paint the board with dark brown paint, let dry completely
Cover the entire board with the crackle medium "paint", let dry completely
Paint the board with white paint, let dry completely
Sandpaper the wooden letters to smooth any rough surfaces
Paint the letters with dark green paint, let dry completely
Hot glue the letters to the board  (Craft Tip: Before starting the project, work out the placement and spacing of the letters)
Hot glue the flowers to the letters/board
On the back of the board, attach the picture hanging hook/wire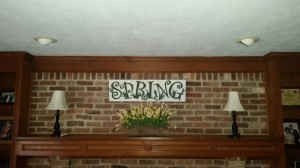 For more information about the Spring floral arrangement seen on the mantel in the photos, please click on the link to the Spring Mantel Decoration Craft Post.