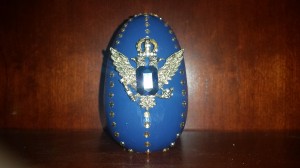 Last year I published a post on the House of Fabergé which gave a brief history of the company.  Peter Carl Fabergé was famous for designing the beautiful jeweled Russian Imperial Eggs which were specially created between 1885 to 1917 for the Russian Tsar Alexander III and later his son Tsar Nicholas II.  In 2013 I published a separate post regarding the 54 Imperial Eggs that Fabergé had created during that time.  (For readers interested in more detailed information about the House of Fabergé or on the Fabergé Eggs, please click on the link to the previous blog posts)
Inspired by the Fabergé Eggs, I decided to create a Fabergé Egg craft project.  This idea started when I found the double eagle pendant in my local craft store.  The golden eagle pendant has a large blue gem set in the center and accented with diamond-like crystals.  I thought this pendant was a perfect inspiration for an Imperial Fabergé-style Egg.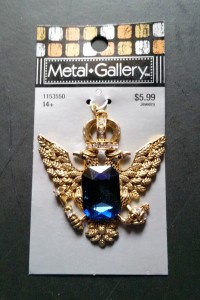 Fabergé-inspired Egg supply list
Large wooden egg
Large "inspiration piece" of jewelry (possibly a pendant or brooch)
Self-stick crystals (select a color to coordinate)
Paint – I used a deep blue to match the gemstone in the inspiration piece
Paint, paint brush
Sally Hansen Miracle Gel – Top Coat nail polish
Hot glue gun, hot glue sticks (option white glue stick to attach crystals)
Sandpaper
Fabergé-inspired Egg instructions
Start by using sandpaper to smooth any rough edges to prepare the wooden egg for painting.
Begin painting the bottom portion of the wooden egg, let dry completely.  Then paint the upper portion and let it dry completely.  (I selected a Royal Navy Blue paint color to coordinate with the blue gem of the "inspiration piece"
To give the egg a beautiful finish to resemble the enamel technique that was often used in the creation of the original Fabergé Eggs I used the Sally Hansen Miracle Gel – Top Coat nail polish to achieved this effect.  Apply the nail polish directly to the entire egg; let it dry completely before proceeding to the next step.  (I think that the nail polish worked much better than a gloss paint to create an enamel look)
Prior to attaching the self-sticking crystals, work out the placement of the "inspiration piece" and then the final pattern and position of the crystals.  Once this is determined, attach the crystals to the egg leaving a space for the "inspiration piece".  (If desired, the crystals can be additionally made secured with the use of glue)

To complete the craft project, hot glue the "inspiration piece" to the egg.