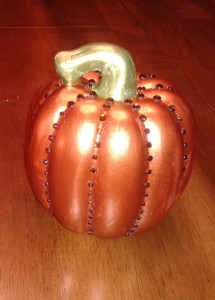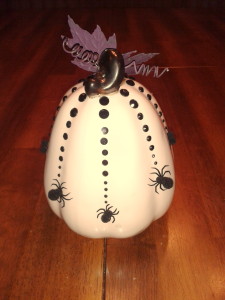 For the past several years I have seen jeweled pumpkins in retail stores and this year I decided to make two different styles.  The first style is a Classic Jeweled Pumpkin which is an elegant ceramic pumpkin painted a beautiful metallic bronze color with individually glued topaz crystals.  I created two of these pumpkins to display in the china cabinet in our dining room for the upcoming fall season.  The other style is a Halloween Jeweled Pumpkin which is a lovely ivory porcelain pumpkin with individually glued black crystals and spiders.  This pumpkin is also displayed in our dining room on top of a tall chest of drawers.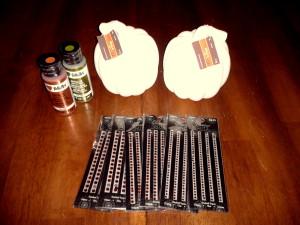 Classic Jeweled Pumpkin – supplies
A small pumpkin
Metallic bronze paint
Metallic green paint
Paint brushes
Topaz crystals, flat back
Glue stick
Tweezers and toothpicks (optional)
Classic Jeweled Pumpkin – instructions
Paint the pumpkin using the metallic bronze; paint the pumpkin stem using the metallic green paint.  Allow the pumpkin to dry completely.  (Craft Note: I used two unpainted ceramic pumpkins for this craft project, but wooden or papier-mâché pumpkins can also be used. I also selected traditional paint and matching crystal colors)
When the paint is completely dried, hot glue individual crystals onto the pumpkins.  Follow the natural "stems" of the pumpkin.  (Craft Note: I used a toothpick to apply the glue to the back of the crystal and then tweezers for placing the crystals, this allowed for greater control when positioning them)
In the photo below  – the painted pumpkin is on the left and the pumpkin on the right shows the pumpkin with the crystals added.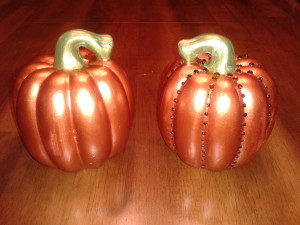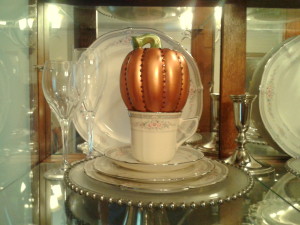 The Classic Jeweled Pumpkin instructions are very simple but the craft project can be very time consuming because of the painting process and, depending on the amount of crystals used, the application process can also take some time to complete.  The end result is a very elegant home accessory that would look wonderful displayed in any room of the house.
I used very traditional colors for the two Classic Jeweled Pumpkins but any color combinations of paint and crystals can be used.  One suggested color combination is ivory pearlized paint with "diamond" crystals or white pearls.  The color combinations can be endless and the idea is to create a custom look would match your room decor.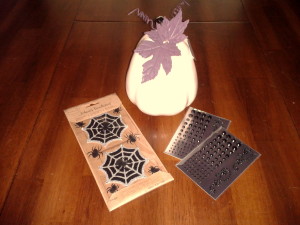 Halloween Jeweled Pumpkin  – supplies
Ivory porcelain pumpkin
Black crystals in a variety of different sizes, flat back
Black spiders
Glue stick
Tweezers and toothpicks (optional)
Halloween Jeweled Pumpkin instructions
I used an ivory porcelain pumpkin that I purchased from a local craft store, but if you cannot find one use an unpainted ceramic, wooden or papier-mâché pumpkin.  Paint the pumpkin an ivory color, white can be too harsh of a color, and allow it to dry completely.
Starting with the largest sized black crystal to the smallest, place the crystals in a straight line in each of the "seams" of the pumpkin.  For visual interest vary the length of each line of black crystals.  (Craft Note: I used a toothpick to apply the glue to the back of the crystal and then tweezers for placing the crystals, this allowed for greater control when positioning the crystal)
Add a spider to the end of each line of black crystals; this will look like the spiders are creating a web!  (Craft Note: I used 3-dimensional spiders that had self-adhesive backs, I found them in the scrapbook section of a local craft store)