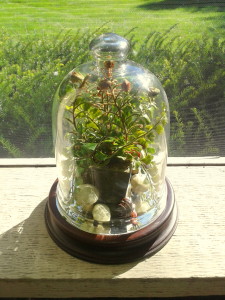 One of the most popular trends right now in home accessories is the terrarium container.  I have been looking at these decorative terrariums in the local retail and craft supply stores all summer long.  I knew I had a glass dome container I had bought on clearance a few years ago with the thought that I would use it for a future craft project.  Now, I finally had the idea to create a glass dome arrangement with the container.  I found some additional items from my floral supply box and the only item I purchased was a small container of ferns from my local craft store that were on clearance.
Craft Note: Shopping the craft stores in my area weekly, I find items on clearance that I purchase for a minimum amount and then later finding a craft project that I can use them for.  This glass dome arrangement craft project is a great example of using items that I previously purchased and buying a few additional items to create a beauty decorative arrangement for our home.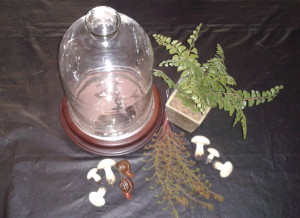 Glass Dome Arrangement – supplies
Glass dome with base or terrarium
Ferns and leaves, amount will be determined by the size of the container
A small pot for the ferns and leaves (Spanish moss for the pot is optional)
A few container accessories, amount will be determined by the size of the container
Hot glue gun and glue sticks
Glass Dome Arrangement – instructions
Any type of glass dome with base can be used or any size of terrarium. If you are using a glass dome it is very important to have a matching base because this is needed to attach the fern or leaves and container accessories.  Using the glass dome with base, I hot-glued a small container with ferns that I had purchased on clearance from my local craft store.  (To add more fullness to the container I used several additional ferns and the contrast of the two different types of ferns looked great!

Next, attach the accessories to the base with hot glue.  (I had found several small mushrooms and snails that I had previously purchased)  Any type of container accessories can be used but the scale of the items should be relatively small.  I have seen items such as small fairies, miniature garden benches and trellis –there such a nice selection in the craft stores.

 

This next step can be tricky if you are using a glass dome, if you are using a terrarium or an open-topped container this next step is not required.  As you fit the glass dome onto the base, be sure to be aware of where the ferns and leaves are being placed.  (I used my fingers to move the ferns so that they were not blocking the view any of the container accessories)
This Glass Dome Arrangement craft project was very easy to do and only took about 30 minutes to complete.