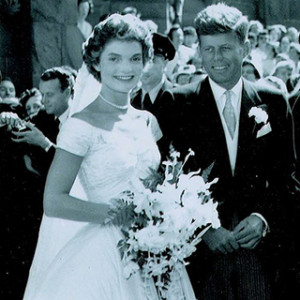 On this day, over sixty-two years ago (September 12, 1953), John "Jack" Kennedy and Jaqueline "Jackie" Bouvier were married in a large ceremony held at St. Mary's Catholic Church in Newport, Rhode Island followed by a huge reception held at Hammersmith Farm, the stepfather of the bride's oceanfront estate.  At the time of the wedding, the groom was a U.S. Senator and destined to become President of the United States and the bride was a roving reporter/photographer and she was also destined to become the fashionable and, perhaps, the most famous First Lady.  Before I discuss the details of the wedding and the reception, let's start with how the couple meet …
Most sources indicate that Jack and Jackie were introduced by a mutual friend, Charles Bartlett in May 1951 at a small dinner party held in Georgetown located just outside of Washington, D.C.  (His version was "I leaned across the table for the asparagus and asked her for a date")  Another possible story of their first meeting possibly happened several years earlier in 1949 when they met casually on a train traveling from New York to or from Washington, D.C.  (Her version and first impression on meeting him was "he was charming, handsome but a hopeless flirt")  In reality, Jack and Jackie casually dated and went for long periods of time without seeing each other throughout the years.  Jack was busy in Washington, D.C. or campaigning in Massachusetts and Jackie was in Europe vacationing with her sister before going to London to cover the Queen's coronation.
It seems that absence could really make the heart grow fonder, and when Jackie returned from England Jack proposed on June 24, 1953 with a stunning Van Cleef & Arpels engagement ring.  The design of the ring was very unique and featured a 2.88 carat diamond and 2.84 carat emerald with several baguette diamond accents.  (Special Note:  Jackie later had the ring redesigned and replace the baguette diamond with marquis and round diamonds.  Then after the death of her husband, Jackie had the ring reset to the original design for sentimental reasons)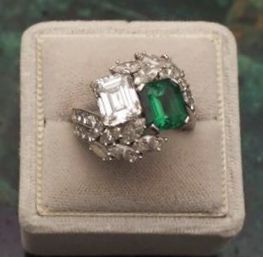 After the engagement was announced the wedding planning quickly started in earnest and everybody seemed to have an option from the mother of the bride, Janet Auchincloss, to the mother of the groom, Rose Kennedy.  The only thing not questioned was the type of ceremony, since both the bride and the groom were Catholic and the location selected was St. Mary's Catholic Church in Newport, Rhode Island.  The nuptial mass was officiated by Cardinal Richard Cushing, the Archbishop of Boston, and a special papal blessing was received from Pope Pius XII.
From the Kennedy perspective, the wedding would be seen as a political event with an extremely large guest list of Washington senators and congressmen and Massachusetts politicians. The invitation list would be approximately 800 guests for the church services and 1500 guests for the reception at Hammersmith Farm.  There would also be a large wedding party with the bride's sister Lee (who had recently married Michael Canfield a few months earlier in April 1953) serving as matron of honor and her stepsister, Nina Auchincloss, as the maid of honor and ten additional bridesmaids all wearing pink taffeta dress.  The groom's brother, Bobby Kennedy, served as best man long with another brother Edward Kennedy, brother-in-law Sargent Shriver, brother-in-law Michael Canfield, Lem Billings, Red Fay, Charles Bartlett and several others that served as ushers.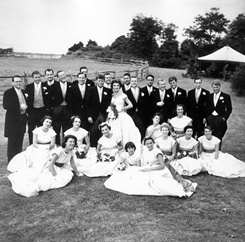 Every wedding has some problems and there was a major problem with Jackie's father, "Black Jack" Bouvier.  Jackie's parents had a bitter divorce back in 1940 amid adultery claims; Jack was a known womanizer as well as a heavy drinker and gambler.  Despite her father's problems Jackie adored him and he was very proud and honored to be escorting her down the aisle.  But on the morning the wedding when someone went to get Jackie's father he was found passed out drunk and it was clear that he would not be able to perform his duties and he was quietly and quickly sent out of town to avoid any embarrassment.  When Jackie arrived with her stepfather, Hugh Auchincloss, the reporters were told that Jack Bouvier had suddenly come down with a very bad cold and would be unable to attend the wedding.  Jackie was deeply disappointed about the situation with her father and she somehow blamed her mother for inadvertently causing it to happen.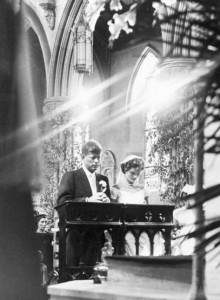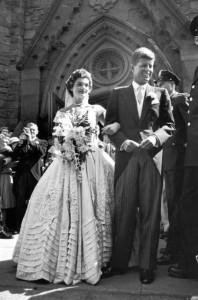 Almost 4 miles away from the church was the reception site, Hammersmith Farm, the 300 acre estate of Hugh and Janet Auchincloss.  At the reception, the bridal couple spent three hours greeting guests on the receiving line, then after lunch was served the party continued with several speeches, dancing, cake cutting and the bridal bouquet toss.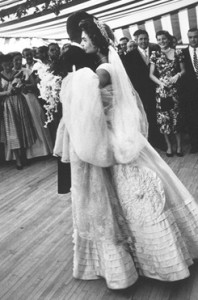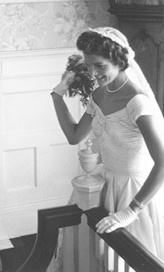 After the wedding, the bridal couple went to New York and stayed at the Waldorf-Astoria in Manhattan before a catching a flight to Acapulco, Mexico for their honeymoon.  They spent two weeks in Mexico and then stopped in California for a short stay at the San Ysidro Ranch in located in Montecito.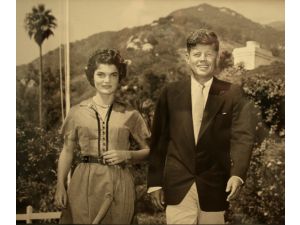 Historical Note: While on their honeymoon, Jack caught a large sailfish on a deep sea fishing trip and Jackie had the "trophy fish" stuffed and mounted.  Many years later after Jack became President of the United States; the "honeymoon fish" was hung in the White House.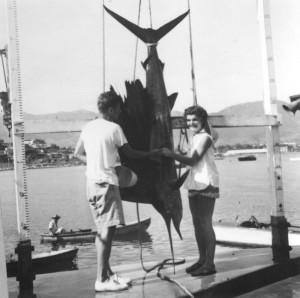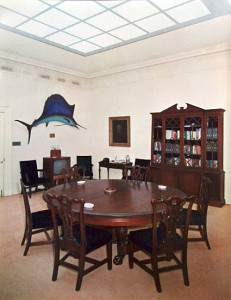 Jackie Bouvier's Wedding Dress
The wedding dress of Jackie Bouvier was designed by Ann Lowe and made of ivory silk taffeta and featured an off-the-shoulder neckline, fitted bodice and a very full skirt.  The skirt was embellished with flounces and swirls using 50 yards of crème colored faille (plain weave fabric made of silk with a lustrous finish).  To complete her wedding ensemble, Jackie choose to wear white gloves with the dress.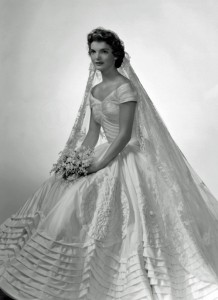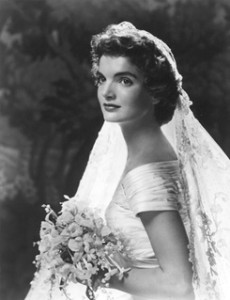 For something borrowed, Jackie wore her Grandmother Lee's rosepoint lace veil and she also carried a lace handkerchief of her mother's, something blue was the traditional blue garter and something new was a diamond bracelet which the groom had given to her the night before the wedding.  Her other jewelry items were a pearl choker necklace which was a gift from her family and a diamond leaf brooch which was a gift from her new in-laws.  Jackie's wedding bouquet was a cascading style of pink and white orchids and fragrant gardenias.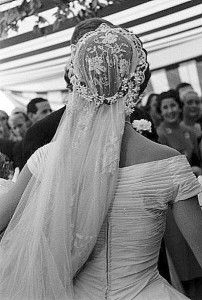 Special Notes:  Jackie had always said that she intensely disliked the elaborate bridal dress that she wore on her wedding day and felt that it was too much dress for her.  Like most young brides, she had felt pressure from her mother to choose the more traditional style but personally would have preferred a wedding dress with more simple and chic lines.
One week before the wedding, disaster struck when the New York showroom of Anne Lowe, the dress designer, suffered severe water damage from a broken pipe.  The wedding dress and the bridesmaids' dresses were ruined and Lowe and her staff need to remake all the dresses in less than seven days. (it had previously taken eight weeks for the dresses to be made before)