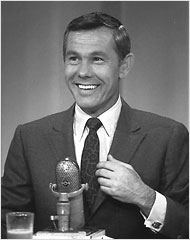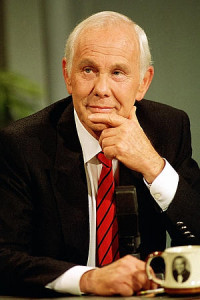 I enjoyed watching Johnny Carson on "The Tonight Show", I thought his monologues had clever jokes about current topics, I liked when he performed the Carnac the Magnificent skits and of course I loved when his guest was Joan Embery from the San Diego Zoo and she would bring interesting animals to the show.  In my personal option Johnny Carson was a one of a kind late night talk show host and nobody on television today even comes close to his talent except maybe Jimmy Fallon.
John "Johnny" William Carson (Born: October 23, 1925 Died: January 23, 2005) was an American talk show icon who hosted "The Tonight Show" from 1962 to 1992.  His casual manner and great conversational skills made him one of the most successful television hosts for thirty years.  During his long career Carson received six Emmy Awards and he was inducted into the Television Academy Hall of Fame in 1987.  In 1985 Carson received the Peabody Award, in 1992 he was awarded the Presidential Medal of Freedom and in 1993 he received a Kennedy Center Honor.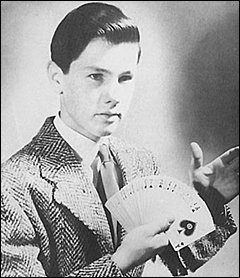 Carson was born in Corning, Iowa and his family moved to Norfolk, Nebraska when he was eight years old.  At the age of twelve years old he was inspired by a book of magic that he had read and sent away for a mail-order magician's kit.  He practiced constantly and performed for his family and friends.  When he was fourteen years old he started performing a local events and county fairs.
In 1943, after graduating from high school, Carson joined the U.S. Navy.  World War II was still being fought and after officer training Carson was assigned as an ensign aboard the USS Pennsylvania, he served as a communications officer in charge of decoding encrypted messages.
After the war, Carson returned to Nebraska and continued his college education at the University of Nebraska.  He graduated in 1949 with a Bachelor of Arts degree in radio & speech with a minor in physics.
In 1950, Carson took a job in Omaha hosting a morning program at the local radio station.  He continued to perform his magic act in the evenings at local events.  A year later, Carson decided he wanted to move to California to find work in the new entertainment field of television.  He found a job at a local Los Angeles television, it was a CBC low budget comedy show called "Carson' Cellar which ran from 1951 to 1953.
In 1953, Red Skelton hired Carson to become a writer for his show.  A year later, just before show time Skelton had an accident and was unable to perform and Carson filled in for him and was a great success.  Then in 1955, Jack Benny invited Carson to appear on his show as a performer and was once again a huge success. Benny predicted that Carson would go on to have a great career as a comedian … I think he was right!
Carson went on to host other shows based in California and he was a regular on the original "To Tell The Trust" game show until 1962.  He then moved to New York City to take a job hosting the game show "Who Do You Trust?"  At this time Carson met Ed McMahon on this show when McMahon was hired as the show's announcer, their friendship lasted 46 years.  Carson worked on the game show for five years and it was the first time he was able to use his clever on-camera wit to ad lib and interview guests, the show was a great daytime television hit.
In 1962, NBC invited Carson to fill in for the soon to be departing Jack Paar of "The Tonight Show".  He originally declined the offer because he was fearful of the longer daily format.  Eventually he accepted the offer and he officially became the host on October 1, 1962.  The first year was very difficult as he tried to develop the show but the rating slowly began to improve.  Ed McMahon was brought in as the announcer and with his classic line, "Heeeer's Johnny" he would introduce Carson who would open the show with a brief monologue filled with jokes and funny stories on the current topics of the day and he would always end the monologue with his icon golf swing as they would cut to the commercial.  After the commercial break, there would sometimes be a comedy sketch followed by guest interviews and sometimes a musical segment.
In 1972, "The Tonight Show" was moved from New York City to "beautiful downtown" Burbank, California.  Carson had stopped doing the show five days a week by this time and for the Monday night show there would a guest host.  In the 1980s the show format changed from 90 minutes to an hour program.  Although Carson work schedule was shorter his salary at NBC continued to rise and by the 1970s he had become the highest paid person on television.
"The Tonight Show with Johnny Carson" launched the many careers and the list of comedian that got their start on the show is very impressive: David Letterman, Jay Leno, Joan Rivers, Jerry Seinfeld, Tim Allen, Rosanne Barr, Ellen DeGenneres and Drew Carey.  It was always the highlight of a comedian's career when Carson liked their stand-up routine and invited them over for a chat afterwards, allowing them extra time to show their stuff!
Carson officially retired from show business and his final "Tonight Show" was May 22, 1992.  Prior to that final show and in the weeks leading up to the event, Carson invited some of his favorite guests from the last thirty years.  The night before the final show, his last two guests were Robin Williams and Bette Midler.  Williams gave one of his usual zany, high energy performances and Midler sang a few of Carson's favorite songs.  The last song she sang was "One for My Baby (and One More for the Road)" and everyone was very emotional, even Johnny Carson!
The final show had no guests and it was a retrospective show with clips from some of his favorite moments over the last thirty years.  The studio audience that night was by invitation only and was "Tonight Show" family and friends.  More than fifty million people watched the finale and Johnny Carson ended the show with a heartfelt thank you to Ed McMahon, Doc Severinsen and the "Tonight Show" crew.  He also thanked the television viewers for inviting him into their homes and then he said good night.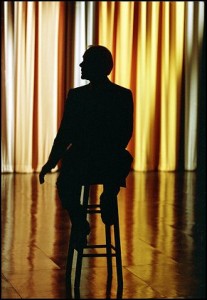 Post retirement, Carson made occasional appearances.  Two special ones were the 1993 Bob Hope NBC Special and in 1994 he made a guest appearance on the "Late Show with David Letterman".  He also was seen at the Wimbledon Tennis Competitions, at his home in Malibu or in Marina del Ray on his 130 foot yacht, the "Serengeti".
Throughout his life Carson was a very heavy smoker, in fact in the early days of the "Tonight Show" Carson would often smoke on camera.  In 1999, Carson suffered a severe heart attack and underwent a quadruple bypass surgery.  In 2002 it was publicly revealed that Carson had a terminal illness.  Carson died on January 23, 2005 from respiratory failure brought on from emphysema, he was 79 years old.  International tributes came from around the world but there was no public memorial service.
Interesting information and facts about Johnny Carson
Carson was married four times.  His first marriage was to Jody Wolcott, they married in 1948 and divorced in 1963.  In 1963, Carson married Joanne Copeland and they divorced in 1972.  In 1972, Carson married Joanna Holland and they divorced in 1983.  In 1987, Carson married Alexis Maas and they remained married until his death in 2005.  Carson always had a clever joke to say about his multiple marriages, divorces and high alimony payments.
Carson had three sons from his first marriage, Christopher, Cory and Richard.  Sadly Richard died in 1991 in a car accident.
In 1962, Carson replaced Jack Paar as the host of "The Tonight Show".  Paar changed late night television when he always opened the show with a monologue about current events.  He hosted "The Tonight Show" from 1957 to 1962 and Hugh Downs was the show's announcer.   Before Paar, Steve Allen hosted the show from 1954 to 1957.
Paul Anka wrote the theme song of "The Tonight Show", he later called it "Johnny's Theme".  When he took over "The Tonight Show" in 1962 Carson wrote lyrics for the song and as a result he was able to claim 50% of the song royalties.  Interestingly, the lyrics were rarely heard during those 30 years that Carson hosted the late night show.
During Carson's opening five minute monologue he made clever and funny jokes about politicians, celebrities and current events.  Occasionally, the monologue would bomb and the orchestra would start to play "Tea For Two" and Carson would do a little soft shoe dance.
In 1966, Carson did a segment on "The Tonight Show" with Eva Gabor and they played the Milton Bradley's game Twister, after the show aired the sales of the game skyrocketed.
In 1973, Carson did a joke on "The Tonight Show" about an alleged shortage of toilet paper.  Afterwards, in a panic people began buying up large supplies of toilet paper, emptying the shelves of stores in the United States and causing a real shortage that lasted for weeks.  Stores and toilet paper manufacturers had to ration supplies until the panic ended; Carson later apologized for the incident.
Carson played many different characters in comedy skits on the show, but his most popular was Carnac the Magnificent.  The character of Carnac could see the future and Carson would wear a large turban and cape.  Ed McMahon would give Carnac a sealed envelope with a question written inside.  Carnac would touch the envelope to his forehead and magically reveal the answer to the unknown question.  Then he would open the envelope to reveal the question.  Answer – "To the Cleaners" Question – "Where are Johnny Carson's ex-wives taking him?"  If the audience did not laugh, Carnac would cast a humorous curse.
Carson was an amateur astronomer and he owned several telescopes.  One of his close friends was famed writer and astronomer Carl Sagan, who was often a guest on "The Tonight Show".
Carson hated disloyalty among friends and professional colleagues.  When former "Tonight Show" guest host Joan Rivers got her own talk show in 1986, which was in direct competition with his show, Carson was angered by her betrayal and he never spoke to her again.
Before Carson's death, The New York Times published a story revealing that Carson, after his retirement from television, would occasionally send jokes to David Letterman, Carson enjoyed when Letterman used the jokes in his monologue.  Carson had always believed that Letterman, not Jay Leno, should have been the next host of "The Tonight Show".
PBS American Masters series, aired a two-hour documentary about his Carson's life, "Johnny Carson: King of Late Night", in 2012.  It is narrated by Kevin Spacey and features interviews with many of Carson's family, television associates and other comedians.