Shadowboxes are a great way to display memorabilia such as travel souvenirs, vintage items, or personal heirlooms.  By having these items protected under glass you and your family, along with the visitors to your home, can enjoy looking at them while keeping these items protected from any damage.   Over the years I have made several shadowboxes that are displayed throughout our home and in this post I will show these examples.
Travel souvenirs
As I mentioned previously in a July 2013 Décor Post, Displaying Travel Souvenirs, in the library of our home nestled among the books are several items that we have collected over the years during our travels across the United States and other distant places such as Europe and Asia.  I have found that shadowboxes are an excellent way to display these travel souvenirs.  One example, shown below, is the shark weapon that we purchased on a visit to the Polynesian Culture Center in Hawaii.  This beautifully crafted piece is displayed in a shadowbox to be admired but the real purpose for having it behind glass is that the sharp edges of the shark teeth are enclosed to prevent anyone from handling this dangerous weapon.  Several other smaller shadowboxes are also displayed on the bookshelves and the examples are shown below and they are: a framed piece of Edelweiss purchased in a small shop near Neuschwanstein Castle in Germany, a small piece of brick from the home of Abraham Lincoln located in Springfield, IL and a piece of cable that we purchased at the San Francisco Cable Car Museum.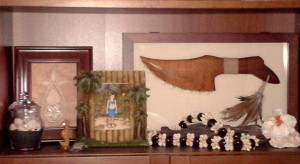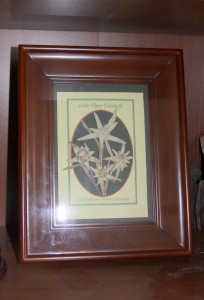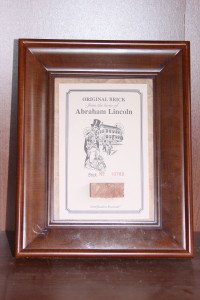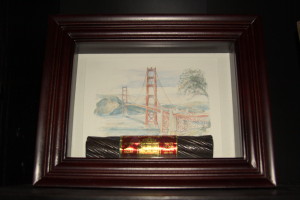 Discussed in the May 2013 Décor Post, Framing Small Items, during our family road trips, I always purchase pins as inexpensive souvenirs and over the years I have collected hundreds.  These pins, shown below, are displayed in special walnut cases with black liners.  Also shown below are additional cases, one case displays my collection of Hard Rock Café guitar pins purchased during over visits to the restaurants throughout our travels and in another case is a very small part of my collection of over two hundred Disney pins.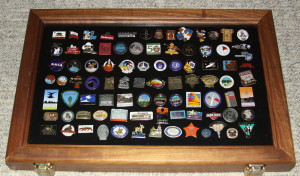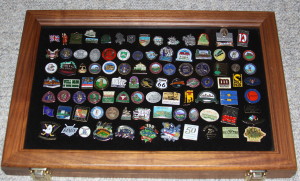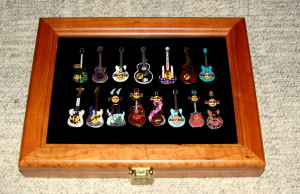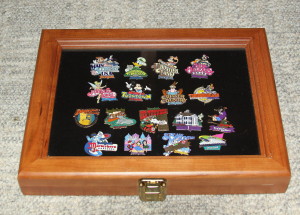 Another memorabilia display featuring travel souvenirs can be found in our basement displayed above my Disney bookshelves.  It is a vintage Disneyland pendant in a black shadowbox and is shown in the photo below.    As I mentioned previously in the April 2013 Decor Post, Disney Memorabilia Collection, I go into details about my Disney obsession and the items that I have collected over the years.

So, instead of storing your travel souvenirs in boxes which are hidden away from view, try displaying them in shadowboxes or special display cases which allow you to look at these items while the items are protected from dust or damage and you will be able enjoy the memories of your travels!
Vintage items
As many of you know from reading previous posts, I enjoy browsing and shopping in antique stores and on EBay.  Over the years I have purchased many vintage items and scattered around our home are several small and unusual framed items which add personality and interest to our home decorations.  In the May 2013 Décor Post, Framing Small Items, I featured a shadowbox that is on display in my home office that contains commemorative medals of the British Kings and Queens that I had purchased inexpensively on EBay.  The pins, shown below, range from Queen Victoria to the present Queen Elizabeth II and it is a wonderful way to have a little piece of interesting history.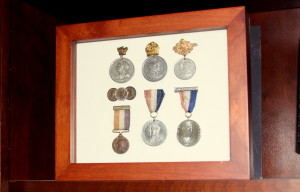 In another Décor Post, Framed Jewelry, posted previously in February 2014 features several vintage jewelry items that I also purchased while shopping in antique stores and on EBay.  These vintage jewelry pieces look wonderful displayed in small frames and add an elegant touch to our home décor.  Shown below is a beautiful crystal fur clip which is attached to a piece of white velvet and displayed in a small gold frame.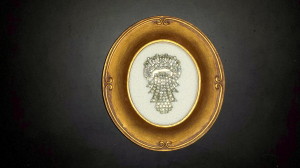 Recently, one of my Spring cleaning projects was organizing the closet in our master bedroom.  The room is a rather large walk-in closet with a counter positioned in the center and has a wonderful and convenient chute to the laundry room downstairs.  The room also has useful built-in shelving where I have displayed two shadowboxes, which are shown below.  One shadowbox has a set of antique lace collars and cuffs while the other one has a pair of antique men's spats.  Using these antique items displayed in the closet seemed perfect and I think they look great!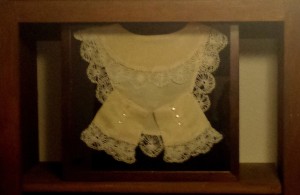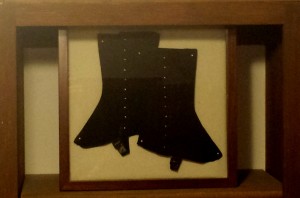 So, next time you are shopping in antique stores or on EBay think about how you can decorate with vintage items displayed in shadowboxes in your home.
Personal heirlooms
Showcasing family memorabilia or heirlooms is a wonderful way to add a personal touch to any home.  In a May 2013 Décor Post, Framing Small Items, I featured quite a unique item displayed in a shadowbox.  The items, shown in the photo below, are a personal letter and a religious medal from Pope John Paul II and included in the shadowbox is a photo taken on the day of our daughter's baptism. This is an example of how these very personal items can be displayed to commemorate a blessed event.  For more information about this shadowbox and to read the story of how we came to receive these special items, please click on the link above.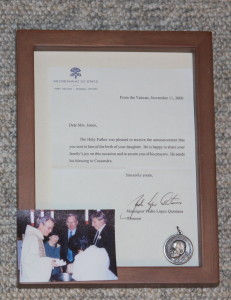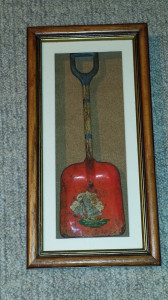 The next item of family memorabilia is an old rusty beach shovel shadowbox display, shown in the photo above.  When I was a child living in California, our family used to enjoy the occasional day at the beach.  This old metal beach shovel, found in my parent's garage.  The trick to making this type of shadowbox is finding one that has enough depth to accommodate the shovel and then using a piece of sandpaper for the background of the shadowbox because it would look like the sand on the beach, finally the shovel was attached to the paper with hot glue.  Seeing the beach shovel shadowbox hanging in our downstairs bathroom brings back wonderful memories of Paradise Cove.
The next two examples of family memorabilia are framed items of clothing which are shown below.  The first is one of our daughter's baby outfits and I also included a baby photo of her in a small gold frame, these items are simply displayed in a white shadowbox.  The second shadowbox which contains our daughter's 5th grade graduation t-shirt and it is hung in her bedroom, she likes looking at the names and remembering her classmates.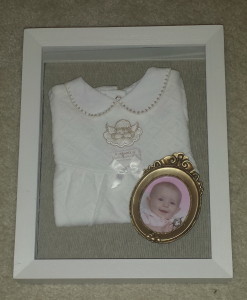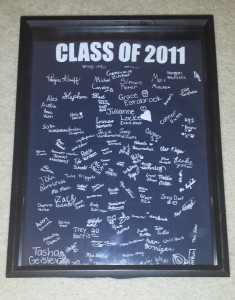 The final example of a family memorabilia shadowbox was used a few years ago when my husband's Grandmother passed away.  She was an artist and for her funeral/memorial services and we displayed several of her paintings and other pieces of artwork and her art ribbons won at local fairs and competitions was arranged in the shadowbox and also put on display at the funeral home.  Sadly, if you are ever put in the position of making funeral arrangements or planning a funeral service, it is always a thoughtful idea to add some items that were of personal interest to the deceased.  When these items are displayed among photos of the deceased, along with the floral arrangements, it helps to "tell the story" of the person's life.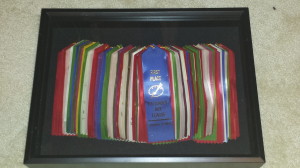 So, memorabilia shadowboxes can be used to decorate and add personality to the home.  These items can be travel souvenirs, vintage pieces and family heirlooms. For another idea using shadowboxes, please be sure to check out next week's Craft Post, Childhood Shadowboxes, for an easy and simple craft project to use as a display in your home.