As I have mentioned before, when decorating our home, my design plan is to surround our family with things that have special meaning to us.  Traveling across the country on road trips and visiting distant places in Europe and Asia is one of our family's favorite ways of spending time together.  During our trips we have collected a large number of special travel souvenirs and most of these items are displayed in the bookshelves in the library while other travel items are framed and hanging on the walls in the various rooms of our home.  We enjoy looking at these travel souvenirs and remembering the wonderful places we have visited.
One of the keys to displaying travel souvenirs is thinking about how the items will be framed.  For items that have some depth, I have found that shadowboxes are an excellent way to display those souvenirs.  As an example is the shark tooth weapon that we got at the Polynesian Culture Center in Hawaii.  This wonderful piece of craftsmanship is beautifully displayed in a shadowbox but the real purpose of the frame is to that the sharp edges of the shark teeth are enclosed to prevent anyone from handling this dangerous weapon.  In front of the shadowbox is a piece of driftwood draped with a Hawaiian shell and nut lei.  On the same shelf is a photo of our daughter dressed in her Hawaiian outfit that was taken at the Polynesian Culture Center display in a frame embellished with bamboo and palm trees, also displayed on the shelf is the artificial Hawaiian floral that she is wearing in the photo.  On the other side of the photo is a small glass jar filled with black sand from Hawaii and shells we had gathered from the beach during our trip.  Also displayed nearby is a small frame with a small trinket of seashells and straw that I bought in Honolulu.  All these items are a wonderful way to remember our fantastic trip to Hawaii and are an example of grouping travel souvenirs that tell the story of a vacation trip.  (For some travel suggestions on what to see and do in Hawaii, please click on the link)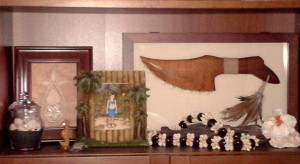 Several years ago on our trips to Europe and Asia, we brought back some really interesting souvenirs.  We visited Berlin for my husband's high school reunion and on a shelf we have displayed a piece of the Berlin Wall and a photo of us in front of the Brandenburg Gate.  When my husband lived in Berlin back in the 1970s, the Berlin Wall stood behind the Brandenburg Gate dividing East and West Berlin.  So, when we visited in 1998 the wall had been taken down and the one of the first things after getting off the plane was that my husband wanted to walk through the Gate, something he couldn't do all those years ago.  Also, displayed on the shelf is a photo of my son standing at the train station in Eichstatt Stadt in southern Germany, an area where his father's ancestors immigrated from a century ago.  On another nearby library shelf, is a shadowbox framed piece of Edelweiss that I bought at a small little shop near Neuschwanstein Castle, for more information about the fairytale castle of Ludwig II of Bavaria please click on the link.  Edelweiss is known as the flower of love in this alpine region of Europe and was made famous from the song in the "Sound of Music" movie.
Other European souvenirs are also displayed in the library; the first one is from a trip to Poland that we took in 1998.  In a small shop located in the town square, we bought a certificate printed on parchment paper that commemorates our visit to Krakow.  The other travel souvenir sitting in front of the framed certificate are Polish dolls dressed in traditional folk costumes of Krakow, my mother gave me these dolls a few years ago.  (For more interesting information about Krakow, please click on the link)
Nearby, on another shelf in the library are travel souvenirs that my husband brought back from a trip he took to Asia in 1999.  Displayed is a framed photo of my husband with the college master's program group he went with to China and Japan, they are in Tiananmen Square in Beijing, China.  Sitting in the front of the photo is a set of jade door lions that my husband bought in China.
Over the years our family has been very fortunate to have travel to various states across the country.  We have scrapbook albums filled with photos.  Displayed on our library shelf is a framed photo of our family when we went to the Kennedy Space Center in 2010.  To make a fun display, I added a book on earth and space and a small plastic space shuttle that my daughter got in the souvenir store.  (For more information about the Kennedy Space Center, please click on the link)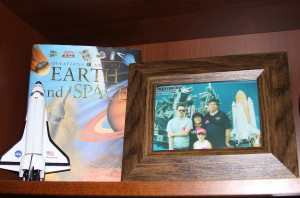 Sometimes, we like to select unusual items on our road trips.  When we went to Springfield, IL a couple of years ago and visited the home of Abraham Lincoln, in the bookstore at NPS Visitor Center we purchased a souvenir piece of the Lincoln's home and I framed this little piece of history in a shadow box.  Another unusual item we purchased was when we were living in California, we had taken a great trip to San Francisco and had arranged a special trip on an antique fire truck that takes visitors through the city of San Francisco and across the Golden Gate Bridge; we also rode the famous cable cars.  Displayed on the shelf downstairs in our "California Room" basement, I framed a small water coloring of the Golden Gate Bridge in a shadowbox and I added a souvenir piece of the cable from the San Francisco cable car line.
Décor Note:  Please check out some of our other travel souvenirs that have been highlighted in two previous Décor posts, "Decorating with Plates" and "Not Your Normal Wall Art!"  Also check out the April Décor post, "Disney Memorabilia Collection" for ideas on decorating with Disney souvenirs.
I hope this post will inspire some ideas for displaying your travel souvenirs!