Hello everyone, it's Jeff again and this time I'm posting about our recent trip to Louisville, Kentucky and a visit to the Louisville Mega Cavern.  (Barbara may be planning on writing a post on the caverns, but I thought I would beat her to it!). The Louisville Mega Cavern offers visitors several adventure opportunities, such as zip lining rope courses, it is a little pricey but alot of fun!!  In this post I will talk about the history of the caverns and the available entertainment.
History of the Mega Caverns in Louisville, Kentucky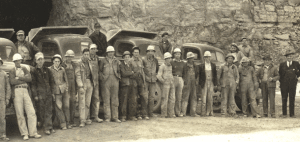 The mine was first known as the Louisville Crushed Stone Company in the 1930 which provided construction material for the building of the roads and bridges around the Midwest.  The mine shut down in 1972 100 acres of materials had been removed and the space left about 17 miles of underground space.  It was purchased in 1989 and it became the Louisville Underground, LLC. which was a company designed to provide ultra-safe, ultra-secure storage.
The caverns are huge, over 4 million square feet and the space was used for several purposes such as a dumping ground / recycling center for inorganic materials, a worm farm, a storage facility for the city's road salt supply, secure temperature controlled storage and my favorite, a huge civil defense shelter!  The caverns were slated to house over 50,000 people should there be a nuclear attack on the United States. The city of Louisville had about 788,000 people at the time it would have only been able to house about 16% of the local population so not everyone was invited.  You needed to be on a secret list which included the governor, soldiers from Fort Knox, important people and supposedly Colonel Sanders of KFC fame!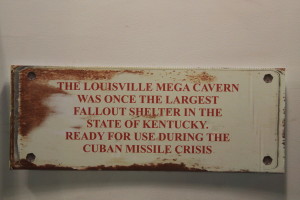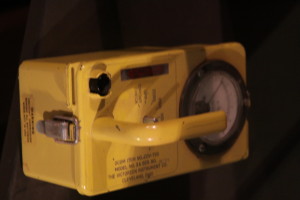 More recently the owners decided to stray away from storage and started installing some first class entertainment!  After backfilling some 50-60 feet of the cavern, Louisville Mega Caverns were born.  The attractions include a tram ride, "Mega Quest" – a rope adventure area, "Mega Zip" – underground zip lines and opening soon, "Mega Underground Bike Park".  The bike park is a great idea in my mind because it will be available year round – weather will never again be a factor!
The Facility
The facility is a big cavern (cavern, not cave as it is man made) that has been partially filled in over time.  It is the largest building in Kentucky and one of the most eco-friendly as the large amount of limestone which provided insulation for keeping the facility at a constant 58 degrees.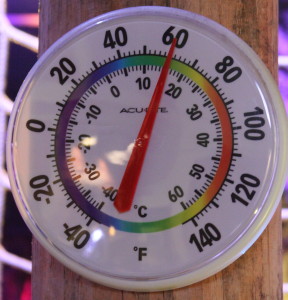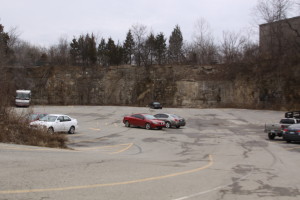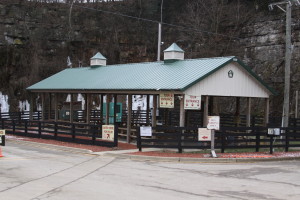 There is a decent parking lot close to the entrance and a small covered area, which I assume is where you meet for the tram rides.  The entrance takes you down a long hall with posted lists on facts for visitors to read and be entertained.  The corridor is made of fairly plain sheetrock with no real embellishments, but it is just getting you to the real entrance.  Before you get there however you pass part of the storage area and some really HUGE fans!  Those really impressed me.  They are probably 15 feet tall!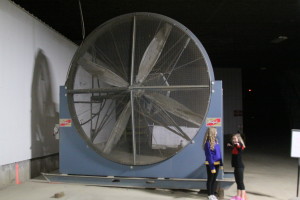 The entrance to Mega Quest / Mega Zip is quaint, but when you get in the facility is nice.  There is a seating area with tables that will fit a large number of people.  They section parts off for "private" parties.  There is a small gift shop and an area serving snacks and drinks with free refills.  Take advantage of this – "mega questers" will get thirsty with all that strenuous activity.
The staff is very nice and helpful and they operate more like a family business that a corporate machine giving the place a very nice feel.  I'll talk a little more about the specifics of each attraction as I get there.
Mega Tram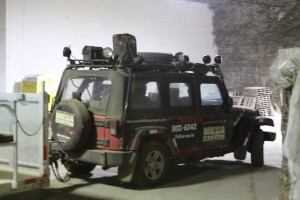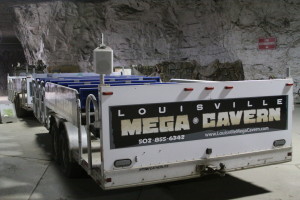 When we visited Mega Caverns it was winter and the tram was not running, but here is the description stolen shamelessly from their web site:
The Historic Tram Tour will take you on an underground adventure rich in history, geology, mining, recycling, green building technology, and just simply HUGE in scale!
The man-made cavern spans under a number of roadways above and is part of 17 miles of corridors located beneath the city of Louisville, Kentucky. It's a great tour for all ages—whether you want to learn about science and history or simply want to see what a giant man-made cavern of this magnitude looks like!
You'll hop on an SUV-pulled tram and be joined by a MEGA Cavern expert who will guide you on your underground adventure. It's a 60-70 minute tour, strategically lit to enjoy highlights such as:
Some Early Cavern Formations
A Historic Replica of the Cuban Missile Fallout Bunker
A Worm Recycling/Tasting Room
Sights and Facts of the Early Mining Operation
Hear About our Storm Dog and Pigeon Eating Hawk
And More Surprises Wait Around Every Corner!
Mega Quest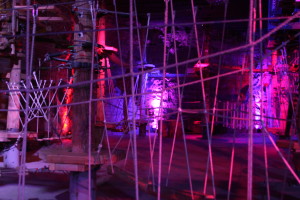 Mega Quest was the purpose of our visit.  We thought our daughter would enjoy it.  Our family enjoys exploring caves (see these posts on Wind and Jewel Caves and Mammoth Cave)  I'm guessing the facility was about 9,000 square feet, which would have been impressive in itself, but it was also 20 – 30 feet tall!  It was lit with cool blue, red and green lights.  It felt like the lights kept changing colors, but I am really not sure about that.  You climb around on 76 different challenges with a small zip line on one side of the course.  My daughter and her friend spent three hours there and would have continued had they not been so tired!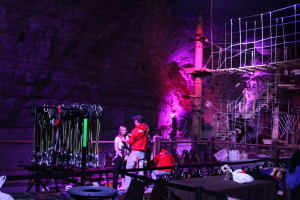 I was extremely impressed with the safety measures they have in place.  First, they provide  visitors a helmet and harness, but they go way beyond that.  They have a double hooked, self-managed belay system and seriously train everyone to always keep one hook attached.  The mechanism is also built to prevent both hooks from being detached at the same time.  I felt perfectly safe while my daughter was 30 feet in the air dangling on a thin rope bridge or zipping 100 feet on her own.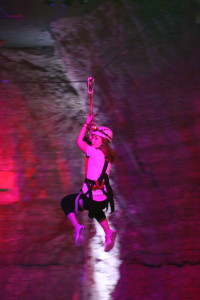 They say the course is good for everyone from about 5 to 90, but I think 5 is a bit young and while the course looked fun, I feel it is better geared to the 8 to 18 year old.  Of course I am saying this without actually having been on the course myself.
Mega Zip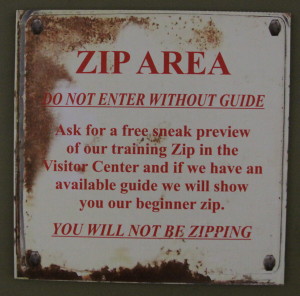 My daughter and her friend were going to spend three hours on the Mega Quest ropes so I thought I would try something else.  Mega Cavern also offers underground zip lining.  I had never been zip lining, it was my near my birthday and Barbara encouraged me so I thought "Why not?".  First, let me say I really enjoyed it.  I was in a group of 9 people, the max is 12 and it took us a good two hours to go through the course.  The guides were experienced, friendly and fun.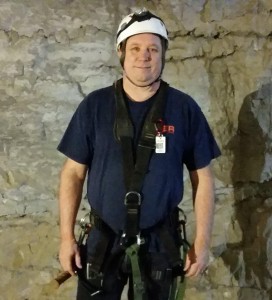 The tour starts in the equipment area.  There you get your gear on and there is a short practice zip line.  As the participant you do nothing, the guides attach all the cables and basically take care of everything.  After the practice line you walk quite a way underground, past the entrance and the soon to be opened Bike Park to the first real zip line.  I believe the first is called the Highway to Hell.  It has fun, campy decorations and it is a fairly long line.  I can't remember the names of the others but they were quite long, one was some 90 feet in the air and the dual racing at the end was fun.
What I do remember was that after the second or third line we mounted platforms and did not touch the ground until the end.  Those of you who know me might find this odd, but I am afraid of heights.  While we were kept attached to dual guide lines the entire time we were off the ground and were perfectly safe, I struggled with the challenge bridges.  I really only felt safe once I was zipping through the darkness which is the part that scares most other people.  Go figure…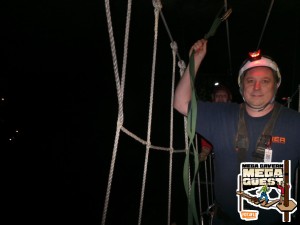 Bike Park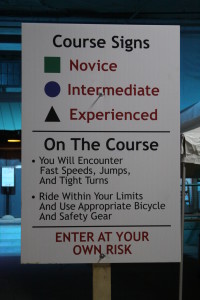 The latest attraction at Mega Caverns is an underground bike park.  It is an off road track designed by Jeff Perkins and offers 40-plus trail lines covering 320,000 square feet.  The park is now open (it wasn't when we were there).  Here is the spiel from Mega Caverns:
The only UNDERGROUND bike park in the world
The largest indoor bike park on the planet!!!
No spectators allowed at this time
ADVANCED RESERVATIONS SUGGESTED BUT NOT REQUIRED
WALK-INS WELCOME
320,000 square feet
10 stories or 100 feet underground
Over 45 trails
Bike rental available in April 2015 (not available now)
Helmets are required
Pictures
For the Mega Quest and Zip Lining, probably also for the bikes they offer pictures. They come in two price points – generic and personal.  The personal tag costs $10 and you get unlimited pictures.  The generic tag takes pictures as well, but they cost more at the end.  We purchased the personal tag (which you get to take home), but I was disappointed with the pictures.  There were a couple of stock pictures (see below), but most of the pictures of me and my daughter were blurry, too dark, or of someone else or I was looking away.  I  would recommend sticking with the generic tags and if you get a good picture, pay the price.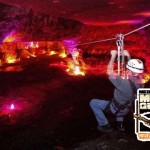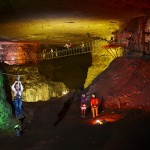 Cost
My only complaint, although that is probably too strong a word, with the Mega Caverns is the cost.  The zip lining was $80, the Mega Quest was $40.  My choice on the pictures added another $10 to that.  For the Mega Quest it works out to about $14 an hour which isn't too bad.  At $40 an hour for the zip line it was somewhat expensive, but I would consider doing it again.  The gift shop has items of decent quality, but of tourist attraction gift shop prices.  The bike park seems to be very reasonably priced.
Summary
Mega Caverns is a fun adventure with something for the whole family.  For those who can't or don't want to walk there is the tram.  For those more adventurous there is Mega Quest and if old / large enough (you need to be at least 75 lbs) there are the zip lines. The cavern has other events, particularly at Christmas and it is a decent value. Both my daughter and I enjoyed our adventures and we will go back.  Hopefully Barbara will go on the zip lines with us!