This month I wrote a Travel Post about the Royal Yacht Britannia.  The Britannia, which launched in 1953, has served the Queen as an official Royal residence for state visits and official receptions when traveling aboard.  The Britannia was also used for Royal family holidays and the honeymoons of several Royal couples throughout the years.  The Britannia was decommissioned in 1997 and is now a tourist attraction in Edinburg, Scotland.  Please click on the link for more detailed information about the history of the Royal Yacht Britannia.
So, inspired by the Britannia I decided to create two Nautical-themed Decorations which were easy craft projects, using just a few inexpensive and relatively easy to purchase items that could be made in just a short time.  The Nautical-themed Decorations would look wonderful in a beach or coastal home but could be used in any style of home.      
The first Nautical-themed Decoration used a wooden hook in the shape of an anchor, a black framed shadowbox and red, white and blue stripped scrapbook paper.  To start the craft project, I disassembled the shadowbox and set aside the backing and glass.  Using the backing as a guide to size, I cut the scrapbook paper to fit the interior of the shadowbox and then glued it to a piece of cardboard cut to the same dimensions.  This provided a hard, sturdy surface to hold the weight of the anchor hook.  I centered the anchor into place and then glued it to the scrapbook paper/cardboard.  Next, I replaced the glass and backing of the shadowbox and that completed the craft project.  (Décor Note: I choose to detach the metal hook from the wooden anchor but it could remain as a serviceable item for hanging)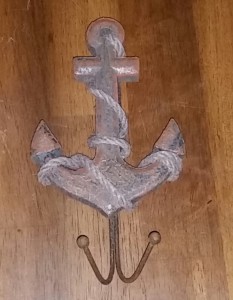 The second Nautical-themed Decoration took a little bit of research but was made in under an hour using a few inexpensive items.  The supplies included a simple wooden frame with a white mat, a burlap covered backing, several colors of scrapbook paper, cardboard letters painted black and small amount of jute rope.  To start the craft project, I used my home computer to find the nautical flag alphabet and with this information I used scrapbook paper to create the flags that would spell out our last name.  After making the small flags I attached these to a small length of jute rope which I strung from one side of the frame to the other.  With the painted black cardboard letter I spelled out "welcome" and glued these directly to the burlap backing.  (Décor Note: For this project I choose not to use the glass from the frame because of the thickness of the rope and paper flags.  By eliminating the glass it also omitted any glare to distract from the display)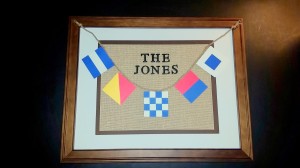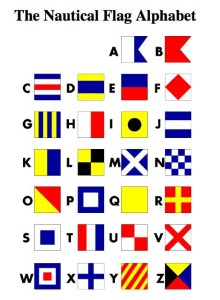 With these custom-made Nautical-themed Decorations I was able to create the perfect items for our home.