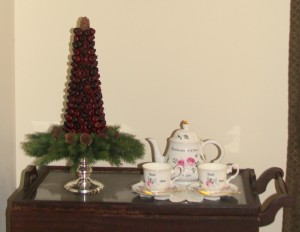 Depending on the current First Lady's Christmas theme and decorative style for the White House, some variation of a cranberry covered decoration is always in the Red Room. Some years it can be a cranberry wreath or another variation but I have long admired the cranberry topiary.  I always thought that it was one of those perfect decorations for Christmas with the red color of the cranberries and the green color of the pine.
For years now I've always keep a silver bowl of artificial cranberries in our dining room during the holiday season.  This year I wanted to do something different and decided that I was finally going to use those cranberries to make a topiary for our dining room.
Listed below are the materials and instructions to make a cranberry topiary.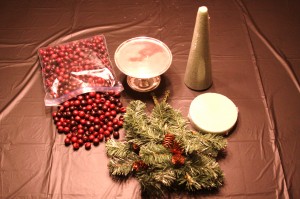 Cranberry Topiary – supplies
1     Styrofoam come
1     Styrofoam circle, a couple of inches wider than the base of the Styrofoam cone
1     Container, as wide as the bottom of the Styrofoam cone
Cranberries, artificial
Pine boughs or other type of greenery for base
Small Pinecones, several
Hot glue gun/ glue sticks
Sheet moss, to cover the Styrofoam cone (optional)
Foam adhesive spray, to attach the sheet moss to the Styrofoam cone (optional)
Hot glue gun /glue sticks
Cranberry Topiary – instructions
Center the Styrofoam cone on the Styrofoam circle; attach the cone securely to the circle with hot glue. This will create one piece that you can set a silver bowl or I used a silver pedestal base.
Option #1 – Use spray adhesive to attach sheet moss onto the Styrofoam, this covers any empty spaces left between the cranberries and gives a finished look.
Option #2 – Paint the Styrofoam cone a burgundy shade to match the cranberries so the empty spaces between are not noticeable.  (Even though it is not pictured, this is the option I used for my cranberry topiary)
Insert the pine boughs or greenery into the Styrofoam circle at the base of the Styrofoam cone.
Hot glue small pinecones at the base of the Styrofoam circle.  Be sure to save one for the top of the Styrofoam cone
Using a small amount of hot glue, attach each individual cranberry to the cone.  Starting at the bottom, work in rows until the cone is completely filled to the top.  Try to leave as little space as possible between cranberries.
Hot glue a small pinecone to the top of the Styrofoam cone to complete the topiary.
As you can see from the photo at the top of the post, the cranberry topiary looks wonderful on the tea cart in our dining room.  Additional ideas for places for a topiary: on a side table in the family room, placed into the corner of the kitchen counter or two topiaries on a buffet table for a Christmas luncheon.