I started collecting Boyds Bears back in the 1980s.  The first one was a plush brown bear in red overalls called Christopher, which I received as a gift which happens to be the name of my son.  By this time I was now working in a small retail store that sold the Boyds Bears line, and I started collecting the resin bears figurines for special occasions and holidays.  I now have a collection of figurines, plush bears in both small and large sizes, photo frames, and even Christmas ornaments.  When the Boyds Bear Village was released in 2000, I purchased several of these delightful houses and accessories to add to my collection.  But I wasn't done yet!  After our daughter was born I started a collection of the resin dollstone figurines to mark the special moments in her life, such as the first day of school and her first communion.  Her collection also includes a couple of Boyds porcelain dolls and stuffed bears.
The main portion of my Boyds Bears collection is displayed in the library of our home in a lovely oak lawyer cabinet with glass front doors.  The shelves display several figurines, picture frames and several houses from my Boyds Town collection.  These items are displayed year-round in the cabinet and I will add some additional holiday themed figurines and decorative accents seasonally. TIP: To add height, I used two large bricks for each shelf and these fit perfectly across the entire length of the cabinet.
These photos show the cabinet decorated for the various holidays –
On the first shelf of the cabinet, I stacked two smaller bricks in the center to add some additional height.  To define that this is a Boyds Bears themed cabinet, I placed a figurine called, "Tessa, Ben & Cissie … A Sign of the Times" which reads "Boyds Bears and Friends … bears and hares you can trust".  To the left is a picture frame, "Wings to Soar" with an enchanting picture of our daughter dressed in fairy wings.  To the right is another picture frame, "Pam and Dave …All Aboard" which features a school bus and holds our daughter's kindergarten photo.  This shelf is where I display my Boyds Bears seasonal figurines.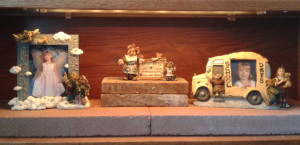 These photos show the shelf with my various Boyds Shoebox Bears figurines –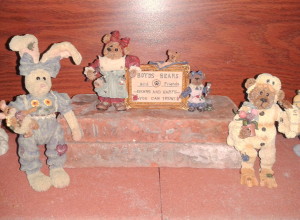 Easter – "Winnie Hopkins" and "Webster Grizberg"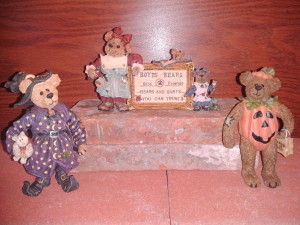 Halloween – "Hazel Spooksbeary" and "Bradley Boo Bear"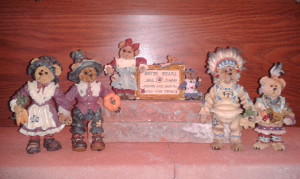 Thanksgiving – "Virginia Grizberg", "Miles Grizberg", "Chief Sitting Bear" and "Princess Standing Bear"
Christmas – "Nicholas Grizberg" and "Elias Grizberg"
The second shelf of my Boyds Bears cabinet features several resin bear figurines.  I have arranged the pieces to tell a story of life from birth to old age.  The figurines left to right are:  "Momma McBear … anticipation", "The Family" a special 1999 limited edition piece, "Bailey … the graduate", "Grenville & Beatrice … true love, "Momma & Poppa McNewbear with Baby Bundles", "Beatrice … we are always the same age inside" a 1998 limited edition piece, and finally "Grenville & Beatrice … best friends".  These items are displayed year-round in the cabinet and I will try to change the display by adding seasonal decorations.  TIP: Keep an eye out during the various holidays at your local craft stores for seasonal decorative accents to add to a display.  I have found that in the floral section there are usually small spray decorations specific to each of the different seasons and holidays.
This photo shows my Boyds Bears figurines on the second shelf of the cabinet –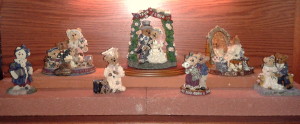 The bottom shelf of my Boyds Bears cabinet features the charming little houses from the Boyds Town collection.  From left to right the houses are: "Edmund's Hideaway", "Grenville and Beatrice's Homestead", "Emily's Carrot Cottage", and "Bailey's Cozy Cottage".  The Boyds Town is decorated seasonally with additional small figurines and decorative accents.  Some of these additional items are from the Boyds Bears product line, other items are purchased at a variety of local craft stores and I also have used some Department 56 items. TIP: Keep an eye out during the various holidays for miniature decorative accents; also check the dollhouse section in the craft stores for more miniature items to add to a display.
These photos are of the Boyds Town collection decorated for the various holidays –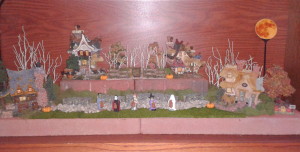 Halloween 2012 – I used bare-branch trees for a more seasonal autumn look and added a "harvest moon" in the right corner of the display.  I displayed a couple of "trick or treaters" figurines and a small pumpkin patch.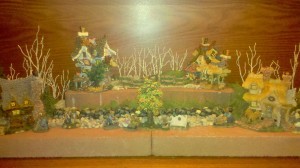 Fall 2011 – For Thanksgiving, I kept the pumpkin patch but removed the Halloween kids and added small resin turkeys.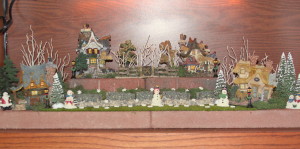 Christmas 2012 – I added small pine trees, a small bear Santa and several snowmen figurines, tiny lamp posts with Christmas wreaths and also a sprinkling of mini snowflakes.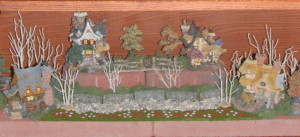 Valentine's Day 2013 – I removed all the Christmas decorations and added a sprinkling of tiny hearts to the display.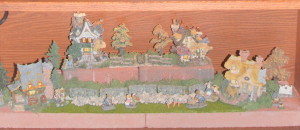 Spring 2013 – I remove all the previous seasonal trees and add more spring-like green trees.  I found a small section of "grass" and miniature tulips in a variety of colors in the model railroad section of my local craft store and I added these items to the front of the display.  Then, I added more seasonal figurines to the display.
Look for tomorrow's Décor Post, "Decorating with Boyds Bears (Part Two) for more ideas and tips for decorating with a collection for the different holiday seasons and even some special events.
 A Brief history of the Boyds Bears Company
The Boyds Bears Company was founded by Gary Lowenthal and his wife Justina Unger.  It all started back in 1979 when they moved to Boyd, Maryland and opened a small antique store.  Gary soon began making reproduction duck decoys which led to him making small resin houses called "The Gnomes Homes" in 1984.  Eventually they added to their product line and started making plush bears and rabbits and by 1993 they began making resin bears.  The company was now called the Boyds Bears Figurines and Collectibles with the company administration offices and product processing building located just outside Gettysburg, Pennsylvania.
By this time, the Boyds Bear Company has added several more additional product lines but the resin bears remained the most popular.  In 1996, the Boyds Bears Company started their own official fan club called the "Loyal Order of Friends of Boyds" or better known as the FOBs.  The cost of the annual membership included a special FOB kit each year that could be purchased that included exclusive member's only items, such as figurines, plush bears and a special resin member pin.  Members also had access to an online newsletter and a member's only website.
Over the years, many of the Boyds Bear products have won numerous prestigious awards, including the Teddy Bear of the Year Awards and Doll of the Year Awards.  Then, in 2001 they opened their first store located in Gettysburg, PA near their company headquarters and later an additional store in Pigeon Forge, TN.  Unfortunately, due to changes in the retail market and difficult economic conditions the Tennessee store closed in 2007 and the Pennsylvania store closed in 2011.  (When we visited Gettysburg in 2008 and again in 2009 I was able to visit the Boyds Bear Country store.  It was a delightful barn–themed building filled with the complete line of Boyds Bears products.  Needless to say, I was there for a couple of hours just looking at all the items and the wonderful displays throughout the multi-level building.)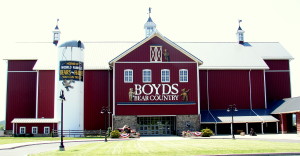 Boyds Bear Country in 2008
Enecso, a large American company which specializes in the sales and distribution of a variety of giftware and collectible, acquired the Boyds Bear Company in 2008.  Currently the Boyds collection is sold in independent gift and collectible stores as well online.