As you might know from reading yesterday's Décor post, "Decorating with Boyds Bears (Part One)", I started collecting Boyds Bears back in the 1980s.  Since then my collection has grown to a couple of hundred figurines, plush bears, photo frames, trinket boxes and even Christmas ornaments.  Then, after our daughter was born I started a collection for her which included Boyds resin dollstone figurines, porcelain dolls and stuffed bears.
Before we moved to the Midwest, we had a beautiful home in California.  For every Christmas I would love to decorate our fireplace mantel with a pine garland which I decorated with amber pinecone lights, red berry sprays and more real pinecones.  By this time I had collected over 20 Boyds Bears ornaments with the intent that I would use them on our Christmas tree.  One of the rules of decorating is that when you have a collection of items it is best to display them together for the most visual impact.  So, that is exactly what I did with the Boyds Bears ornaments, instead of using them for the Christmas tree I added them to the pine garland on the fireplace mantel and it think it turned out wonderful!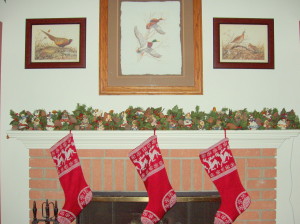 Christmas fireplace mantel decorations for 2004
Over the years I had collected several more Christmas decorations from the Boyds Bear Company.  I had figurines, photo frames, plush bears and even a moose.  Every Christmas I pull these items for storage and find a place for them in our home.  To keep things looking interesting from year to year, I would display a plush Santa bear on a chair one Christmas and the next year I would place it on a bookshelf.  I would also do this with Christmas figurines and photo frames, one year the item would be in one room and the next year it would be in another part of the house.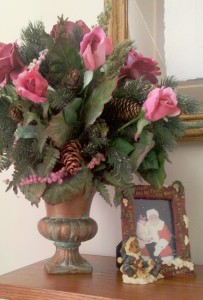 Christmas 2011, "Edmund … the night before Christmas" photo frame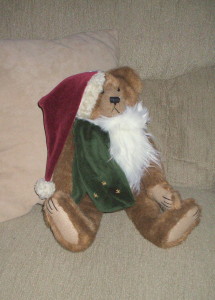 Christmas 2012, "Nickleby S. Claus"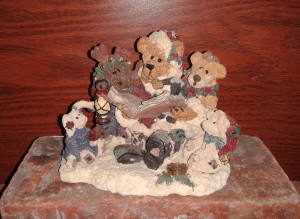 Christmas 2012, "Alexis Bearinsky … the night before Christmas" figurine
One of my favorite Christmas decorations is an antique sled that I picked up on one of our road trips across the country.  I attached a festive red bow to the sled with wires.  Next, I hung an old pair of black ice skates and as a finishing touch I added a Boyds Bear plush moose named "Mortimer Von Hindenmoose".  This display greets our holiday guests in our entrance hall during the Christmas season every year.
Sometimes the smallest item can hold the most impact in a display.  For the first Christmas after we moved to the Midwest, I set out a small tabletop Christmas tree on the beautiful roll-top desk in our master bedroom.  I decorated it simply with several rusted jingle bells, put a rusted star on top and placed a very small Boyds Bear Santa, called "Nicholas Bearington", in front of the tree.  Now, that idea inspired me the next year to decorate that same small Christmas tree with some non-Boyds bears that I found in my local craft store; Santa and Mrs. Claus, a couple of bears in snowflake sweaters, a ballerina dressed in a pink tutu, a royal guard and a little white angel bear.
As I mentioned in my previous post yesterday, I have an oak lawyer cabinet with glass doors that holds part of my collection of Boyds Bears figurines, picture frames and Boyds Town houses.  Over the years I have also collected several holiday-themed figurines that I display in this cabinet.  (Please see yesterday's post for photos of my collection of shoebox bears for Easter, Halloween, Thanksgiving and Christmas)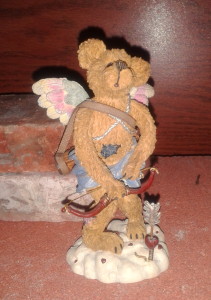 For Valentine's Day, I display a cute cupid bear called "Valentino Slipshot"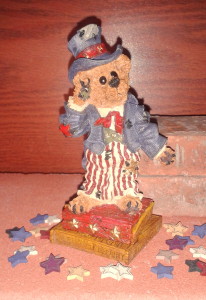 For Fourth of July, I display a patriotic bear called "Uncle Elliott"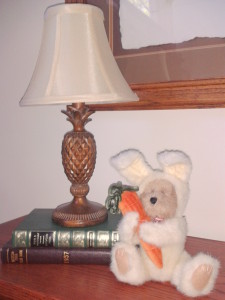 In Spring on top of the Boyds Bears cabinet I display a 6" plush Easter bear called "Agatha Snoopstein", a brown bear dressed in a white bunny suit.
As I mentioned previously, after our daughter was born I started a collection of the resin dollstone figurines to mark the special moments in her life.  These figurines are displayed in the bookshelf in her room.  TIP: When displaying figurines on a shelf, choose accessories that are compatible in the theme, style or color tone of the figurine for the most pleasing displays.  For example, with the ballerina figurine I choose a floral pale pink rose frame and a light brown teddy bear to create a lovely display.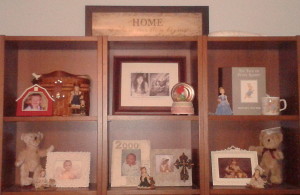 On the top shelves, left to right:  "Laura & Jane – the first day of school" and "Emma as Cinderella – magical moments".  On the second shelves, left to right: "Melissa & Katie – the ballet", "Teresa & John – the prayer", "Lisa & Plato – graduation day".
Finally, here is a great idea for using Boyds figurines in a very unexpected way.  We have all been to weddings where the cake is beautifully decorated and sitting on top is usually some sort of figurine.  I thought this idea was perfect for our daughter's baptism cake and I used a Boyds figurine as a cake topper.  The cake looks very sweet with the figurine named "Zoe … the Angel of Life" resting on top of a bed of white and pink roses.  For the next important religious event in her young life, her first communion, I decided to decorate the cake with another Boyds figurine, I used a figurine named "Teresa & John … the prayer".  Then, for our daughter's 6th ladybug themed birthday party, I used the figurine named "D. Lovebug" which added just the right festive touch to the birthday cake that was decorated with leaves and resin ladybugs that I found in my local craft store.
So, you can have a lot of fun decorating with a Boyds Bears collection in some traditional and even some unusual ways.  I would love to hear your comments about these displays and decorations.  Also, please share how you display a Boyds Bears collection.