Growing up in Southern California, our family has been going to Disneyland since it first opened in the 1950s.  Later with my own children, I continued the family tradition of annual trips to Disneyland.  When I was a little girl, I also remember seeing all the Disney animated films (… the price of a movie admission was just 50 cents!)  Later, with my own children, we watched the same Disney classic movies re-released on VHS then DVD.  Then, when Disney started making new animated films again and later with Pixar, we went to the movie theater to see those films, too.  (Of course the price of a movie ticket was much more expensive and don't get me started on the price of a drink, candy and popcorn!!)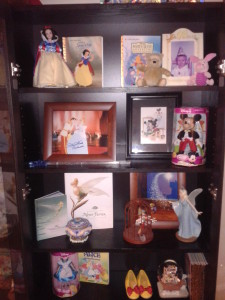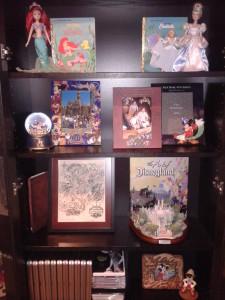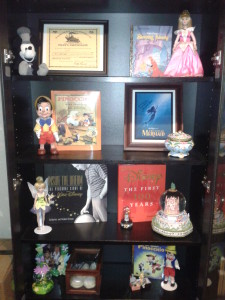 Over the years, we started to collect Disney Memorabilia during our numerous visits to Disneyland and we also made purchases at the Disney Store and later on the Disney website.  Our collection varies from simple park souvenirs; like admission tickets and annual passports, park brochures/maps, fast passes, collectible pins and Mickey Mouse ears, to more expensive items like water globes, character figurines, animation cels, lithographs and even autographed items.  The photos of the bookcases displaying our Disney Memorabilia only show a portion of our collection.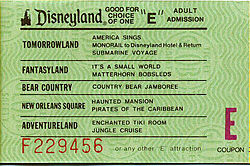 While going to Disneyland for almost 60 years, I have a collection of different types of park merchandise and souvenirs. Shortly after Disneyland opened in 1955, in addition to the park admission, they began selling ticket books for entrance to the different attractions. These ticket books were used until the late 1970s when they were replaced by the single admission/unlimited-ride park ticket.  I have several complete ticket books in addition to a few iconic "E-Tickets".  I have also been saving our Disneyland parking passes, admission tickets, annual passports and brochure/park maps for the last 40 years.  When the fast-pass tickets were introduced in the late 1990s, I started collecting one for every ride that offered them.  Other "free" souvenirs include the autographs of Disney characters that our daughter has collected over the years.  Like all young girls, her favorite part was meeting the Disney princesses and getting a photo taken with them.  I know that these different paper souvenirs do not have any monetary value but it is fun to collect them.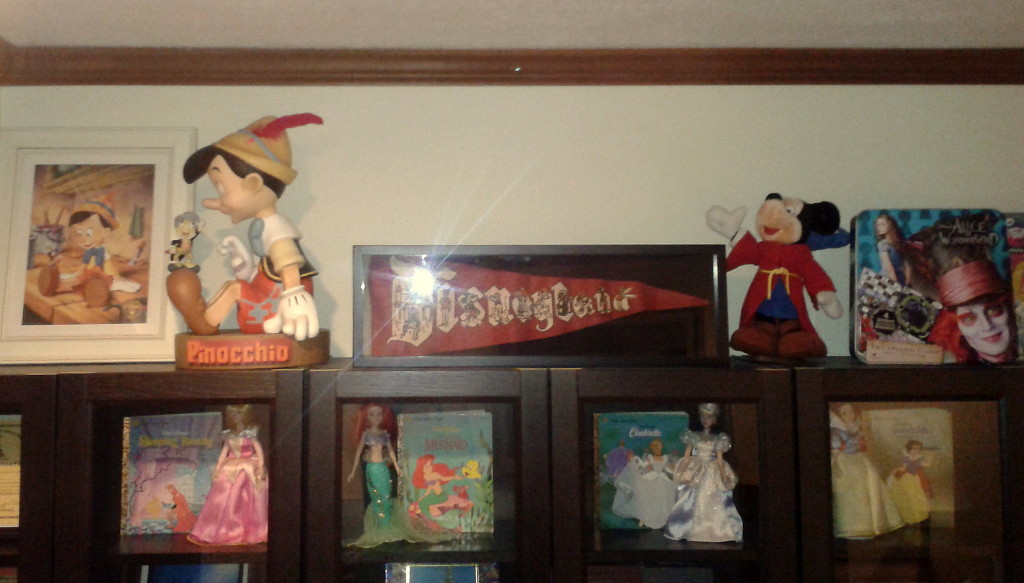 On the top of our Disney bookcases, there is a shadow box that displays an old Disneyland pennant, a popular souvenir item from Disneyland's early years.  I also have stored away two Disneyland Park maps that were originally purchased for my children.  It is fun to look at the Disneyland maps and see the attractions that have come and gone over the years.
Three souvenirs displayed in our Disney Memorabilia collection are very unique items.  The first item is a Pilot's Certificate that we received when we rode in the Pilot's wheelhouse located on the upper deck of the Mark Twain Steamboat.  The second unique item is a signed copy of a map of the Jungle Cruise which was given to our daughter by a cast member; it makes a very rare souvenir.  The third item and one of my favorites, is my daughter's Tinkerbell shoes autographed by the "original" Tinkerbell, Margaret Kerry, who was making a personal appearance at the Disneyland Resort and kindly signed the shoes and took a photo with my daughter.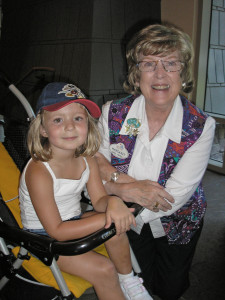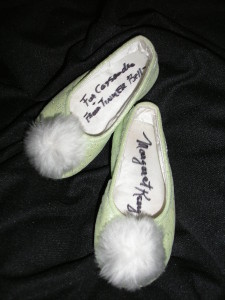 Some our other Disneyland souvenirs include over two hundred Disney collectible pins.  Most of these pins were purchased individually and I have only engaged in the pin trading phenomenon once or twice.  The pin purchases were mostly made during our visits to Disneyland or online from e-bay when I am looking for rare or discontinued pins.  A small part of my pin collection is displayed in shadow boxes and the rest of the pins are stored away.
The first Disney characters that I started collecting were the classic Mickey Mouse, Steamboat Willie and the Fantasia Mickey Mouse items.  The collection started with two medallions that were issued back in the 1980s.  From there, the collection continued to grow with a variety of stuffed Mickeys, several large and small Mickey figurines, lithographs and animation cels.  The first time that my son and daughter visited Disneyland I bought each the classic Mickey Mouse Ears with their names embroidered on the back.  These are stored away with other special Mickey Mouse Ears, like the ones from the exclusive Club 33 and Disneyland's 50th anniversary.
My favorite Disney character is Pinocchio.  I love the story of the little wooden puppet trying to become a real boy with the help of Jiminy Cricket.  Somehow, during the time I was a single Mom raising my son, I associate the character of Pinocchio with him and I was his Jiminy Cricket being the "conscience" that guided him through life.  For this reason, I began collecting Pinocchio items which include framed animation cels and lithographs, large and small figurines and collectible water globes.
Like most little girls, my daughter liked all the Disney Princesses and Tinkerbell but her favorite Disney character was Ariel.  Over the years, I have collected items which include both large and small porcelain Disney Princess dolls and other figurines, music boxes, autographed pictures and books.  Another special item is a "Small World" attraction water globe/music box that my daughter received as a birthday present.
Other Disney items collected include over 50 books on the subjects of Disneyland, Walt Disney and the Disney movies, as well as magazines (mostly the discontinued "E-ticket" magazine), music albums and CDs and almost all the animated Disney movies on DVDs.  We love Disney so much that we celebrated our daughter's 5th birthday party with over 25 family and friends at Disneyland during their 50th anniversary.  We have several items commemorating the event such as: a special 50th anniversary picture frame which displays our group's picture taken in front of the Sleeping Beauty's Castle on the day of the party and also a lovely Disneyland 50th anniversary water globe/music box.  Since we moved to the Midwest, we have visited the Walt Disney Resort in Florida and items from those trips are also displayed in our Disney bookcase.  We have several photo albums and scrapbooks filled with photos of our Disneyland adventures over almost 60 years.  Finally, displayed seasonally on our Christmas tree every year is our large collection of Disneyland Park and Hallmark Disney ornaments.
Collecting Disney memorabilia has brought me great joy throughout the years and it provides many memories of our trips to Disneyland and all things Disney.  Let me know if you also collect Disney items, I would love to hear how your collection is displayed.