When decorating our home, my design plan is to surround our family with things that have special meaning to us.  Over the years I have collected decorative plates by the Danbury Mint, Wedgewood, Norman Rockwell and Marty Bell.  Each plate comes with a certificate of authenticity. I don't know if they have great monetary value but the ones that I have collected were purchased because they represent the places we have visited over the years or special events in our lives.  Some of the plates are of National Parks, historical places or scenes from the ocean that we love or the English countryside that we visited or commemorative plates depicting events or years that are important to our family.  I have also purchased inexpensive porcelain plates from our local discount retail stores.  I have even purchased decorative plates on our travels in England, Germany and Poland.  All these plates have been used in decorating our past and present houses.
Starting in our library, the room is a quiet place where you can grab a book, take a seat in one of the comfortable recliners and cover yourself in a soft blanket while reading a good book.  One wall of the room is filled with bookshelves which hold not only our collection of books but also our travel mementos.  Within the bookshelves several plates are displayed on easels, two collectible nature plates of ducks and wolves and a Native American decorative plate we bought during our southwest travels.  Above the bookshelves there is a collection of six Danbury Mint plates depicting scenes from some of the National Parks we have visited throughout the United States.  All these plates displayed in our library are in keeping with the room's theme of travel and adventure.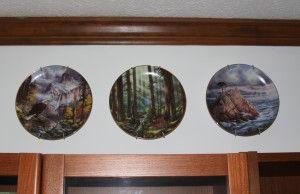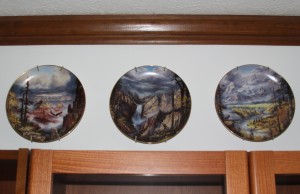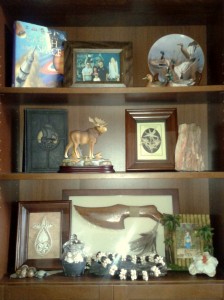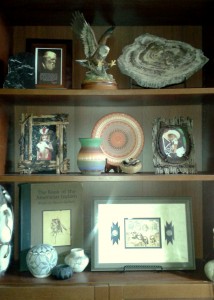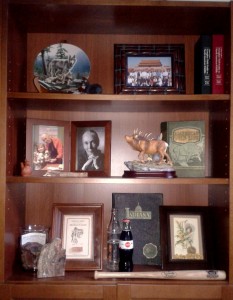 The next room is our family room which has a large brick fireplace/mantel with two bookshelf/cabinets on each side.  This is the room where our family spends most of our time.  The room has beautiful wood paneling and a comfortable sofa and oversized chair/ottoman to sit in while watching the television.  In this room are several paintings and lithographs depicting serene landscapes from the English Countryside.  One of those is a painting by California artist Marty Bell called "Morning's Glow".  When this painting was hung in our California house over the piano, I wanted to give it a more substantial look.  I found an entire collection of Marty Bell collectible plates on E-Bay and purchased them at a reasonable price.  I hung five of the plates around the oval frame and they were the perfect complement to the Marty Bell painting.  When we moved to our new house I hung them in the same way and they look lovely against the wood paneled walls.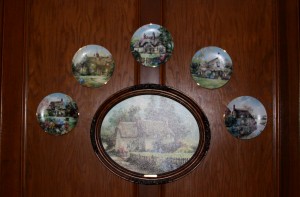 Adjoining the family room is the kitchen, it has an open floor plan where both rooms are connected and divided by a railing near the kitchen table.  Near this area is a wall of upper and lower cabinets with a desk height marble counter with chairs.  My daughter uses this area to do her homework.  Above the upper cabinets there is almost two feet of space which is where I usually decorate each season for the different holidays.  Most of the year there is a picture, a couple of tea pots and three green porcelain decorative plates on easels.  Across this area, near the sliding glass door to the sunroom is a large decorative plate that was purchased on a trip to Poland many years ago.  It has special meaning because I had originally purchased it for my mother; her parents were born in Poland.  After she passed away last year the plate was returned to me.  I recently purchased an Italian decorative plate, my father was born in Italy.  I thought it would be a nice addition to the Polish plate and it would represent the countries my family immigrated from.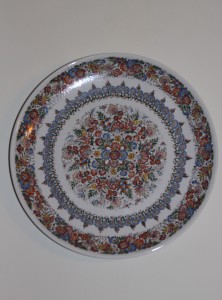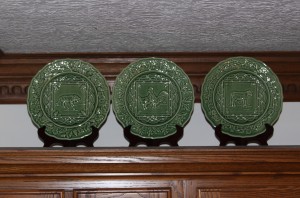 We refer to our basement at the new house as the "California Room".  This is where we have a wall of black bookcases filled with our Disneyland memorabilia.  Living in California, Disneyland was a place I visited as a child and also a place I frequently took my children.  (We miss our annual Disneyland passports!!)  Anyway, this room is subtlety decorated with beach items to reinforce that California theme.  Over the sofa is a large painting that I purchased years ago in Santa Barbara by a local artist.  The painting is of a beautiful Hawaii sunset in Kauai.  I have a collection of Robert Lyn Nelson collectible plates from the Danbury Mint that depict colorful ocean scenes of dolphins, whales and sea turtles.   I hung six of the plates, three on each side of the Kauai painting, and they are the perfect complement to the ocean theme.
I have used other collectible and decorative plates in others rooms of our house in California.  For my daughters old bedroom I had found some Beatrix Potter plates in an antique store and hung them on the wall in her bedroom near some framed Beatrix Potter lithographs.  I also had several Brambly Hedge collectible plates; we liked the Brambly Hedge books which are so beautifully illustrated in a style similar to Beatrix Potter's books.  When I found a collection of the four seasons plates; Summer, Spring, Autumn and Winter, plus the Birthday and Wedding plates we hung all six on the opposite wall in her bedroom and they looked so sweet.   When we moved to our new house, my daughter wanted a more teenage decorated room and the plates went into storage.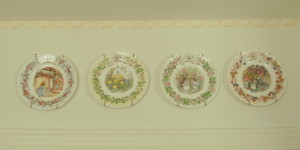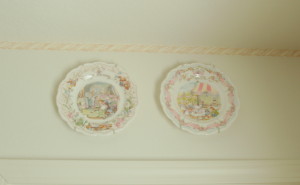 In the guest bedroom we had a bedroom that was decorated in soft blue and white, a classic color palette.  I found some Wedgewood collectible plates, on E-Bay and in also in an antique store and the color was absolutely perfect for the bedroom.  When we moved, I changed the colors of the guest bedroom and those plates also went into storage.
DECOR TIPS:  Plates, both collectible and inexpensive decorative ones, can be an affordable, low cost way to decor a home.  Plates look great hung on a wall either singularly or in multiples, just purchase inexpensive plate hangers at your local retail or craft stores.  Plates can also look great on bookshelves; to display them purchase some easels from the craft store.  EBay is a great source for collectible plates.  Just do some research on the plate's value before bidding, this will help you to determine a fair bid/purchase price.  Home Goods or TJ Max are great sources for inexpensive decorative plates, you can usually find the perfect plate to match your room's color and decor.
Please send me your comments on what collectible plates you have and how you use them to decorate your home.  Also, if you have any other creative ideas on how to use plates to decorate I would love to hear your suggestions.