I thought it would be fun for readers to see my home office for the Enchanted Manor where I work to create and write the posts for this lifestyle blog.  I wanted to surround myself with a space that functioned as an office and was decorated to reflect a calm and serene environment to work but still be able to have my reference books nearby and also a space to display special mementos.  I hope my readers enjoy the brief look into the world of the Enchanted Manor!
My home office is located on the second floor of our house and I have a wonderful view of our cul-de-sac.  I love to watch the birds in the tree outside my window and the rain or snow falling during the day.  From my window I can see my daughter's school bus stopping at the corner in the afternoon, this is something I was not able to do for my son years ago when I was a single mom and had to work.  After my daughter was born I was able to stay home and be with her during those important first years.  After she started school I struggled with the decision of whether I should go back to work.  I was looking for something that would fulfill my creative and artistic skills.  I am thankful for this opportunity of creating this lifestyle blog!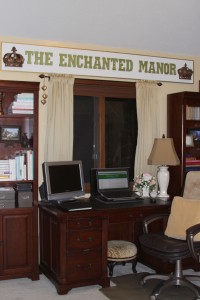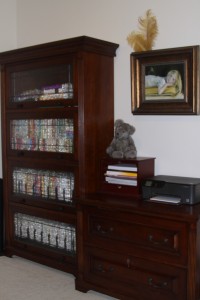 My home office is decorated with lovely dark wood furniture and the wall with the window is painted a beautiful shade of gold, the other three walls are painted in classic ivory.  A desk sits under the window which is framed by curtains in a matching shade of gold.  On either side of the desk are bookcase/cabinets filled with my reference books, craft supplies and pictures in small frames and other special mementos collected over the years that bring me joy and inspiration.  The opposite side of the room has a tall glass front bookcase that is filled with my collection of magazines; past and present "Victoria" magazines, the now discontinued "Mary Engelbreit's Home Companion" magazines and the new Phillis Hoffman magazines called "Celebrate".  Also on the bookshelves are my collections of romance novels!  (Yes, I am not ashamed to admit I love reading a good book by Nora Roberts, Barbara Taylor Bradford, Debbie Macomber, Julia Quinn and Sherryl Woods just to name a few of the authors I enjoy reading.)  Next to the bookcase of magazines and books is a matching dark wood two drawer file cabinet which has the office printer.  I preferred this type of file cabinet as opposed to the standard generic metal file cabinets.  Stored in the file cabinet are magazine articles that I have been collecting for several years on various subjects, such as: decorating ideas, craft projects and travel destinations for future family trips.  Finally, for a touch of whimsy, above the closet door I've attached to the wall a group of butterflies that seem to have suddenly taken flight over the room.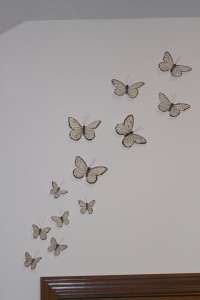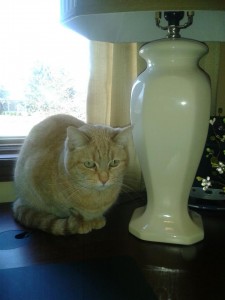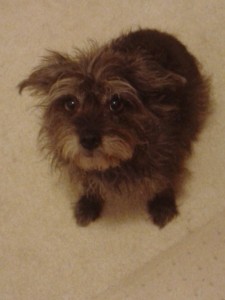 While I work during the day I have the company of my constant companion, Acorn.  She is a rescue dog that we got several years ago and is a black fluffy terrier mix, she is my little shadow and we spend most of our day together.  A recent addition to my "office staff" is my son's orange tabby cat, Muffin.  When he moved back to California recently, Muffin stayed with us and she seems to enjoy walking across my desk or looking out the window during the day.  Having both the dog and cat keeping me company can be very entertaining!
SPECIAL DECORATING NOTE:  For my home office I knew I wanted some sort of sign to inspire me and focus my work of writing my lifestyle blog.  We made The Enchanted Manor sign that hangs above my desk and it was a very easy project.  My husband cut a pine board to the size I wanted and painted it ivory with the edges trimmed in antique gold.  I used wooden letters bought at my local craft store, painted them a metallic olive green with antique gold on the edges and added a row of matching green crystals for a little sparkle to each of the letters.  On either side are resin gold crowns that I had bought years ago on clearance that I just never knew what I would do with them and they are the perfect finishing touch for my home office sign.
Well, that is a look into the world of the Enchanted Manor!