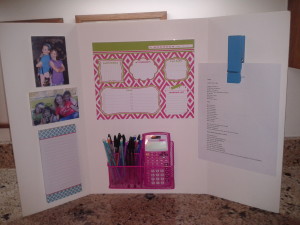 The idea of a fold-up homework station came from an article in the Family Fun Magazine.  I really like the idea for an organized place to do homework and it was an easy project to make for our daughter back in 2009.  She loved the fold-up work station and it was a great way to teach her about the organization of her school homework, a place to keep track of her school schedule and when upcoming projects were due for class.  She used it in elementary school and recently asked if I could make a new one for middle school.
Fold-up Homework Station – supplies
1 tri-fold display board, choose white if it will be decorated or any color board if not
Double stick tape or adhesive glue dots
Adhesive Velcro dots
Calendar, size is determined by the display board used
Dry-erase memo board, size is determined by the display board
Sticky-note dispenser
Clip to attached homework and school notices
Pencil pouch filled with pencils, pens, erasers, child-safe scissors
Calculator
Fold-up Homework Station – instructions
Display board can be decorated with paint, stickers, etc.  The idea is to get your child involved with the decorations so that they get excited about using the homework station.  (I choose to leave the board white and let the accessories add the color to the project).
Prior to attaching accessories, determine placement on the board.  Be aware of the items positions, especially in the left and right sections because those will be folded in when the homework station is not in use.  (I choose to position the calendar in the center section, the memo board in the left section and the supplies and other accessories in the right section).
Attach the accessories with double-stick tape or adhesive dots for paper or light items.  Use adhesive Velcro dots for accessories that will be removable, such as a calculator.
The fold-up homework station is now complete and ready to use.  When your child is not using the homework station it can be folded and stored away in a nearby closet. (I choose to leave the homework station out all the time because we have a countertop/desk area in our kitchen that is used specifically for our daughter to do her homework)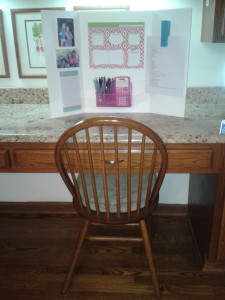 The fold-up homework station is a great idea if you have several children at your home.  Make a homework station for each child, set them up at a table and the children can work with disturbing each other because the homework stations will act as a partition to separate them.
For more information about getting your kids ready for back-to-school, please check out the post Ideas and Tips for a Great School Year.
I hope your new school year gets off to a great start!!