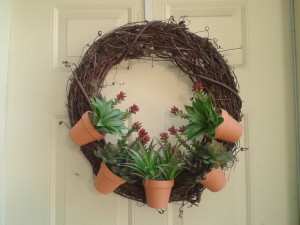 This easy Flower Pot Wreath is a great craft project to create a simple transitional wreath for the late summer to early fall seasons.  The small flower pots add some dimension to the wreath and instead of traditional flowers I will be using artificial cactus. Below are the supplies and instructions needed to make this unusual Flower Pot Wreath.
Flower Pot Wreath  – supplies
1 Large grapevine wreath
5 Small Terracotta Pots, an odd amount is more visually appealing to the eyes
A variety of several artificial cactus plants, one for each pot and some extras
Spanish moss
Hot glue gun and glue sticks
Wire, to secure the pots to the wreath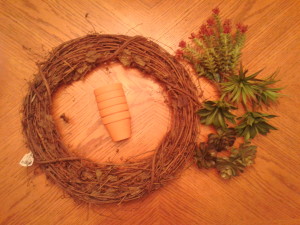 Flower Pot Wreath – instructions
Arrange the terracotta pots, evenly placed around the wreath.  (I spaced the pots on the lower portion of the wreath)

Cut an 8" length of wire for each pot. Lace through the bottom hole and attach each pot to the wreath in the pre-determined positions.

Fill each individual terracotta pot with some Spanish moss

Hot glue the cactus plants into the pots, alternate the variety from pot to pot for an appealing arrangement.  Be sure to reserve a few of the cactus for later use.

Now that the pots are attached and filled, hot glue extra cactus between the pots.  (

I saved the longer type cactus for this purpose)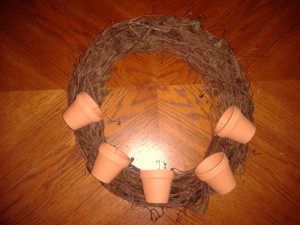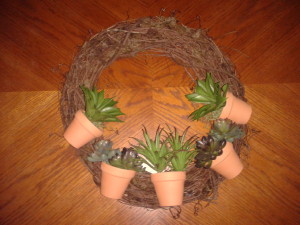 Once I completed the Flower Pot Wreath I hung it on the side door of our home that leads into the garage.  Once winter comes and the weather becomes colder, I will move the wreath indoors and place it downstairs to hang in our "California Room" (this room has been described in a previous post)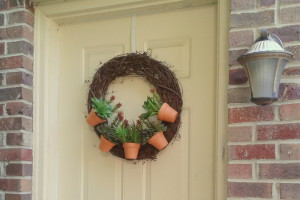 This Flower Pot Wreath craft idea can be used in a variety of different ways for any season, maybe use daffodils for Spring or sunflowers for Fall.