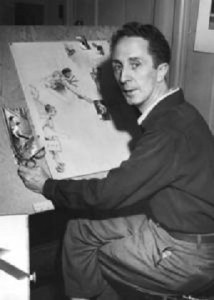 I have enjoyed the art of Norman Rockwell (February 3, 1894 – November 8, 1978) for a long time; his whimsical depiction of life in America always brought a smile.  His works also included subjects of more serious matters, such as the Four Freedom series.  So, in honor of his birthday, I will discuss the life of Rockwell, his many paintings and illustrations for the Saturday Evening Post and Boy's Life magazines and at the end I will give some information on the Norman Rockwell Museum located in Stockbridge, MA.
The life of Norman Rockwell
Norman Rockwell was born on February 3, 1894 in New York City, his parents were Jarvis and Anne (Hill) Rockwell and he had an older brother who was also named Jarvis.  His father was the manager of a Philadelphia-based textile company and he worked at the office located in New York.  Rockwell showed an interest as a young boy for drawing and painting so at the age of 14 he left high school to attend the Chase Art School and later the National Academy of Design.
In 1912, Rockwell's first full time paying job was as a staff artist for Boy's Life magazine which was a publication for the Boy Scouts of America, a new organization that had recently formed in 1910.   Within a year of going to work for Boy's Life magazine he became the art editor and held the position for the next three years.  Shown below is his first cover for Boy's Life published in September 1913 called "Scout at Ship's Wheel".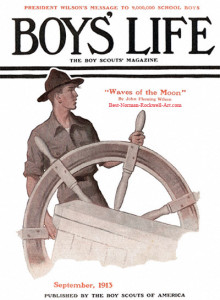 In 1915, the Rockwell family moved from the city to the town of New Rochelle, New York.  It was there that he shared a studio with Clyde Forsythe, a cartoonist for the Saturday Evening Post magazine.  With Forsythe's connections, Rockwell was able to get one of his paintings used for the May 1916 cover of Saturday Evening Post called "Mother's Day Off" and it is shown below.  Rockwell went on to have eight more covers within the next twelve months – I would say that for a young man of only 22 years old Rockwell was doing very well!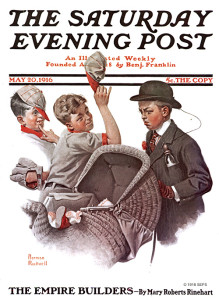 In regards to Rockwell's personal life, at this time Rockwell met Irene O'Connor when she moved into the same boardinghouse he was living at in New York City.  (Irene is shown on the Literary Digest cover, "Mother Tucking Children into Bed" in January 1921)  The couple married on July 1, 1916 and they did not have any children before divorcing in 1930.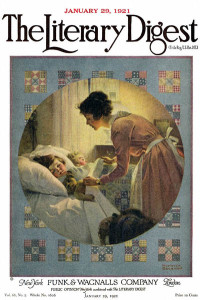 In regards to Rockwell profession life, his association with the Saturday Evening Post continued to prove to be a very productive partnership and over a span of 47 years Rockwell created 323 original covers for the magazine.  Rockwell featured boy scouts in occasional covers and in 1926 he resumed work for the Boy Scouts of America by creating original illustrations for their annual calendars.
After Rockwell's divorce from his first wife, he escaped the East Coast and went to California for a short time and that is where he met and married Mary Barstow on March 27, 1930.  The couple returned to New York to live in New Rochelle and had three sons; Jarvis born in 1932 (a visual artist), Thomas born in 1933 (author of children's books) and Peter  born in 1936 (a sculptor).
Rockwell was inspired by President Franklin D. Roosevelt's 1941 State of the Union address which spoke about the four principals of freedom that were the universal rights of the people of the world, and as a result he painted the famous Four Freedoms series.  It took him seven months to create the four paintings, "Freedom of Speech", "Freedom of Worship", "Freedom from Want" and "Freedom from Fear" and they were published in February and March 1943 in the Saturday Evening Post accompanied by a magazine article written about each of the freedoms.  Afterwards, the Four Freedom paintings were sent on a nationwide tour to raise money for war bonds sales, $130,000 was raised to help the war efforts.  In addition, the Four Freedoms were reproduced into United States postage stamps and issued in 1943 and 1946.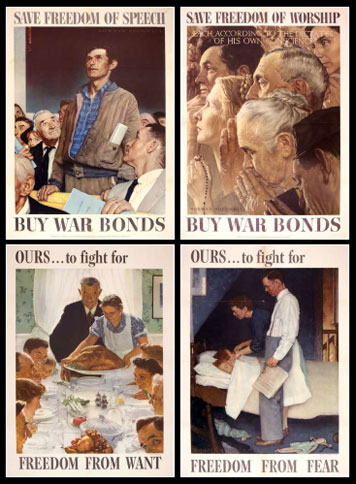 Rockwell continued painting for the next twenty years and he also worked with his son, Thomas, to write an autobiography called "My Adventures as an Illustrator" which was published in 1960.  One of his most famous paintings featured in the book and also on the February 13, 1960 Saturday Evening Post cover called the "Triple Self-Portrait".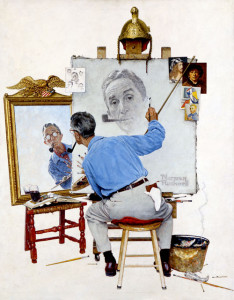 By this time the Rockwell family had moved from New York to Stockbridge, Massachusetts in 1953 because Rockwell's wife, Mary, was being treated at a psychiatric hospital in Stockbridge for mental health issues.  Then in 1959, Mary died suddenly of a heart attack.  Later Rockwell married his third wife, Mary "Molly" Punderson, a retired schoolteacher, on October 25, 1961.  Rockwell's third marriage was to bring him great happiness and they enjoyed their lives together in Stockbridge.
Rockwell's last Saturday Evening Post cover was published in 1963 and then he went to work creating covers for Look magazine for the following ten years.  During this period, Rockwell paintings became more serious in nature with such topics as civil rights and space exploration.  (shown below are the 1964 "The Problem We Live With" featuring Ruby Bridges and the 1965 "Suiting Up" featuring astronauts Gus Grissom and John Young – a copy of this one hangs in my husband's home office)  Rockwell was also privately commissioned to paint the portraits of four United States President; they were Dwight Eisenhower, John Kennedy, Lyndon Johnson and Richard Nixon.  At the age of eighty-two years old, Rockwell received his final commission from the Boy Scouts of America for their annual calendar, during his sixty-four year association with the organization and he created four hundred and seventy-one illustrations which were used in calendars, periodicals, guidebooks as well as other promotional items.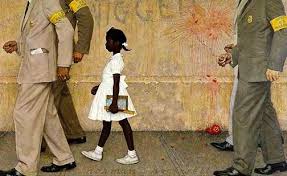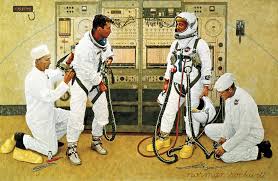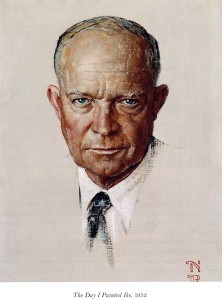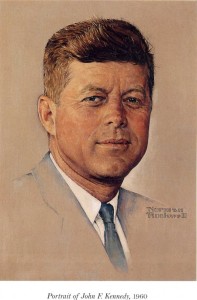 In 1977, Rockwell received the United States highest civilian honor of the Presidential Medal of Freedom for his "vivid and affectionate portraits of our country".  Sadly, Rockwell died on November 8, 1978 from emphysema and he is buried in the Stockbridge Cemetery in Stockbridge, MA.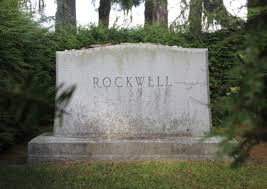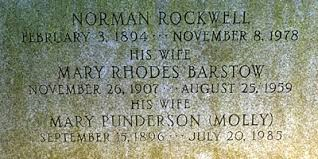 The Norman Rockwell Museum in Stockbridge, MA
In 1969, Norman and Molly Rockwell founded the Norman Rockwell Museum and its original location was at the Old Corner House in Stockbridge, MA.  In 1994, the museum moved to its current location on a 36 acre site overlooking the Housatonic River Valley.  The museum has the largest collection of almost 575 original Norman Rockwell art, including his many preliminary sketches and completed paintings for his many magazine covers.  The Norman Rockwell Museum archives contain more than 100,000 items which includes photographs, letters pertaining to his business, personal, and fan correspondence and personal mementos.  Visitors will also see Rockwell's studio which was bequeathed to the museum in 1976 and features his original art materials, equipment, furnishings and his 500 volume art library.
For more information on planning a trip to visit the Norman Rockwell Museum, please see their website at www.nrm.org.