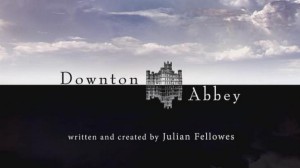 I thought that with the final season of the popular television show "Downton Abbey" now airing in the United States it would be a good time for a post about the series.  In this post I will discuss the many members of the fictional Crawley family, the service staff of Downton Abbey and a variety of supporting characters that have been featured on the show.  I will also give a brief synopsis of each of the six seasons and highlight some of the locations around England where the Downton Abbey series had filmed, including the iconic Highclere Castle.
Downton Abbey is the wonderful creation of Julian Fellowes (Academy Award winner for best original screenplay for the 2001 movie "Gosford Park).  Gareth Neame of Carnival Films had an idea to produce an Edwardian-era television drama show and approached Fellowes to write the script.  Fellowes had just come off the success of Gosford Park and was reluctant to do another period piece, but he took on the project and wrote an outline for the series which he has said was influenced by Edith Wharton's book, "The Custom of the Country".  Downton Abbey first aired in England on ITV in September 26 2010 and then on PBS in the United States as a Masterpiece Classic in January 9 2011.  The sixth and final season has aired in England during the last months of 2015 and during the first months of 2016 in the United States. 
When Julian Fellowes was writing the initial storyline for the series he always had Highclere Castle in Hampshire England in mind as the fictional setting for the Downton Abbey series.  Highclere is the ancestral home of the Carnarvon family and Fellowes had visited often as a personal friend of the Earl and Countess Carnarvon.  The beautiful interior rooms, lavish furnishings and extensive art collection are the perfect setting for the fictional aristocratic Crawley family featured in the Downton Abbey television series.
The Downton Abbey series is set at the fictional Yorkshire country estate of the Earl and Countess of Grantham and depicts the lives of the Crawley family and their servants.  Over the six seasons of the show, which spans the time from post-Edwardian England to mid-1920s, numerous actual historical events are included in the storylines.  The series opens with news of the sinking of the RMS Titanic in 1912, then in the second season First World War has started, then in the third season the characters go through the post-war period and the Spanish influenza pandemic, in the fourth season there is the Teapot Dome scandal and in fifth season and sixth seasons the characters have moved forward into the "roaring twenties" with numerous changes in social behavior, fashions and the daily use of modern day inventions which become a part of the lives of the people of Downton Abbey.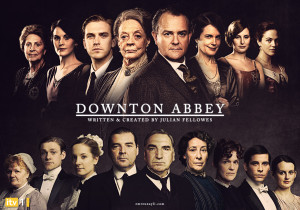 Listed below are some of the main characters and locations of the Downton Abbey television series
The Crawley family of Downton Abbey:
Robert Crawley, Earl of Grantham – Hugh Bonneville
Cora (Levinson) Crawley, Countess of Grantham – Elizabeth McGovern
Lady Mary Crawley, oldest daughter, later wife/widow of Matthew and mother to their son George  – Michelle Dockery
Lady Edith Crawley, middle daughter, later mother to an illegitimate daughter Marigold – Laura Carmichael
Lady Sybil, youngest daughter, later wife of Branson and dies shortly after the birth of their daughter Sybbie – Jessica Brown Findlay
Violet Crawley, Dowager Countess of Grantham – Maggie Smith
Lady Rosamund Painswick, sister of Lord Grantham – actress Samantha Bond
Matthew Crawley, third cousin of Lord Grantham – Dan Stevens
Isobel Crawley, mother of Matthew – Penelope Wilton
Tom Branson, starts as the Downton chauffer, later marries Lady Sybil and after her death becomes the estate manager – Allen Leech
The Servants of Downton Abbey:
Charles Carson, the head butler, later married to Mrs. Hughes – Jim Carter
Elsie Hughes, the housekeeper, later married to Mr. Carson – Phyllis Logan
John Bates, personal valet to the Earl, later married to Anna – Brendan Coyle
Sarah O'Brien, personal maid to Countess Crawley, later leaves Downton quite suddenly at the start of season three  – Siobhan Finneran
Thomas Barrows, first footman – Rob James-Collier
Anna Smith, personal maid to Lady Mary, later married to Mr. Bates – Joanne Froggatt
Gwen Dawson – kitchen maid, encouraged to study as a secretary and leaves during season one – Rose Leslie
William Mason, second footman, later dies after World War I in season two – Thomas Howes
Beryl Patmore, the cook – Lesley Nicol
Daisy Robinson, scullery maid, later briefly married to William – Sophie McShera
Joseph Molesley, starts as the valet to Matthew Crawley, later footman at Downton – Kevin Doyle
Alfred Nugent – nephew of O'Brien, new footman at Downton – Matt Milne
Baxter – becomes Cora's personal maid to replace O'Brien
Ethel Parks – kitchen maid during season two and three – Amy Nuttall
Ivy Stuart – kitchen maid during the remaining seasons – Cara Theobold
James Kent – new second footman during series three to five – Ed Speleers
Other characters of the Downton Abbey series:
Dr. Richard Clarkson, the local town doctor – David Robb
Sir Anthony Strallan – possible suitor of Lady Edith – Robert Bathurst
Sir Richard Carlisle – fiancé of Lady Mary, later the engagement is broken – Iain Glen
Lavinia Swire – fiancé of Matthew, later dies during the Spanish influenza pandemic – Zoe Boyle
Vera Bates – former wife of Mr. Bates who is accused of her murder – Maria Doyle Kennedy
Martha Levinson – mother of Cora (appears in briefly in season four and five) – Shirley MacClaine
Harold Levinson – brother of Cora (appears briefly in season five) – Paul Giamatti
Michael Gregson – owner and editor of a London publishing company, later romantically involved with Lady Edith, dies before knowing about their illegitimate daughter – Charles Edward
Lady Rose MacClare – the high-spirited second cousin on Violet's side of the family, sent to live at Downton – Lily James
Lord Gillingham – possible suitor of Lady Mary – Tom Cullen
Charles Blake – another possible suitor of Lady Mary – Julian Ovenden
Sarah Bunting – local and a possible love interest for Branson – Dasiy Lewis
Atticus Aldridge – son of Lord and Lady Sinderby, later husband of Rose – Matt Barber
Brief synopsis of the Downton Abbey season one through season six: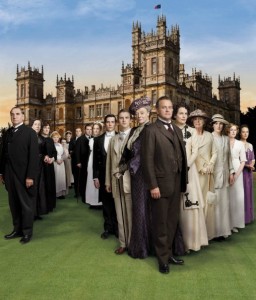 Season One –
The first season of Downton Abbey opens with news of the sinking of the RMS Titanic in 1912.  The heir presumptive of the Grantham title and estate was one of the casualties that died that cold April night and the Crawley family is deeply distress about this turn of events mainly because the oldest Crawley daughter, Mary, was engaged to him.  It seems that when the present Earl, Robert Crawley, married the American-born heiress Cora (Levinson) years ago her large dowry was lawfully incorporated into the estate assets to resolve its financial problems and "entailed" so that the title and properties of the estate could only be inherited by a male heir (thus the daughters of Robert and Cora Crawley would be blocked from any legal claim to the estate).  As a result of these events, a distant male cousin named Matthew Crawley is notified that he is the new heir and he soon arrives at Downton Abbey with his widowed mother, Isobel Crawley.  Meanwhile, Mary (never in love with her former fiancé) attentions turn to a visiting Turkish attaché, Kemal Pamuk, who unexpectedly dies while in her room for a late night romantic rendezvous (shocking I know!)  Mary quickly summons her maid, Anna, to help and with the aid of her mother, Cora, they move the body back to Pamuk's room.  But Edith soon finds out the secret and, always jealous of her older sister, she plans to use this information to destroy Mary's reputation.  When she tries and fails, Mary sabotages Edith's interest in a gentleman friend.  Meanwhile sparks are flying between the chauffeur, Branson, and Sybil when he protects her during a politician rally when it gets out of control and turns violent.  During this first season of the show, Matthew and Mary also start to fight their growing attraction to one another.
Meanwhile, downstairs at Downton, we are introduced to the service staff and there is also a new valet named Mr. Bates that has just be hired to be Lord Grantham's valet and this upsets Thomas, the footman, because he felt  he should have received the promotion. Thomas and Miss O'Brien, Countess Grantham's personal maid, join forces to plot against Mr. Bates to get him fired.  Then, when Miss O'Brien mistakenly thinks that the Countess is going to replacing her and she creates an accident to make the Countess to slip and fall while getting out of the bath thereby causing her to miscarriage (sadly, the child she was carrying was a boy and now the chances of a direct heir are lost forever to Cora and Robert)
Tragically, just as life at Downton is returning to normal with Cora recovering and there is a grand garden party.  During the party Lord Grantham receives word that England has entered into World War I and the episode ends with him announcing the news to his guests.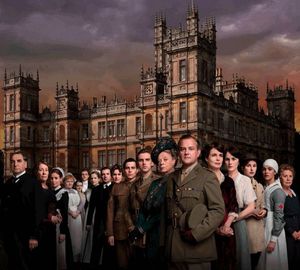 Season Two –
The second series comprised eight episodes and the storylines take place during the time period between the start of England's involvement in World War I through to the 1918 Spanish influenza pandemic.  The season begins when Matthew Crawley, now an Army officer, and several of the servants of Downton Abbey are sent to fight in Europe.  As the English casualties become known and injured soldiers are returning home, Cora strongly resists Sybil suggests that the largely empty Downton be converted into an officers' hospital, but finally the decision is made to move forward with the idea.  On a happier note, Branson confesses his love to Sybil and she finally returns the feelings.  Matthew returns from the battlefield injured, possibly unable to have future children, so not wanting to be a burden to Mary or the Crawley family he leaves for London and after some time he becomes engaged to a sweet girl named Lavinia.  William also returns to Downton and his injuries very serious and he will not recover.  So, to ease his suffering and give him some peace before he dies, Daisy marries William granting him this one last wish.   Meanwhile, Mrs. Bates makes a visit to Downton and threatens the family that she will reveal a dark secret.  Shortly after her visit, Mrs. Bates mysteriously dies and Mr. Bates is accused of the crime and arrested leaving Anna very upset.  He eventually goes to trial for the murder, is found guilty and sentenced to death.  When, the Spanish influenza epidemic comes to Downton, first Cora is stricken but she recovers and then Lavinia also become ill but unfortunately she dies.  Matthew is filled with guilt after her death because before she became ill Lavinia witnessed a romantic moment between him and Mary.  But in the end, after some time, Matthew proposes to Mary and she says yes!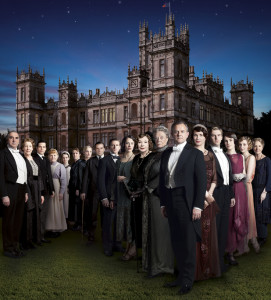 Season Three –
In the third season of Downton Abbey opens with Mary and Matthew being married at the local church in a grand ceremony.  But sadly, poor Edith is jilted at the altar by Sir Anthony Strallan, will she ever find happiness?  Branson and Sybil, now married and expecting their first child, return to Downton for the weddings, Branson has been implicated in the burning of an aristocrat's house in Ireland.  Meanwhile, Robert learns that most of the Crawley family fortune is gone due to his poorly advised financial investments. After Matthew's reluctance to initially accept the inheritance upon the death of Lavinia's father, he then decides to turn the money over to save Downton but Robert is reluctant to accept the money as a gift, so as a compromise it is decided that Matthew accepts the inheritance will use it to buy a half share of Robert's interest in Downton. While visiting Downton, Sybil goes into labor, delivers a baby girl then tragically dies shortly after childbirth.  The Crawley family is stunned and even the servants of Downton are greatly saddened by the loss of the beloved Sybil.  In hopes to keep their newborn granddaughter from leaving Downton with her father, Branson, Violet suggests that Robert offered him the position as the new estate agent which Branson gladly accepts.
In regards to the servants of Downton, there is good news when Mr. Bates is released from prison after Anna uncovers evidence clearing him of the murder of his former wife.  Mr. Barrow and Miss O'Brien have a falling out and O'Brien leads Thomas into believing the actions of a new handsome footman named James are sexual advances. He enters James's room as he sleeps and kisses him just as Alfred comes in and James wakes up shocked and confused. In the end Lord Grantham decides that despite the scandalous situation of Thomas' homosexual tendencies he will remain employed at Downton.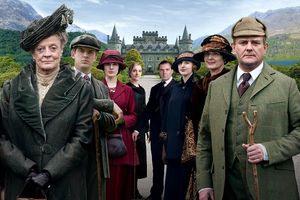 Near the end of season three, the Crawley family travels to Scotland to Duneagle Castle to visit Violet's niece Susan, the Marchioness of Flintshire, and her husband Hugh, the Marquees of Flintshire.  While in Scotland, the family also meets the high-spirited Rose MacClare, the rebellious daughter who seems to be acting out while living in her unhappy home.  Later, the Marguess confides in Robert that the estate will soon be sold due to his financial misfortunes and his marriage seems to be headed for divorce.  It is only then that Robert realizes that through both Matthew's inheritance and Branson efforts as estate manager to modernize Downton that it will be saved for the future generations.  This is definitely good news because Mary and Matthew are now expecting a child.  Upon their return to Downtown, Mary goes into labor and gives birth to the new Crawley heir.  But once again tragedy strikes the family when Matthew dies in a car accident shortly afterwards.  As the season ends, Mary is seen joyfully holding her newborn son George unaware that her husband has died.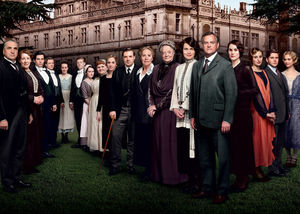 Season Four –
The fourth season starts with the aftermath of Matthew's tragic death and Mary is in deep mourning.  After a short period, Matthew's will is discovered placing Mary to manage his share of the Downton Abbey estate until their son comes of age.  Gradually, while working alongside Branson, Mary comes out of her depression and finds a fulfilling purpose in life.  On a person level, Mary slowly moves forward and finds two suitors, Charles Blake and Lord Gillingham, competing for her attention.  Mary finally decides to pursue a secret romantic affair with Lord Gillingham and they meet at a hotel in London but Mary comes to realize it was just a sexual attraction and that she does not love him.  Meanwhile, Edith is finding a love of her own with Michael Gregson, the editor of the magazine that she is employed with to write a women's column.  Even though Gregson is technically still married, his wife is deemed insane but British law prevents a divorce, he enters into a romantic relationship with Edith.  He later travels to Germany to obtain a divorce, goes missing and then in confirmed dead.  Sadly, the always unlucky in love Edith discovers that she is pregnant, goes to Switzerland to give birth and then arranges to have her daughter, Marigold to live with a farmer on the Downton estate so that she is close-by but continues to struggle with this decision.
Meanwhile, a Miss Baxter comes to work at Downton as Cora's new maid, she replaces the suddenly departed O'Brien, and it seems that this new employee has a secret criminal past that is later revealed.  Daisy, always looking for ways to improve her life, enlists the assistance of the local school teacher, Miss Sarah Bunting to teach her mathematics.  While at Downton, Miss Bunting is pleased to see Branson, who she previously met at a political rally, and they become friends.  Mr. Bates and Anna finally get married and they move into a small cottage on the estate as they continue to work as valet and maid at Downton.  Unfortunately, their happiness is very short lived when Mr. Green, Lord Gillingham's sadistic valet, rapes Anna.  Mrs. Hughes finds Anna who pleads with her to keep it a secret from Mr. Bates fearful that he might do something drastic.  But as time goes by and the victimized Anna distances herself from Mr. Bates who finally figures out what happened to his wife.  Shortly, thereafter Mr. Green is unexpectedly killed in an accident on the street in London and we are left to wonder if it was the traumatized Anna or the vengeful Mr. Bates that are responsible for his death.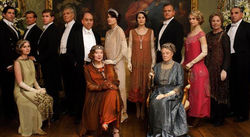 Season four draws to an end, the Crawley family traveling to London for the "social season", this term refers to the annual period when members of the British aristocracy and other elite members of society hold debutante balls, dinner parties and large charity events.  Cora's mother also comes to London and she is accompanied by her son, Harold Levinson.  During this time, Rose makes her official debut into London society and takes part in her formal presentation to the court of King George VI which is followed by a grand ball held at the Crawley family's London residence, Grantham House.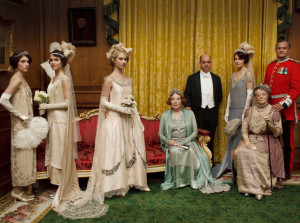 In the final scenes of the last episode of season four, Mr. Carson has taken the servants on a brief holiday to the seaside.  In closing, we see Mr. Carson and Mrs. Hughes holding hands as they walk along the beach and we are left wondering what the future will hold for these two!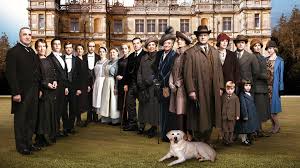 Season Five –
Season five starts with Edith seriously regretting her decision to have Marigold raised by the farmer on the Downton estate.  Violet has been aware of this situation almost from the start but now Edith's parents and Branson have figured out the true identity of little Marigold, but only Mary is left in the dark about the situation as Edith takes Marigold back to live with her at Downton.  Finally, Edith receives conclusive confirmation that Gregson, the father of Marigold, is dead and that Edith has inherited his publishing company, but she still continues to struggle with the social restrictions preventing her from being able to acknowledge that Marigold as her daughter.
It appears that Violet, the Dowager Countess, has some secrets of her own when a Russian exile, Prince Kuragin comes to Downton and reveals his past affection for Violet which transpired during a previous visit to Russia years ago.  It sees that Violet was so smitten with the Prince that she almost left her husband and children but changed her mind at the last minute.  Now, she plans to reunite the Prince with his estranged wife who has just arrived in England from Russia in the midst of the chaos of the Bolshevik revolution.
In a surprising turn of events, Anna is sent to prison to await trial for the death of Mr. Green.  To protect his innocent wife, Mr. Bates falsely confesses to the crime in order to have her released and he is sent to prison to await a new trial.  Mr. Moseley and Baxter join forces to find evidence that Mr. Bates was not in London at the time of Mr. Green's death.  As the investigation is ongoing there is other news involving the servants of Downton.  Mr. Carson is thinking about his life and future retirement and he asks Mrs. Hughes to join him in the possibility of investing in a home to be turned into a bed and breakfast establishment that they could easy run after their time at Downton is over.  Mrs. Hughes is open to the idea but is hesitate to move forward with the plan.
It seems that during her time in London, Rose has met and become engaged to Atticus Aldridge, the son of Lord and Lady Sinderby.  After they couple are married, Lord and Lady Sinderby invite the Crawley family to their country estate, Brancaster Castle, for grouse shooting.  We come to find out that the snobbish Lord Sinderby is not approving of the scandalous divorce of Rose's parents and that he disapproves of his son's marriage to Rose.  While during the visit, Rose intervenes in an incident that would be potential disaster for Lord Sinderby and as a result she earns his gratitude.  At the end of the visit, we learn that Atticus has accepted a position overseas and he and Rose are planning on moving to America.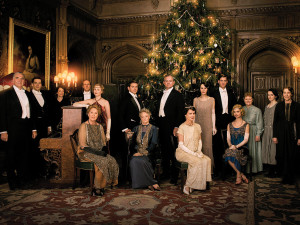 At the end of season five, the Crawley family and the servants of Downton gather to celebrate Christmas.  Branson announces that he has decided to move to Boston taking his daughter, Sybbie, with him much to the disappointment of the Crawley family but they understand that Branson needs to do this for himself.  In the final scenes of the season five, Mr. Carson finally makes his intentions know to Mrs. Hughes and he proposes marriage.  There is more good news when it seems that a pub owner in Leeds has identified Mr. Bates as being there at the time of Mr. Green's death clearly Mr. Bates of the crime and he is released from prison and quickly goes to Downton to surprise a joyful Anna.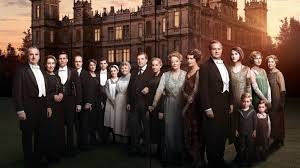 Season Six –
(WORD OF CAUTION, PLEASE DO NOT READ FURTHER IF YOU HAVE NOT SEEN SEASON SIX!!)
Series six begins with serious changes affecting Downton Abbey.  Some of the changes are brought on by the financial misfortunes after the Great War and others by the attitudes toward social changes involving the aristocracy and the working class and fewer moral restrictions involving women.  The Crawley family watches as the old estates are being sold, while other households are seeing a drastic decrease in staff which prompts the servants of Downton to question their future employment.
In regards to social changes, Edith has taken on her role as the new owner of the publishing company left to her by Michael Gregson.  Mary also takes on a more prominent role as Downton's new estate manager after Branson had left for America.  Meanwhile, the Dowager Countess, Violet, and Isobel are once again in serious disagreement over the running of the local hospital.
Mr. Bates and Anna receive wonderful news that the criminal case involving the death of Mr. Green when a person comes forward to confess to the murder.  However, even with this good news, Anna is deeply saddened after she suffers a miscarriage.  Mary insists that Anna sees a fertility specialist, she is diagnosed with condition preventing pregnancy, medically things are resolved and she is given a chance for having a child.  There more joy for the servants of Downton when Mr. Carson and Mrs. Hughes finally get married.  During the wedding reception Branson unexpectedly arrives back in England with his daughter Sybbie and announces that he has reconsidered his move to America and wishes to live permanently at Downton.
… but what happens finally happens to the Crawley family and the servants of Downton Abbey.  Does Mary get married and does Edith finally find happiness in her life?  We will just have to wait until the final episode of the series in shown on PBS!!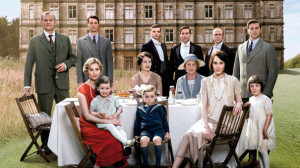 Various locations used in the Downton Abbey series:
Perhaps the best known location for the Downton Abbey television series is Highclere Castle located in Hampshire, England and it is the ancestral home of the Carnarvon family.  In the series, it is the fictional home of the Earl and Countess of Grantham and portions of the show are filmed on location at Highclere using the interior rooms of the grand country house, such as the Saloon, the Drawing Room, the Library and the Dining Room.  Exterior scenes are also filmed at Highclere which and can be seen in the opening credits as well as sporadically throughout the series. (For more information on the Highclere Castle, please click on the link)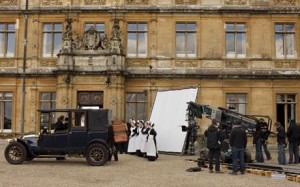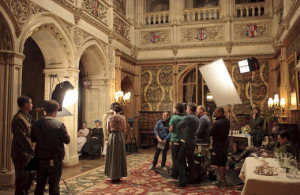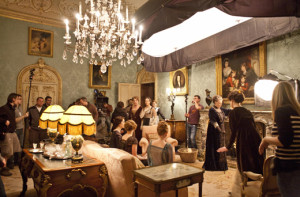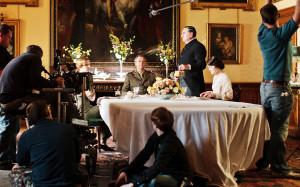 Additional scenes of Downton Abbey are filmed at Ealing Studios in London with several sets designed as replicas of some of the other interior rooms of Highclere, such as the kitchen, servant quarters, working areas and several of the upstairs bedrooms of the fictional Crawley family.  The reason for the construction of the servant sets at the studio instead of filming at Highclere is because the downstairs area of the house had fallen into a severe state of disrepair caused by years of water damage which led to abandonment from daily use by the estate.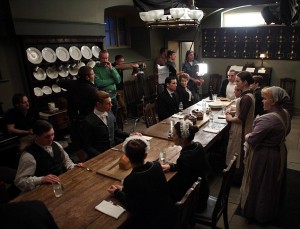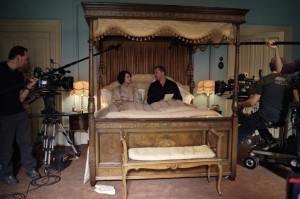 The village of Bampton in Oxfordshire is used for some of the outdoors scenes involving the fictional village of Downton which is supposed to be somewhere between the towns of Ripton and Thirsk.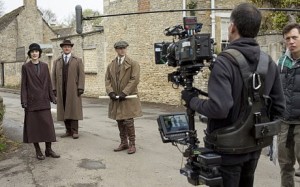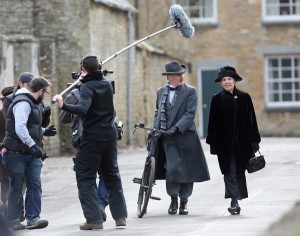 St. Mary's Church in Bampton has been used as the fictional St. Michael and All Angels Church of Downton Abbey as the location for the filming of two weddings, (Lady Mary and Matthew in the first episode of season 3 and then when Lady Edith is jilted at the altar by Sir Anthony Strallan in the last episode of season 3) and also a few funerals and christenings.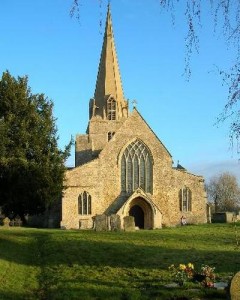 The Bampton old rectory is used for the exterior scenes of Isobel Crawley's house while the interior shots are filmed at Hall Place near Beaconsfield in Buckinghamshire.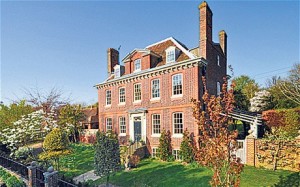 The exterior shots of the Dower house, the home of Dowager Countess Violet Crawley are filmed at Byfleet Manor in Surrey.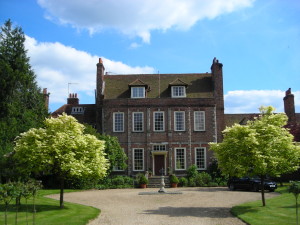 Horsted Keynes railway station in Sussex is used to film the scenes for the Downton railway station.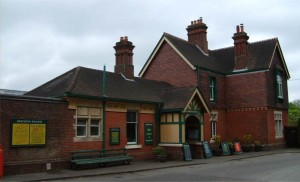 In the second season, the World War I scenes that supposedly take place in France were actually filmed near the village of Akenham in Suffolk in specially constructed sets to replicate the trenches and battlefields.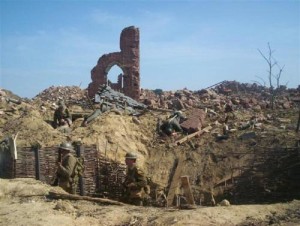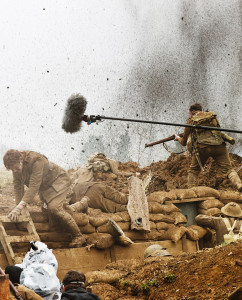 The fictional Scottish country estate Duneagle Castle of the MacClare family which is prominently featured in the last episode of season three (also known as the 2012 Christmas special) was filmed in Argyll Scotland at Inverarray Castle.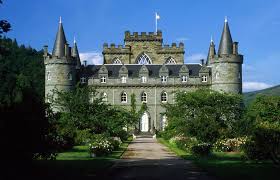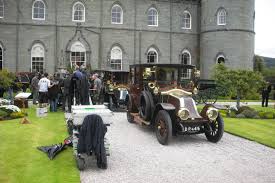 In season four, when Lady Edith meets Michael Gregson for a romantic rendezvous in city, the St. Pancras railway station in London is used to film the scenes that are supposed to be at King's Cross railway station.  The restaurant scene where she meets Gregson is filmed at the Criterion Restaurant in Piccadilly Circus, London which originally opened in 1874.
In the last episode of season four (2013 Christmas special) Rose makes her London debut and presentation to the court of King George V which is supposed to take place in 1923 the scenes of Buckingham Palace were filmed at Lancaster House in London.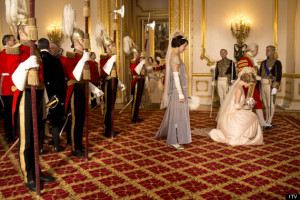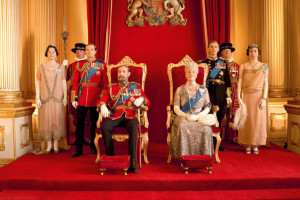 Also, in the same episode (2013 Christmas special) when the Downton Abbey staff takes a brief seaside holiday that charmingly shows Mr. Carson and Mrs. Hughes walking hand and hand along the beach, was filmed at West Wittering beach in West Sussex.
In the last episode of season five (2014 Christmas special) when the Crawley go to spend time at Brancaster Castle, the country home of Lord and Lady Sinderby, the scenes were filmed at Alnwick Castle in Northumberland.
(For more information about the history of Highclere Castle, the real life estate featured in the show and the Carnarvon family, please click on the link.  Also for an in depth look at the Fashions of Downton Abbey throughout the years, please click on the link)
Additional Note:  For further reading on the Downton Abbey television series, I would highly recommend the two books shown below: