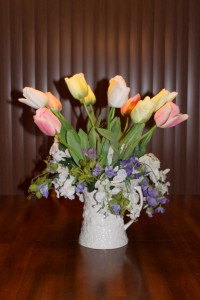 Spring is coming soon and it is now time to start decorating our home for Easter.  It seems like I've got a gazillion boxes filled with decorations for Christmas and Fall/Thanksgiving, but for Easter there are fewer boxes.  Decorating for Easter is a little simpler with plenty of pretty pastels, bunnies, tulips, sweet peas and white roses.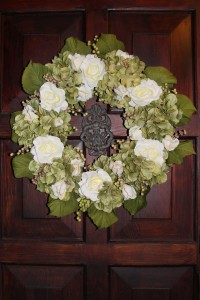 I usually start my decorating process each season with the exterior of the house.  The front porch always needs some sort of door decoration because it sets the tone and style of the interior house decorations. I have several different wreaths, one for almost every holiday.  The one I will be using for Easter this year is a very sentimental wreath.  My Mother passed away last March and for her funeral I made a wreath for the ceremony and gravesite.   Making the wreath allowed me to have that quiet time to emotionally deal with her loss and reflect on my memories of her.  I wanted to use my creative talents to make something from my heart and I wanted to honor my Mother.  The wreath has some symbolism; white roses were one of her favorite flowers.  So, I used six white full roses to represent our family, my parents and their four daughters, and the nine white rose buds represent their nine grandchildren.  To add fullness to the wreath, I used green hydrangeas and berries in a pretty shade of rose.  After the funeral last year, I brought the wreath back to our home and hung on the front door until it was replaced in October by an autumn wreath.  For Easter this year, I unpacked it from storage and hung it back on our front door and it is perfect for Spring.  Some would think that it would bring me sadness but it is just the opposite feeling because when I see it now I always think of the wonderful memories and great conversations I had with my Mom.
In the entry way of our home, there is a wooden pedestal with a white rose floral arrangement.  To give it just a little more color for Easter I added three light blue feather sprays.  Next year, I think I am going to tuck eggs into some of my floral arrangements for an unexpected surprise!  On the floor at the base of the pedestal is a Peter Rabbit garden sculpture which adds just the right touch of whimsy.  To greet our guests as they enter our home is a framed picture on the wall that says, "There's no place like home" and for Easter I decided to add two white bunnies to give it a fun look!!
In the library, there is a glass-front lawyer bookcase that holds my Boyd's Bear Collection.  As you know from previous posts, every holiday season I set out different figurines.  For Easter, I add two Boyd's Bears bunny and duck figurines.  For the top two shelves I add some greenery and scatter some eggs among the other figurines.  The bottom shelf displays my Boyd's Bears Village and I change out the winter trees for the spring/summer trees, add some seasonal figurines and even include some tiny carrots.  To compete this area, on the top of the bookcase I add a cute stuffed Boyd's Bear dressed in a bunny suit and holding a carrot.
In our family room, one wall has a large brick fireplace with a large mantel flanked on either side by bookshelves/cabinets and above the mantel there is a beautiful English garden landscape painting.  Each holiday season I decorate the fireplace mantel and for Easter I use two wonderful "Bunnies by the Bay" white bunnies dressed in blue and white checked outfits. The bookshelves on both sides are filled with framed family pictures and a collection of antique cameras and for Easter every year I display a beautiful blue and ivory "quilted" egg that my Mother made.  I also display two lovely glass ivory and gold egg ornaments for just a subtle touch of Easter.  Finally on the fireplace hearth for a touch of whimsy I add a cute stuffed dog wearing bunny ears and holding flowers in his mouth, this was a Easter gift to my daughter a couple of years ago.
In our kitchen, I keep the decorations to a minimum since we need to have the counter space clear for food preparation.  In the corner of the counter, next to a basket of artificial vegetables, is a stuffed chocolate bunny.  Across the room is a desk/work area and I add a cute rectangular decorative plate with bunnies displayed on an easel. This plate matches the trio of plates displayed on the space above the upper cabinets.  (Please take a look at the March Décor post, Decorating with Plates, if you would like to see a picture)
The last room decorated for the Easter season is the dining room.  In this room of our home there is a lovely china cabinet which displays our Noritake Rothschild china, Tiffany crystal glasses, elegant silver serving pieces and a collection of Capodimonte Napoleon porcelain roses.  In some of the teacups I have added beautiful white and silver glass eggs for a subtle touch of Easter.  Also displayed with the china, is a collection of Hallmark ornaments from the Peter Rabbit series sitting on the rims of the plates or tucked next to the teacups.  Across the room on an antique tea cart is a white feather tree sitting in a cracked egg vase and decorated with white bunnies and pastel eggs.  Please check out the March Décor post, Easter Table Decorations, for pictures of our dining room table set of our Easter luncheon.
DECORATING TIPS:
When decorating for the holidays it is sometimes more cost-effective to add embellishments to decorations you already have instead of purchasing new ones for every season.  Think about adding inexpensive floral picks, feather sprays or maybe tuck a couple of Easter eggs into an existing floral arrangement to add color or texture and also to create a little interest.
When shopping for items for your children's Easter baskets, consider repurposing these items in the following years as home decorations.  Think about using that cute stuffed white bunny sitting on a chair in the living room.  Smaller stuffed ducks or bunnies look great on a shelf.
 When shopping for Easter decorations, look for cute Spring-themed picture frames.  A couple of these would look great on a fireplace mantel or bookshelf.
This one may sound strange, but at Christmas look for glass ornaments; such as bunnies, ducks, eggs or even flowers.  These can be used as decorative accents for Easter.  I use some glass egg ornaments on the bookshelves in our living room and also sitting in the tea cups in our china cabinet in the dining room.
Please see the March Craft post, Jeweled Easter Eggs.  These beautiful eggs would look great in a basket on the kitchen counter or a side table in the living room.  Another suggestion to display the eggs is using small silver or crystal candlesticks, then place a couple into a china cabinet or bookshelf.  They would also look great at each place setting on your table for an Easter luncheon or dinner and would make a fun party favor for your guests.