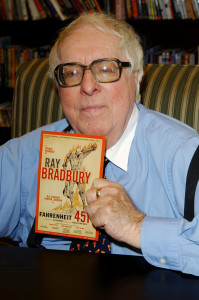 Hello everyone!  Barbara has graciously allowed me to write another guest post, this time about one of my favorite science fiction writers, Ray Bradbury.
Ray Douglas Bradbury (Born: August 20, 1920 – Died: June 5, 2012) was an American writer.  Born Waukegan, Illinois Ray's father struggled to find work in the depression era and the family moved between Tucson Arizona and Waukegan until 1934 when they moved to Los Angeles.
Ray was an avid reader and started writing his own stories when he was 11 and established a discipline of writing every day when he was 12.  He soon discovered magic and would have become a magician but he loved writing more.  When the family moved to Los Angeles, Ray attended Los Angeles High School where he participated in the Drama Club.  He would roller-skate all over Hollywood in hopes of meeting such greats as Ray Harryhausen (eventually best man at his wedding), master of stop motion animation and George Burns who gave him his first paying job writing for the Burns and Allen show at the age of 14.
During his early career he wrote short stories for various magazines.  In 1938, at 18 years old he was invited to join the Los Angeles Science Fiction Society where he met Robert A Heinlein and Fredric Brown.  He also wrote plays for Laraine Day's Wilshire Players Guild.  He became a close friend of Charles Addams who illustrated Bradbury's stories about the Elliotts, a family who resembled the Addams Family.  Another friend was Gene Roddenberry who asked him to write for Star Trek, which he never did stating "he never had the ability to adapt other people's ideas into any sensible form." (Playboy Interview 1996)
Over his career Ray Bradbury wrote over 500 literary works in many genres including science fiction, horror, psychological realism.  There are many novels, but in my mind he is the master of short stories.  The Martian Chronicles, The Illustrated Man, and Dandelion Wine, some of Bradbury's greatest works are sets of packaged short stories.  One of his few full length novels is Something Wicked This Way Comes.
Many of his stories were made into movies and he hosted the Ray Bradbury Theater which performed theatrical adaptions of 65 of his short stories.  He also co-founded the Pandemonium Theatre Company which produced a number of his works.  He received many awards over his life including an Emmy for "The Halloween Tree", a special citation from the Pulitzer Board, the National Medal of Arts Award and many Lifetime Achievement awards.  He was honored in the 85th Academy Awards in the "In Memoriam" section after his death in 2013..
Ray lived at home until he married Marguerite McClure in 1947, the only woman he ever dated.  They had four children and remained together until her death in 2003.  It is interesting that although Ray Bradbury was a science fiction writer and foresaw the future he was also a noted technophobe. He never drove a car and distrusted the internet, computers, and ATM machines.
My favorite work of his is Fahrenheit 451 which was first published in 1953.  It started as a short story called "The Fireman" published in 1951.  Ray weaves the story of the human condition where we are bombarded by senseless television, drive so fast on the freeway that signs need to be 200 feet long and there is no respect for life.  The government wages a propaganda war banning all books that are considered "disruptive" and firemen burn unauthorized books along with any building they are found in and sometimes the occupants.  Guy Montag, a fireman, meets an "odd" girl who likes looking at the stars and actually holding conversations and he starts feeling there is something wrong with the system.  In the book's climax he is chased through the streets by a mechanical hound while the city watches on TV.    He escapes across a river, but in order to save face the government kills an innocent man who is walking (not an approved activity).  Across the river Guy meets a band of "hobos", the intellectuals of the country who fled to avoid persecution and are waiting for the population to realize their mistakes and embrace the old ways.
The first of two interesting facts about Fahrenheit 451 is that 451 degrees is the temperature that paper burns at.  The second is that when Ray was negotiating the licensing rights to Fahrenheit 451 to be produced as an audio book he insisted on a clause that any library could have a free copy of the audiobook for distribution to it's customers.
I hope you enjoyed this guest post.  I look forward to any questions or comments!
Jeff Jones