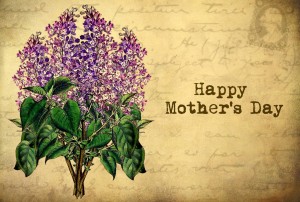 Mother's Day is coming up this month and (hopefully) sons and daughters around the country will be remembering their mothers.  Traditionally Mother's Day is an annual holiday celebrated on the second Sunday in May.  This special day is meant to recognize mothers and acknowledge their contributions to our lives through their care and support of their families.
A Brief History of Mother's Day
Back in 1868, there was committee establish by Ann Jarvis with the purpose to reunite families that had been divided by the Civil War.  Previously she had organized a "Mother's Day Work Club" during the war to improve the sanitation and health conditions in both the Union and Confederate encampments at the time of a severe typhoid outbreak.  After the war, she continued her efforts to establish an annual memorial day to honor the service of these dedicated women who had work so hard for their sons during and after the Civil War.  There were only limited celebrations at a local level and unfortunately the idea never became popular at a national level during her lifetime and Jarvis died in 1905.
After her mother's death, her daughter Anna Jarvis worked with a Philadelphia businessman named John Wanamaker to organize a small service at a local church in West Virginia where her mother taught Sunday school and this celebration honoring her mother took place in 1907.  In the following year, 1908, the first "official" Mother's Day celebration was held again at the same local church in West Virginia while on the same day a much larger celebration was held at the Wanamaker store in Philadelphia.  Then, the next year there was an even larger celebration was held in New York City.
Jarvis worked to establish Mother's Day as an official United States national holiday and in 1910 West Virginia was the first state to established it an official holiday.  In 1914, the U.S. Congress passed a law designating the second Sunday in May as Mother's Day and President Woodrow Wilson issued a proclamation declaring the first national Mother's Day as a day for American citizens to honor those mothers whose sons had died in the war.
Eventually the Mother's Day holiday celebration became overly commercialized and the original meaning of the holiday was quickly lost.  In a strange twist, Anna Jarvis, the women who worked so hard to establish an annual Mother's Day to honor her mother and the mothers of sons that died in the war, became a major opponent of the commercialization of the holiday.  She spoke out against the practice of purchasing greeting cards when people became "too lazy to write personal letters" to their mothers.  She was so strong in her opinion that she "wished she would have never started the day because it became so out of control" and she was even arrested in 1948 for disturbing the peace while protesting against the commercialization of Mother's Day.
Mother's Day is now one of the most commercially successful American holidays.  It has become the most popular day of the year to dine out at a restaurant and it generates a large portion of the U .S. jewelry industry's annual revenue from custom gifts like the mother's ring.  (I must admit that we bought my mother one of these rings with the birthstones of her for daughters)  Americans also spend approximately $68 million on greeting cards, $2.6 billion on flowers and over $1.53 billion on the recent idea giving gifts to pamper our mothers like spa treatments.
Mother's Day Gift Ideas and Suggestions
Mother's Day gifts are available in wide range of prices, from the very expensive and extravagant to the inexpensive, thoughtful and very personal hand crafted items.  Listed below are some great gift ideas for Mother's Day:
Breakfast in bed – this idea can be as extravagant as a catered meal to a special menu planned and cooked by the kids with the supervision of their father.  As an extra special touch consider serving the meal on custom hand-painted plate by the kids and purchased from the local pottery store.  (this idea needs to be planned in advance because there is usually a processing time to pick up a completed fire-kilned plate)
Flowers – these can range from expensive florist shop flowers, to ones purchased at the local grocery store, to ones hand-picked from the garden, to tissue paper flowers made by the kids.
Jewelry – the price range can be from an expensive necklace, bracelet or ring to inexpensive hand-beaded items made by the kids (macaroni necklaces can be charming idea but check out the jewelry aisle at the local craft store for something a mom could wear everyday)
Gifts to pamper – ideas can range from a gift certificate to the local spa for a massage or facial to expensive perfumes, bath salts or lotions from the local upscale retail department store, to bath and beauty products from a store like Bath and Body Works.
Family photographs – this can range from a formal/informal portrait by a local professional photograph either in a studio or at a special outdoor location or maybe some casual photos of the kids shot at home or in the backyard.  Remember to present the photographs in a beautiful frame either professional matted and framed at a studio or done with supplies from the local craft store.  Don't forget that older photos also make great gifts, take a look at the family photo albums and I'm sure you would be able to find that perfect photo to copy and frame.  Look for old family photos of her parents and grandparents or maybe a photo taken of her with her baby on the day he/she was born.
Clothing – When purchasing clothes it is a could idea to know sizes for purchasing a beautiful dress or lovely blouse, just try to decide on something a little more special than a pair of jeans or a t-shirt.  If you don't know the size, consider a fabulous handbag.  If you can't find anything she would like, think about a gift certificate to one of her favorite stores and with the card include a special note with an offer to babysit the kids while she is shopping!
Please check out this month's Craft posts, Floral Purses and Childhood Handprints, for complete instructions and supply lists for two great craft project to create for Mother's Day.
Mother's Day Trivia
The Grafton Church in West Virginia, where the first "official" Mother's Day celebration was held in honor of Ann Jarvis is now a National Historic Landmark.
In 1934, U.S. President Franklin D. Roosevelt approved a stamp commemorating the Mother's Day annual holiday.
Carnations have long been associated with Mother's Day when Anna Jarvis distributed 500 white carnations at the first "official" celebration in 1908.  The carnation was chosen because it was her mother's favorite flower.  Since that time, many churches have adopted the custom of giving carnations at their Sunday services on Mother's Day.
When there was a shortage of white carnations for Mother's Day, the floral industry invented the idea of wearing a red carnation if your mother was living or a white one if she had passed away.  This idea was so heavily promoted by the florists that evenly became a very popular custom.