A monogram is usually created by combining or overlapping two or more letters. Monograms are frequently used for weddings by taking the first initial of the groom and bride's names and combing them with the last name of the couple, this idea is still very popular in the southern states.  Major business companies use their initials to create an advertising symbol, a good example of this is the iconic double C used by the Chanel fashion design company founded by Coco Chanel.  In this post, I will discuss the history of the monogram and show several examples of historical monograms and the various ways that monograms can be used on household items, personal clothing or special celebrations.
The History of the Monogram
Centuries ago, the Greeks and Romans used monograms on clay coins as the barter system for purchasing goods and services which eventually led to a monetary system of trade.  During the Middle Ages, artisans would often use their monograms to sign their work and an example of this are the paintings of the famous Dutch artist Rembrandt Harmenszoon van Rijn which can be identified to a particular period in his career by the monogram he used.  At the start of his career, he signed his pieces with a simple single letter R and in the following years as his career progressed he used the combined letters RH and then RHL.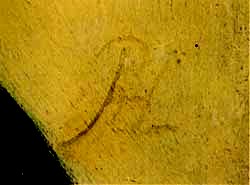 Throughout the years, royalty and other members of the nobility have used monograms to mark their status in society.  Kings and Queens would use monograms to mark their personal property and household items, weaponry and armor, royal banners and coats of arms.
Shown below are several examples of these types of royal monograms: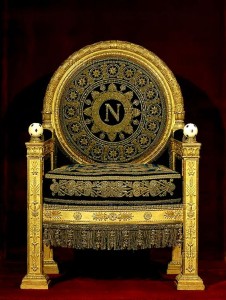 The throne of Napoleon with his royal monogram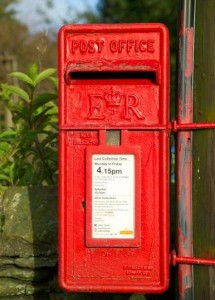 The royal monogram of Queen Elizabeth II (ER II) on a British post box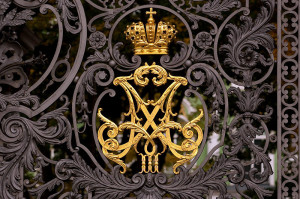 Tsar Alexander III and  Maria Feodorovna royal  monogram on the Hermitage gate in Saint Petersburg, Russia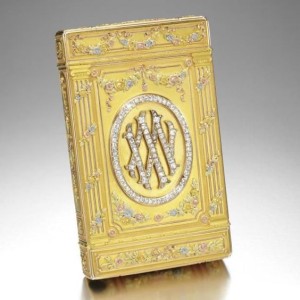 A Fabergé cigarette box that once belonged to Tsar Nicholas II with his royal monogram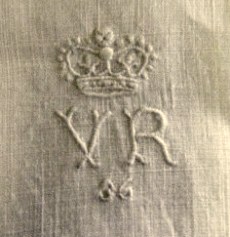 A monogram on a piece of clothing that once belonged to Queen Victoria
In the 18th century monograms were used to mark linens with the owner's initials so as to properly retrieve the items from a laundering service in the larger cities or from a communal wash in the smaller villages.  The monogram was usually embroidered onto the item in white thread but red thread was also used since it was the most common and least expensive dye available, the dark color of the monogram made it easier to quickly identify.  Eventually more elaborate monograms were designed with flourishes and scrolls embroidered in beautiful colors of silver or gold thread used by the upper class.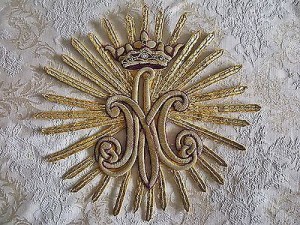 The embroidered goldwork royal monogram of Marie-Antoinette
In the Victorian and Edwardian eras, the more opulent and expensive monograms reflected a higher status, wealth and prosperity of the person.  It seemed that every household item from tablecloths and tableware to bed linens and towels to all variety of clothing could be monogrammed.  Royal wedding souvenirs also gained popularity during this time and items were monogrammed with the initials of the bride and groom, this started a popular trend for weddings which has continued into modern times.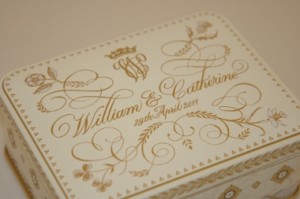 A cake box for the wedding of Prince William and Catherine Middleton with the intertwined initials of W and C
Monograms have also been used effectively by businesses and companies for marketing purposes throughout the years. The British Rolls-Royce Motor Company which manufactures high-quality vehicles is an example.  The Rolls-Royce logo consists of two letter Rs which represent the names of the owners, Charles Rolls and Sir Frederick Royce, who founded the company in 1906.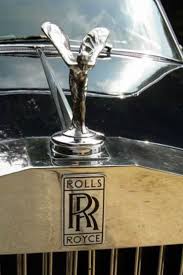 The Rolls-Royce Motor Company logo
Several companies have used a monogram incorporated into their logo and one of the first in the fashion industry was French designer Coco Chanel.  The Chanel logo was created in 1925 and consists of two interlocking and opposing letters C.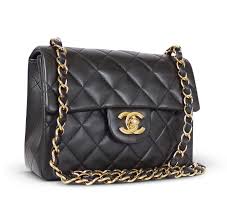 The iconic Coco Chanel logo on her classic handbag
Today, especially in the U.S. southern states, the tradition of monograms continues. Monograms are a great way to customize a variety of items from clothing and accessories to household items such as towels, napkins or bedding.  There are certain rules to keep in mind when purchasing monogrammed items.  In general the most common type is the three-initial monogram consisting of the last name initial placed in a large type at the center of the monogram, flanked by the first and middle initials in a smaller type.
Shown below are examples of monograms used on clothing: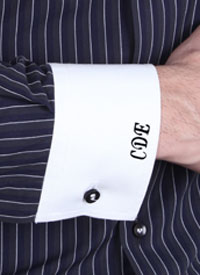 A monogram used on the cuff of a man's dress shirt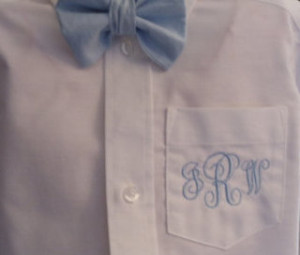 A monogram used on a boy's shirt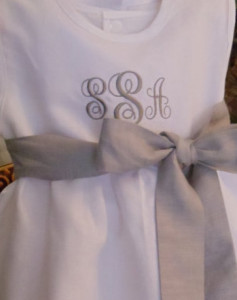 A monogram used on a girl's dress
Shown below are some examples of household items with monograms: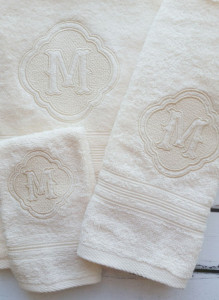 An example of a single initial monogrammed towels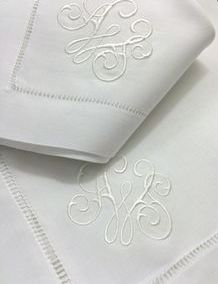 An example of a monogrammed napkin
Monograms are also very popular for weddings and can be incorporated into many items such as invitations, aisle runners, reception, dance floors, wedding cake or perhaps even an antique handkerchief with a blue embroidered initial of the couple's last name for the bride to carry as the "something blue"!  In general, for a monogrammed wedding item the first initial of the couple would be used with the groom's first name located to the left and the bride's first name to the right, the last name initial would be located in the center.  Monograms
Shown below are some examples of monograms used for weddings: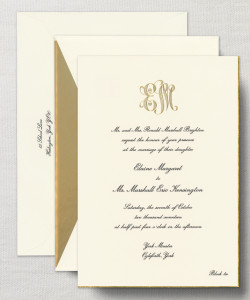 An example of a beautiful monogram on an engraved invitation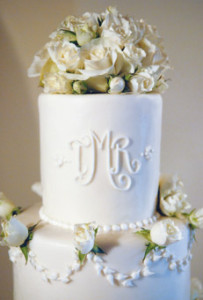 A monogram of the bridal couple can be used on a wedding cake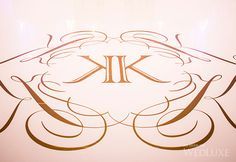 An example of a monogram used on a dance floor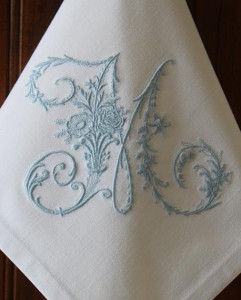 A lovely embroidered handkerchief for "something blue"
Monograms can also be used for baby items or gifts for a christening or a special birthday celebration.  A monogram can be used for a birth announcement, a christening gown or various items of a layette such as a bib, diaper cover or other items of clothing.  A monogram can also be used on a silver spoon or silver baby cup with the child's birth date also engraved on it and would make a very special baby gift.
Shown below are examples of monograms used for baby or christening items or gifts: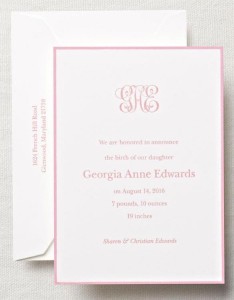 An example of a monogram used for a birth announcement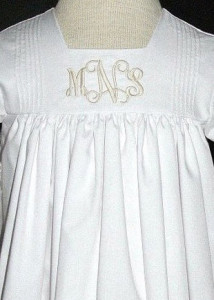 A monogram used on a christening gown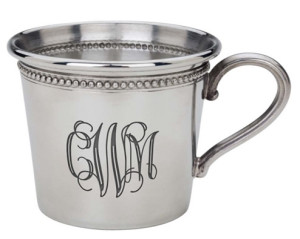 A monogram used on a silver cup makes a lovely baby gift