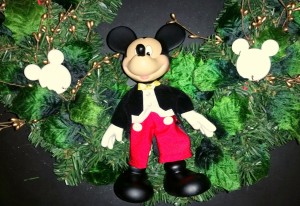 To honor Mickey Mouse's birthday, here is a fun wreath to make for the upcoming Christmas season.  As a collector of Disneyana (a term meaning a wide variety of collectible toys, books, theme-park souvenirs and other items produced and/or licensed by The Walt Disney Company) I have several figurines, stuffed animals, and other collectibles of Mickey Mouse … and so much more!!  (Please click on the link, Disney Memorabilia Collection, for information on how I have displayed these items in our home)
For this craft project I decided to use a porcelain Mickey Mouse figurine that stands about 6 inch tall.  I made two different version of the wreath using different accessory items. Version #1 is simple design using just the Mickey figurine and a few embellishments and version #2 uses the same items but I have added three Mickey Christmas ornaments depicting iconic Disney movies.  Mickey made his official debut in the short film, "Steamboat Willie (1928) which was one of the first sound cartoons and Mickey went on to appear in over 130 films such as "The Band Concert" (1935) and Fantasia (1940).
Mickey Mouse Wreath Supplies
Artificial pine wreath (size is determined by items used)
Wreath accents to create more interest to the plain wreath (for version #1 I added velvet holly leaves and gold berry sprays and for version #2 I also added gold leaves)
1 large Mickey Mouse item (for both versions I used a porcelain figurine, but a stuffed Mickey would also look great!)
A variety of embellishments (I used some Mickey key chains for version #1 and for version #2 I used three Mickey Christmas ornaments)
Wire, used to secure the items
Hot glue gun and glue sticks, used to secure the items
Mickey Mouse Wreath Instructions
Start with a plain artificial pine wreath
Add some accents to the wreath to create interest or add color, attach with hot glue
Place the large Mickey Mouse item in the center of the wreath, attach with wire
Add embellishments to the wreath, attach with wire to secure or hot glue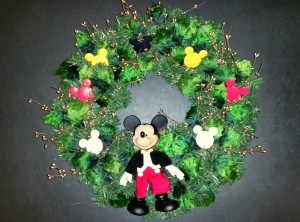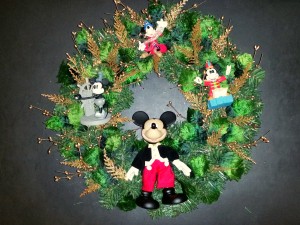 (photo on the left is version #1 and on the left is version #2)
For some other ideas for Disney wreaths, please click on the following links: Christmas Wreath Craft Post featuring the Hallmark ornament series called "Mickey's Holiday Parade" and next month's Disney Wreaths Decor Post and Special Ornaments Wreaths Decor Post.