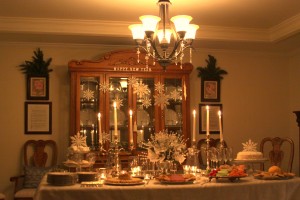 There is something classic about the color combination of silver and white.  These are the perfect colors for our New Year's buffet this holiday season.  Whenever I am shopping in places like Home Goods or antique stores on a weekend trip, I always keep my eye open for beautiful serving pieces to add to my collection of party and special occasion tableware.  I have several silver bowls, silver serving platters and a beautiful silver/mirror cake stand.  I also have several crystal bowls and a lovely clear glass serving platter with frosted snowflakes.   Several of these pieces will be used for the New Year's buffet.
Currently on the dining room table is the Fall Victorian Centerpiece that I made this year for Thanksgiving and it has remained for the Christmas season.  (Please see the November Craft post for photos and instructions)  This centerpiece will be removed for the buffet and I will use a white tablecloth with a simple holly leaf design for the party.  Next I will set out a new floral centerpiece I made of white poinsettias with crystal and pearl accents in a silver bowl and on either side I will use two newly polished silver candelabras with white candles.  For some additional interest to the table, I will hang crystal snowflakes from the dining room chandelier.  To add even more sparkle I will scatter around the table glass tealight holders.  For this party I will be using our Noritake Rothschild china, antique silverware and Italian crystal glasses for an elegant New Year's buffet.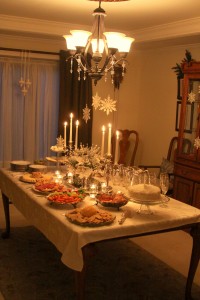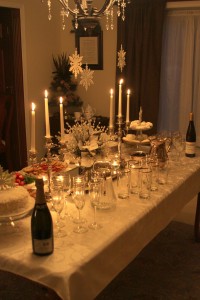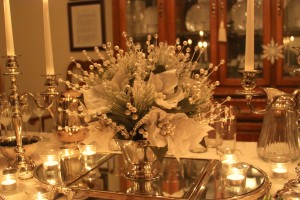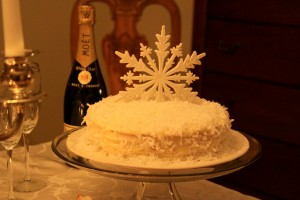 I think these decorations will make a festive party for our friends to ring in the New Year!!