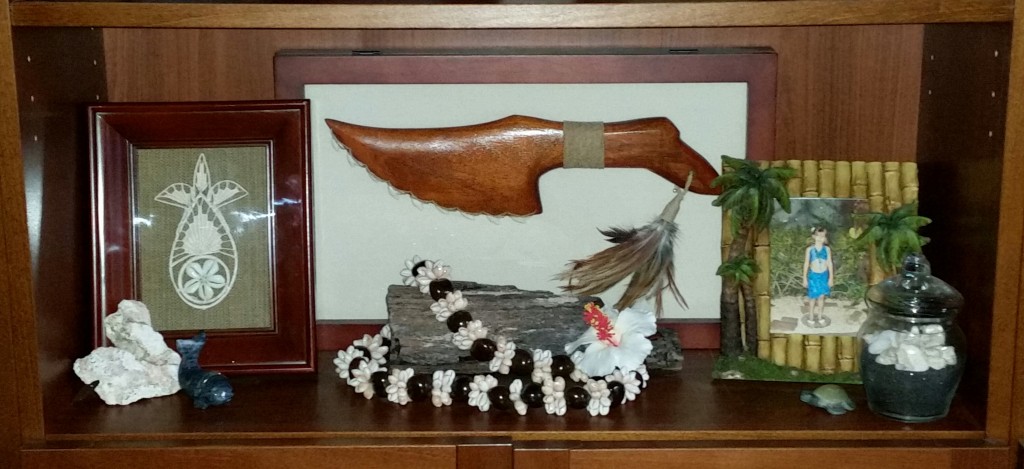 As I mentioned in a previous Décor Post, Displaying Travel Souvenirs, in the library of our home nestled among the books are several items that we have collected over the years during our travels across the United States and other distant places such as Europe and Asia.  I have found that shadowboxes are an excellent way to display these travel souvenirs.
One of the keys to displaying travel souvenirs is thinking about how the items will be framed.  For items that have some depth, I have found that shadowboxes are an excellent way to display those souvenirs.  An example of using a shadowbox for travel memorabilia is the shark tooth weapon that we got at the Polynesian Culture Center in Hawaii.  This wonderful piece of craftsmanship is beautifully displayed in a shadowbox but the real purpose of the frame is to that the sharp edges of the shark teeth are enclosed to prevent anyone from handling this dangerous weapon.  (For more information about the Polynesian Culture Center located on the Hawaiian island of Oahu, please click on the link)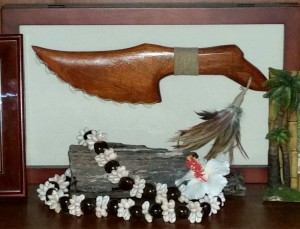 In front of the shadowbox is a piece of driftwood draped with a Hawaiian shell and nut lei.  On the same shelf is a photo of our daughter dressed in her Hawaiian outfit that was taken at the Polynesian Culture Center display in a frame embellished with bamboo and palm trees, also displayed on the shelf is the artificial Hawaiian floral that she is wearing in the photo.  On the other side of the photo is a small glass jar filled with black sand from Hawaii and shells we had gathered from the beach during our trip.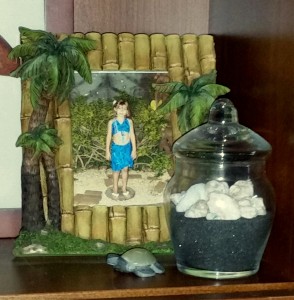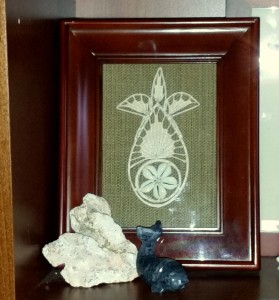 Also displayed on the bookshelf is a small trinket made of seashells and straw that I bought in Honolulu, it was a very inexpensive item but it is given more importance by displaying it in a small shadowbox.  Two more Hawaiian souvenirs are displayed on the wall of our library near the bookcases; they are more framed Hawaiian souvenirs.  The first is a framed sheet music cover of "Aloha Oe" I had purchased at the small gift shop at the Iolani Palace in Honolulu, Hawaii.  This song was written by Princess Lili'uokalani in 1877 and has become synonymous with Hawaii.  The second piece is hung below and is a beautiful print of the Hawaiian Islands (formerly known as the Sandwich Islands) that was purchased at the Polynesian Cultural Center.   Tucked under the framed "Aloha Oe" music cover is an interesting item from one of the demonstrations at the Polynesian Cultural Center, it is an intricately woven palm leaves shaped into a bird.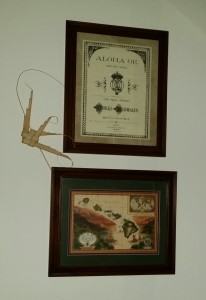 All these items are a wonderful way to remember our fantastic trip to Hawaii and are an example of grouping travel souvenirs that tell the story of a vacation trip.  (For some great travel suggestions on what to see and do in Hawaii, please click on the link)