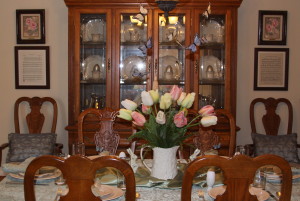 Our Easter dinner is usually a very small gathering, most of our family live in other states, so there a just a few of us at the table.  This year I decide on using soft pastel colors and nature inspired decorations.
First, I set the table by starting with a lovely pale green tablecloth.  Then to bring in some texture and dimension to the table I add a pale green silken fabric that I bought at my local craft store for under $3/yd.  I arrange the fabric into soft gathers and place it in the center of the table; this will keep the table from appearing too "flat".
Next, at each place setting I use a white rimmed dinner and salad plates, silver utensils and silver rimmed beverage glasses. I then place a rolled pale green napkin that match the tablecloth into a white porcelain napkin ring.  To add a nature element, I tucked a small blue butterfly on a wire into the napkin ring and it seems to fly over the place setting for a charming effect.  Finally, to add a touch of Easter to the table, at each place setting I set out a white porcelain egg cup with a white wooden egg.  These eggs will be used for our guests to make Jeweled Easter Eggs decorated with sparkling letters to personalize and crystal or pearl stickers for elegant party favors to take home.  Please check out the Craft post earlier this month for a complete list of supplies and simple instructions.  This is a fun activity to do before dinner!  Another idea is to create some additional ones, store them away with the other Easter decorations and next year display them in a silver bowl with a little bit of Spanish moss in the bottom.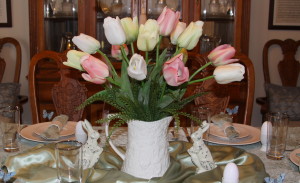 For the table centerpiece, I placed a lovely white pitcher with a simple design of bunnies in the center of the table on top of the pale green silken fabric.  It is filled with pastel tulips in three different colors of tulips – white, pale pink and a very light green.  I think it makes a lovely spring centerpiece.  For this Easter table, I placed white bunnies on either side of the centerpiece to add a festive touch and tucked them into the pale green silken fabric.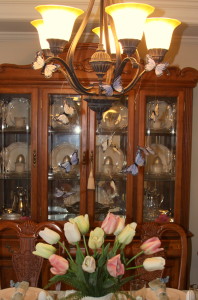 To complete the Easter table decorations, I tied fishing line to the dining room chandelier and hot-glued white and blue butterflies.  This final nature element gives the table an effect that the butterflies appear to be flying over the table.  Our weather outside might still have cool temperatures but it seems like it is spring has finally come into our dining room!
For a description of the additional decorations in our dining room, please check out the Décor post,  Easter Home Decorations.