As a child I remember my Grandmother had a golden bracelet that was filled with charms that represented all of her children, grandchildren and even great-grandchildren.  All the links of the bracelet seemed to be filled and she would only wear it for special occasions, it would make a lovely "jingle" sound as she would move her arm.  My mother also had a similar bracelet but our family was much smaller and there were not quite so many charms.  I also received a golden charm bracelet as a present for my 16th birthday that I still have in my jewelry box.
The popularity of charms is not a new fashion trend and has been around for a very long time.  In fact, the ancient Egyptian Pharaohs, Romans and the Medieval knights all wore charms as decorative pendants and amulets to ward off evil spirits or charms that were worn into battle for good luck or charms that were worn to signify a person's heritage or their religious belief.
As she has influenced so much of our modern traditions, Queen Victoria wore a charm bracelet and started a popular fashion among the European royalty back in the late 1800s.  Sadly when Prince Albert died, the Queen made mourning charms popular and these charms were lockets containing the hair of a deceased loved one or a miniature portrait of the deceased and the bracelets were made of black jet which was a popular gemstone used during the traditional mourning period.
After World War II, charm bracelets became very popular with the American women and their daughters.  The custom of purchasing or receiving charms to mark special events is another lovely tradition.  Movie stars worn them in their films and they were also seen wearing them for photos shoots in the movie magazines and this is the trend that I remember from my childhood.
After my daughter was born I decided that I wanted to start collecting charms for her to remember special events of her life with the hope that it would become a wonderful keepsake for her as she grows older.  I actually started with charms for one bracelet and have now collected so many charms that there are enough for not just one bracelet but several more!
The first one is a traditional charm bracelet with charms that mark my daughter's special events, hobbies or activities.  From left to right: a baby shoe, ballet and tap shoes, a little gymnast, a dog to represent our three rescue dogs, ice skates and a hula dancer for when she took lessons, skis and boots, High School Musical and Hannah Montana charms (I've got to find a One Direction charm!), a little girl praying on her knees for her first communion, a piano with a musical note added to mark her weekly piano lessons and also for her participation in the school choir.  As you can see from the photo shown below, there is a space left for the cheerleader charm that I recently ordered.  I hope that my daughter remembers all the fun things she did while growing up and I think the charm bracelet is also a wonderful way to remember those special events from her childhood.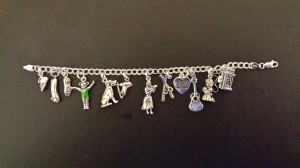 The next collection of charms was bought during our family vacations and trips around the United States that we have taken since my daughter was born.  I also found a great online source to purchase "state" charms to go with the other travel souvenirs, the web site is bluemud.com.  With such a large collection of travel charms there is no way they could all fit on a bracelet, so I have decided to attach them to a necklace that I have recently purchased but I have not got around to attaching the charms yet.  Below are two photos: one of the travel charms and the other the state charms.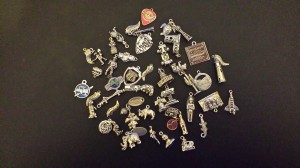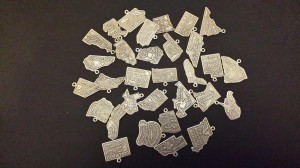 Another collection of charms were bought on our many visits to Disneyland in California and Walt Disney World in Florida.  As many of you know from previous posts, our family loves everything Disney!  In the photo shown below, I have collected quite a number of the Disney charms.  Once again there were so many charms to put on a bracelet, so I will be attaching them to the other necklace that I recently purchased.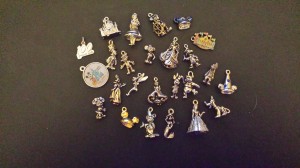 Charms are not just for bracelets and necklaces and here is a story to tell of a great idea I had for an alternative way of displaying them.  When we lived in California, our family tried to visit all of the 21 Missions scattered across the state.  We had a great time exploring most of them during weekend trips or summer vacations and by the time we moved to the Midwest we had only three more to go!!  Each time we visited the Missions I would purchase one of the Mission medals so I had another collection of charms.  I didn't want to display the medals on a bracelet so I came up with another idea.  During one of our visits I had purchased a small poster showing the California Missions.  I framed the poster and then hot glued the medals along the border and left space for the missing medals.  It looks great hanging in our home and next time we visit California we are going to visit the last remaining California Missions to get those missing medals!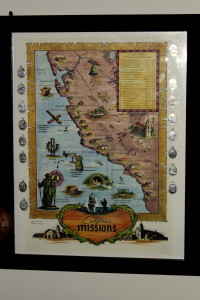 Another idea for using charms that I saw when shopping in a gift store recently was charms attached to rubber and metal "hair ties" which were sold to be used as a "bracelet".  These bracelets were priced at $5 and I thought I could make ones for my daughter for a much lower price.  I found similar rubber and metal hair ties at my local retail store and I used some ocean themed silver charms because we had a planned summer vacation to the North Carolina coast and my daughter loved them when she wore them during the trip.  As you can see from the photo below the bracelets were so easy to make and they look great!!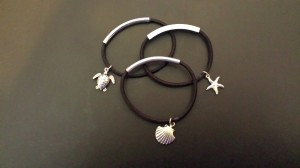 The last collection of charms is unusual and not the traditional metal ones but small resin charms that I found in our local craft store.  As you can see from the photo below, the charms are cute animal characters and my daughter absolutely loves them.  I am not sure if I will put them on a bracelet or a necklace, I haven't decided yet!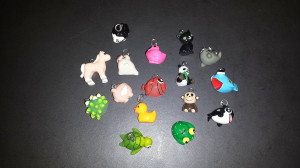 So, in conclusion I hope you enjoy this post about charm bracelets.  If you collect charms, send me a picture because I would love to see your collection.