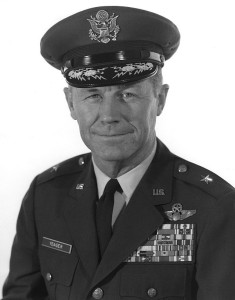 Hello, it's Jeff again!  As those of you who regularly follow Barbara's blog know, she occasionally asks me to write a post for her. Usually about something space related or a biography of someone spacey or science fiction related.  While it is not easy researching and writing these posts I usually agree and I always learn something new about very interesting people. Chuck Yeager is no exception! I'm guessing that most of us have watched the movie "The Right Stuff" which Chuck says is slightly "Hollywoodized" but otherwise pretty good and know that on October 14th, 1947 he became the first person to break the sound barrier, but that is only one feat in an impressive career. Before we get into who Chuck was, take three minutes to watch his historic flight.
"Chuck" Charles Elwood Yeager was born February 23, 1923 in Myra West Virginia to Susie Mae and Albert Hal Yeager.  Myra was an extremely small town where his parents farmed.  When he was 5 he moved to Hamlin, about 7 miles away where his father went to work drilling for natural gas.  In 1929 the population was only about 500 people, but to the young Chuck it seemed like a big city!  The Yeager's were not well off during the best of times and especially during the Great Depression, but they were resourceful and made do with what they had.  His childhood was also marred by tragedy when his two year old sister was accidently killed by his brother Roy when he was four and Chuck and Roy were playing with their father's shotgun.  He spent a lot of time with his grandfather hunting and fishing and gaining a great appreciation for the outdoors. Throughout his youth, Chuck helped maintain the family garden, tended the animals and hunted for wild edible plants, squirrels and rabbits.  Having driven through the area where he grew up in West Virginia many times over the past few years I can see how he would fall in love with the magnificent countryside!  The boys also did a lot of work around the house as their father was often away in the gas fields.
Generally, Chuck was an average student.  He skipped second grade, but had to take 5th grade twice.  He was good at geometry and he was an excellent typist, typing 60 words a minute in high school.  This was quite a feat with the manual typewriters of the time!  He played football and basketball and was quite good at these, but loved pool and ping-pong best.  He was also mechanically inclined and helped his father maintain his gas drilling equipment.  He and his brother also learned to overhaul engines, pumps and other mechanical equipment before he graduated high school in 1941.
After graduating high school, Chuck enlisted in the Army Air Corps as a mechanic.  At the time he was not particularly interested in flying and even if he were, he would not be accepted because he was too young and you needed at least two years of college to qualify.  The entry of the United States into World War II changed all that.  The Air Corps needed more pilots and they dropped the college requirement and reduced the age restriction to 18.  Although his first flying experiences left his stomach somewhat upset he thought becoming a pilot would be fun and "with three stripes he would get out of pulling guard duty."  He was accepted into the Flying Sergeant program in July of 1942.  His 20/10 eyesight, his mechanical aptitude and his ability to stay calm in stressful situations caught the eye of the instructors and he was quickly moved to fighter pilot training.  He received his wings in 1943 and was assigned to the 363rd Fighter Squadron, 357th Fighter Group.
This is the year he met Glennis Dickhouse, the woman who was to become his wife.  As one of the junior officers in the 357th, he and another officer were sent to arrange for some entertainment for the group.  They went to to the local USO office to arrange a dance.  Glennis asked Chuck if he really expected her to arrange a dance for 30 officers in just three hours and he replied "No, you only need to find 29 girls.  I plan on taking you."  After he shipped out to Europe he named all of his planes after her.  They were married in 1945 and remained happily married until her death of ovarian cancer in 1990.
Chuck's distinguished war career is well documented in his official website at www.chuckyeager.com, but here are the highlights:
Stationed at RAF Leiston in 1943 flying P-51 mustangs
Shot down first enemy fighter March 4th, 1943
Shot down over over France on his 8th mission March 5th, 1943
Evaded enemy and escaped through Spain on March 30th
Petitioned and received permission on June 12, 1944 from the Supreme Allied Commander (General Dwight D. Eisenhower to be allowed to return to duty.  "Evaders", pilots who had avoided capture, were prohibited from returning to service because they might compromise the people who helped them escape if caught again.
Became the first pilot to become "ace in a day" by shooting down five enemy aircraft on October 12, 1944.
Flew his last combat mission (#61) on January 15th, 1945.
When he returned to the United States after the war his experience, both flight and mechanical qualified him to be a test pilot.  His skills were such that he was selected by Colonel Albert Boyd, the chief of the Flight Test Division at Wright Field to be a test pilot.  Here is how the Chuck Yeager website describes the selection:
"In June 1947 Colonel Boyd made one of the most important decisions of his career when he chose one of his most junior test pilots to attempt to become the first person to exceed the speed of sound in the rocket-powered Bell XS-1. He chose Yeager because he considered him the best "instinctive" pilot he had ever seen and he had demonstrated an extraordinary capacity to remain calm and focused in stressful situations. The X-1 program certainly promised to be stressful; many experts believed the so-called "sound barrier" was impenetrable. Yeager and the rest of the small Air Force test team met at Muroc in late July."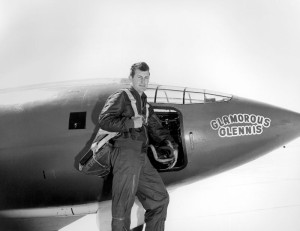 At Edwards Air Force base (Muroc Army Air Field then) his flight and mechanical skills were put to the test.  He made a couple number of test runs reaching almost the speed of sound, but the plane buffeted so much and the controls froze it looked like the naysayers were correct and breaking the sound barrier was truly an impossible task.  To compensate for the complete loss of elevator effectiveness (the ability to control the pitch of the plane) Jack Ridley, the chief engineer and most trusted adviser to Chuck, suggested Chuck control the pitch by use of the movable tail built into the XS-1.  The tactic worked and on October 14, 1947 Chuck Yeager became the first man to break the sound barrier.
Chuck remained in the Air Force on active duty until 1975 and during his career he accomplished many firsts.  These including being the first American to pilot a captured MiG 15, which he promptly declared to be inferior to its American counterpart the F-86 Sabre; commanding numerous squadrons; being commandant of the USAF Aerospace Research Pilot School, which produced astronauts for NASA and the Air Force; and acting as an adviser to Pakistan.  Over his career Chuck piloted most of the military and many civilian planes produced.  He continued acting in an advisory capacity and finally retired from military flight permanently in on October 14, 1997 after flying a F-15D Eagle past Mach one in a celebration of the 50th anniversary of his historic flight.  At the end of his retirement speech he stated "All that I am … I owe to the Air Force".  He broke the sound barrier again on October 14, 2012 on the 65th anniversary as well.  During his career he received 55 medals which were donated to the Smithsonian.  They are currently no longer on display.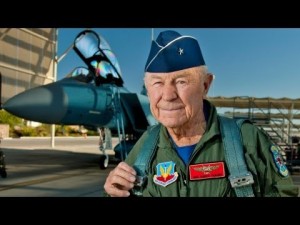 One other thing to note about his service as a test pilot is that he survived an extremely dangerous job.  As I was researching I discovered that in one month 60 test pilots were killed.  That number astounds me!  Finally, the last thing I find interesting about Chuck's career is that he never became an astronaut.  He did receive astronaut wings for flying above the atmosphere in a plane, but he was never one of the astronaut candidates.  It may be that he didn't have the required education, but I think it probably related more to him being a test pilot and I think he felt that the original Mercury astronauts were more test subjects.  The 1983 movie "The Right Stuff", in which Chuck has a cameo role as the bartender, they go into this is some detail.
Chuck's more recent past has been a little turbulent.  In 2000 he met Victoria Scott D'Angelo while hiking near his home.  They started dating and were married in 2003.  This started a dispute with his children as she was 35 years younger than Chuck and they felt she was just after his money.  Chuck says that he realized while his wife was ill with cancer his kids were rarely around and he figured he would end up in an assisted living facility.  He felt he needed to find someone to look after him.  In any case, Victoria is sue happy and had made a handy living suing people prior to meeting Chuck and now that they are married Chuck has become involved in numerous lawsuits, including several against his children.
Taking this last episode aside, it seems like Chuck Yeager is a hard working, dedicated man who has served his country with great distinction.  He is also a shining example of the American Dream, rising from his poor youth to an extremely successful role model.  In many of the biographies I have researched for Barbara I frequently find that the public vision of the person is far removed from the reality, but I think Chuck is a truly great person and I'm glad she asked me to write about him!