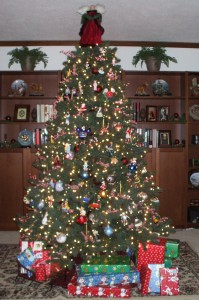 During the Christmas season our home is decorated with several different Christmas trees in various rooms of the house.  The multiple trees started out of necessity because our large ornament collection would just not fit on just one Christmas tree!  It was also a good decorative decision to have more than one tree to display our different themed ornament collections on separate trees to fully see and appreciate each collection properly.
Our main Christmas tree is very traditional in design and we use a large seven foot pre-lite Christmas tree that we purchased several years ago at Costco.  My husband used to struggle for hours untangling and putting the lights on the tree and now the set-up time is so much quicker and easier.
After my husband brings the Christmas ornament storage boxes up from the basement, my daughter and I love to spend the time unwrapping and admiring the beautiful ornaments and thinking about the special memories that each ornament represents before finding the perfect spot to hang them on the tree.  We usually play some festive Christmas music or watch a Christmas movie while we are decorating the tree.
To start the decorating process and before any ornaments are hung, I use large red berry sprays inserted into each tree branch to give added fullness.  Next, I hang inexpensive solid red glass ball ornaments on the inside branches of the tree to fill more space.  The berry sprays and red ornaments help to unify the tree design and the red color looks amazing with the green of the tree.
Now we start hanging the Hallmark ornaments from our large collection, the ornaments collected on our family trips to Disneyland and Walt Disney World and the ornaments purchased as fun inexpensive souvenirs on our family vacations.  My children have even more special ornaments to hang on the tree that remind them of their different sport or school activities throughout the years, like Boy Scouts, gymnastics, swim lessons and ice skating or snow skiing.  We have even bought ornaments to remember an extra special Halloween costume.
To complete the tree, we use a beautiful porcelain angel dressed in a burgundy velvet fur trimmed dress and white feather wings.  We've had this special angel since my daughter was born and it is my husband's honor to place it on the tree top every year.
When our ornament collection grew to such a large size and it included various themed ornament series, I decided that we needed multiple trees to see and appreciate each collection separately.  We now decorate several small Christmas trees throughout the house.  My husband has his Star Trek tree on the wooden file cabinet in his office.  My son has his Star Wars tree on a pedestal in his bedroom.  My daughter has her Barbie tree (some years it is her collection of Disney princess ornaments) on the desk in her bedroom.  In the kitchen, I have small tree decorated with gingerbread and candy ornaments.  In past years I have decorated and displayed Disney and Boyd's Bears themed Christmas trees.
There are also other Christmas trees in various rooms of the house that are part of several different displays.  In the entry way on a wooden bench is a Santa in a beautiful white embroidered cloak with two elves.  There is one tree on the fireplace hearth with an old fashioned Santa dressed in lovely red velvet cloak with two reindeer.  In the dining room on the chest of drawers is a porcelain dark-haired doll dressed in a red wool coat, hat and black fur muff and displayed with a reindeer and a wooden sled.  Even in the bathroom there is woodland small Santa dressed in a corduroy coat and fishing box and this year I will be adding several small forest animals.