Doris Day … she was one of the "it" girls of the 1950s and 1960s.  She was an entertainment triple threat meaning that she could sing, dance and act.  Doris started her career as a singer with a big band in the early 1940s, later she went to Hollywood where she made many romantic comedies in which she also sang and danced.  Doris also received critical acclaim in several dramatic films.  When her movie career was coming to an end, she starred in a television series in the late 1960s.  Currently, Doris is enjoying her retirement in Northern California and she is an earnest animal activist.
Doris Day was born Doris Kappelhoff on April 3, 1922 (possibly 1923) in Cincinnati, Ohio.  Her mother and father were Frederick Kappelhof, a music teacher, and Alma Welz who both came from German immigrant parents.  Doris had two older brothers named Richard, (who died before she was born) and Paul.  Her parents eventually separated and this did not stop Doris from pursuing her interest in dance but unfortunately a car accident in 1937 caused her legs to be seriously injured and ended her dreams as a professional dancer.
While recovering from her injuries, Doris spent her many idle hours at home listening to the big band music on the radio and she soon discovered she had a talent for singing.  Her mother quickly hired a music teacher, remember her parents were separated at this time, and after eight months of lessons Doris took her first professional job as a vocalist on a local radio program.  Shortly after her first radio performance, Doris was invited to audition as a singer for Barney Rapp's small band.  He suggested that she change her professional name to the easier sounding Doris Day.  Eventually, Doris went onto work for several famous bandleaders such Bob Crosby and Les Brown.  It was while Doris was with the Les Brown Band that she recorded a hit song with the group called "Sentimental Journey" which was released in 1945.  Her professional singing career was taking off and she quickly recorded six more Top Ten hits before she left the Les Brown Band in 1946, at the time she was the highest paid female band vocalist.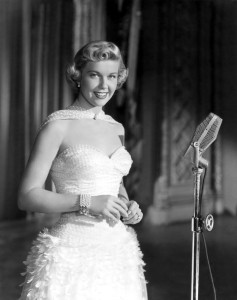 Touring almost continuously and also performing on Bob Hope's weekly radio program with the Les Brown Band gave her maximum exposure that allowed Doris the opportunity to showcase her singing talent which ultimately lead to her first starring role in a motion picture.  The story goes that while she was in Hollywood, her agent arranged for her to attend a party at the home of composer Jule Styne.  As was sometimes customary at Hollywood parties, Doris was invited to sing and her rendition of "Embraceable You" impressed not only Styne but also his partner Sammy Cahn and they recommended her for a role in a Warner Brothers film called "Romance on the High Seas.  Over the next few years she had roles in several musical films, such as "On Moonlight Bay" and its sequel "By the Light of the Silvery Moon".  In 1953, Doris starred in the film musical, "Calamity Jane" which won the Academy Award for Best Original Song for "Secret Love".  In 1954, under the advice of her third husband Martin Melcher, Doris did not renew her film contract with Warner Brothers.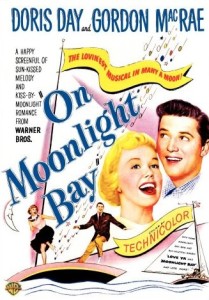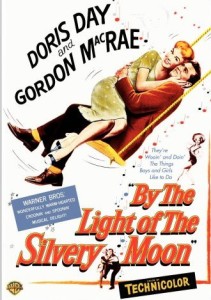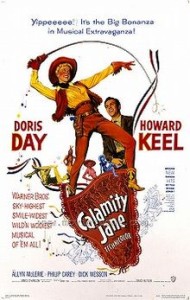 Now under the management of Melcher, Doris took on some more challenging parts in her movies.  Her first dramatic role was in the 1955 movie, "Love Me or Leave Me, in which she co-starred with James Cagney and many people in the industry were surprised when she did not receive an Oscar nomination for her portrayal of singer Ruth Etting.  Next she went on to work for Alfred Hitchcock in the 1956 film, "The Man Who Knew Too Much" with James Stewart.  One of the songs from the movie, "Que Sera, Sera" (Whatever Will Be, Will Be) won an Academy Award for Best Original Song.
In 1959, Doris' career once again changed directions and she left the darker dramatic roles and took on parts in lighter romantic comedies.  The 1959 movie, "Pillow Talk" had her co-starring with Rock Hudson and Tony Randall; she was nominated for an Academy Award for Best Actress but did not win.  Later Doris went on to film two more movies with Hudson and Randall, the 1961 "Lover Come Back" and the 1964 "Send Me No Flowers".  In 1960, she took on her last dramatic role in the 1960 mystery-thriller film, "Midnight Lace" co-starring with Rex Harrison.  Then, she returned to the popular romantic comedy roles with the 1962 film "That Touch of Mink" co-starring with Cary Grant and two movies with James Garner that were both released in 1963, "The Thrill of It All" and "Move Over, Darling".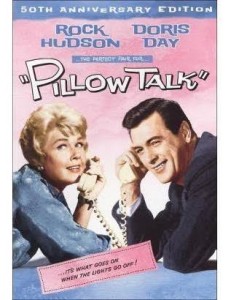 By the end of the 1960s the romantic comedy genre was not as popular with movie audiences.  The 1966 film, "The Glass Bottom Boat" proved to be a box office failure.  Then in 1967, Doris turned down a part of Mrs. Robinson in "The Graduate" movie because she felt the script's sexual situations were offensive.  She made a few more films and in 1968 her final movie role in "With Six You Get Eggroll" was released.  Doris had made 39 films during her movie career and she was one of the world's biggest movie stars.
During the time Doris was making movies in Hollywood she also continued recording music.  From the period of 1945 to 1967, Doris was one of the nation's most popular and accomplished singers.  Starting in 1945, with the Les Brown Band, Doris had several songs in the Top Ten including "Sentimental Journey".  "Secret Love" from the movie "Calamity Jane" was her first big solo record that hit number one on the charts in 1953 and "Que Sera, Sera (Whatever Will Be, Will Be) in 1956 hit number 2.
With the end of her film career virtually coming to a close in the late 1960s, Doris branched out into television.  The story goes that after her manager and third husband, Martin Melcher, died suddenly in 1968 and she found out that he and his business partner Jerome Rosenthal had embezzled almost all of Doris' earnings leaving her on the verge of bankruptcy.  Melcher had also committed her to doing a television series and Doris was unhappy about the thought because at the time it would have been considered a backward step down for a popular movie star.  Unfortunately she was contractually obligated to precede with the television series, it ran on CBS from September 1968 until March 1973 for five seasons and 128 episodes.  Meanwhile, Doris filed a lawsuit against Rosenthal and eventually won settlement of $20 million dollars, the largest civil judgement case in the state of California at the time, but she later settled the case for about $6 million.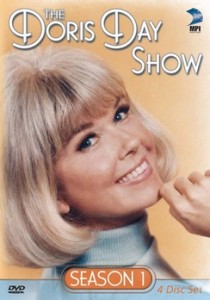 Doris received several awards in the years that followed; she received the Cecil B. DeMile Award for Lifetime Achievement Film in 1989.  In 2004, she was awarded the Presidential Medal of Freedom for her achievement not only in the entertainment industry but also for her work as an animal activist but she did not attend the ceremony due to her fear of flying.  In 2008, she was offered a special tribute from the American Film Institute and also a Kennedy Center Honors tribute but she declined both.  She received Grammy Hall of Fame Awards for her three of her most popular records; in 1998 for "Sentimental Journey", in 1999 for "Secret Love" and recently in 2012 for "Que Sera, Sera".  In 2008, she received a Grammy for Lifetime Achievement in Music but once again she did not attend the ceremony.
After leaving Los Angeles, Doris retired from show business to live in the beautiful city of Carmel, California.  She always had an interest in animals and now she reignited her commitment to animal welfare by co-founding the organization, Actors and Others for Animals in 1971.  A few years later, Doris started her non-profit organization, the Doris Day Animal Foundation which later partnered with the Humane Society of the United States.  Doris lives quietly in Carmel, she owns the Cypress Inn in town, and she enjoys her life with her adopted stray animals.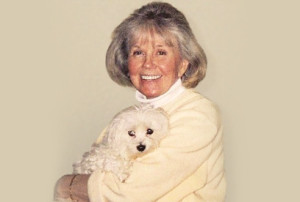 In regards to Doris Day's personal life, she published her autobiography, "Doris Day: Her Own Story" co-written with A.E. Hotchner in 1975.  In the book, she wrote about her early childhood in Ohio, touring with the Big Bands and later making movies in Hollywood.  She also wrote about her three marriages, she later married for a fourth time.
Her first husband, Al Jorden, was a trombonist and they were married from 1941 to 1943.  They had one child, a boy named Terrence or better known as "Terry" in 1942.  The short marriage was a volatile one and Jorden was said to have been physically abusive, they divorced and Jorden later committed suicide in 1967.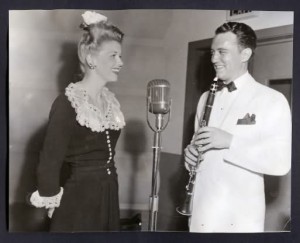 Her second husband, George Weidler, was a saxophonist and they were married from 1946 to 1949.  He is responsible for introducing her to Christian Science.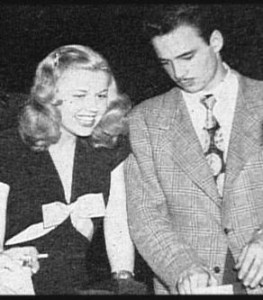 Her third husband was Martin Melcher, who went on to manage Doris' career and produce several of her movies, and they were married from 1951 until his death in 1968.  During that time Melcher adopted Doris' son, Terry.  Terry went on to be a successful musician and record producer but sadly he died in 2004 from melanoma.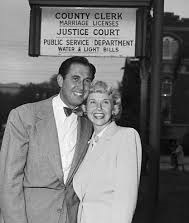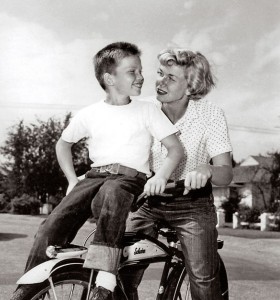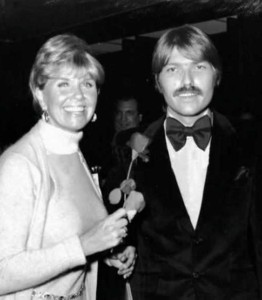 Her fourth husband was Barry Comden, a businessman and restaurateur, and they were married from 1976 to 1981, Comden later died in 2009.