Altered or repurposed artwork is very popular right now ranging from repurposed jewelry made into decorative frames and bridal bouquets to utensils made into jewelry to altered books and clocks made into decorative items. An altered item by definition is a form of mixed media artwork that changes an item from its original form giving it a new and decorative appearance.
Whenever I am looking for inspiration for craft projects I always search the internet and Pinterest is a great source for looking for inspiration on a variety of items.  In this post I will focus on one of the most popular repurposed items – the altered clock.  For this craft project I will take a simple table clock (which I purchased on sale at my local craft store) and make it into a lovely decorative item for my office bookshelf by using some inexpensive materials that I already had in my craft closet.
Altered Clock  – supplies
Table clock
Sturdy cardboard
Scrapbook paper for background
Small flowers, ferns and other floral items
Decorative item (I used an artificial butterfly)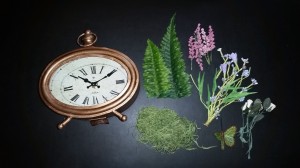 Altered Clock – instructions
Disassemble the table clock, separate the clock from the frame but leave the glass in place.
Since a new frame backing was needed after the removal of the clock, I used the clock as a template and I cut a new backing using a sturdy piece of cardboard.
Next, I cut a piece of scrapbook paper again using the clock backing as a template; I glued this to the cardboard piece.
Then, cutting the fern to fit the clock frame, I arrange three pieces and glued them to the scrapbook paper.
To finish the arrangement, I glued a small butterfly in the center (as shown in the photo above)
Next, before setting the floral arrangement and cardboard piece back into the clock frame, I added a small amount of Spanish moss to the bottom portion of the interior of the clock frame (as shown in the photo below)
(Special Note: The clock that I used had a foam piece in the back which created a space between the glass and backing that allowed room for the floral arrangement which is an important point to keep in mind when selecting a clock for the craft project)
Shown below is a photo of the altered clock before the alterations
and after 

as it sits on the bookshelf in my home office.