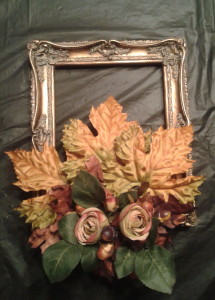 While out shopping in one of my local craft stores I saw these great framed floral decorations but I was shocked by the retail price, it was $29.99 (are they crazy?).  So, I thought I can make a nicer one at a fraction of the price!  (The photo above is the one I made!)  I went back home to search in my floral supply box and I found some extra flowers from a previous fall project.  I also found two wonderful frames that were perfect to use, I had picked them up in the clearance aisle of my local craft last year for $4 each, they were a little more ornate than the store-bought inspiration piece but I actually like them better.  The only thing I needed to get started on this project was a small floral foam, I found one for $2.50 and was able to cut it in half to make two framed floral decorations.
So, if you are keeping track of my cost for this project, it totals out to $10.50.  Divided by the two framed floral decorations it was $5.25 for each one.  Now, that is much better price than the original ones I saw at the craft store!!  To make your own framed floral decorations, please see the supply list and easy instructions found below.
Framed Floral Decoration – supplies for one
1 frame, any size (the frame's glass and backing are not used for this project)
1 floral foam, size it determined by the size of the frame
Floral tape
Flowers, number of flowers needed is determined by the size of the frame
Hot glue gun and hot glue sticks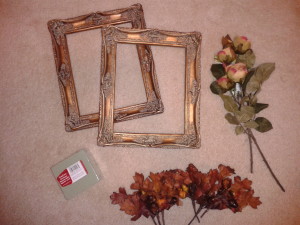 Framed Floral Decoration – instructions for one
1.  Select a frame to use, remove the frame's glass or picture backing, you will not need them for this craft project.  Frames can be any size with an opening from a smaller size of 5 X 7" to a larger 10 X 13".  (I am using frames with a 5 X 7" opening)
2.  Use a piece of floral foam and cut a notch to fit on the frame.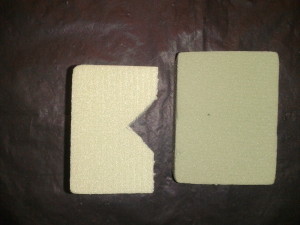 3.  Then using floral tape, secure the foam to the frame.  (Originally I was going to hot glue the foam directly to the frame, but I decided to use floral tape instead because I didn't want to harm the frame in case I wanted to recycle it for another project!)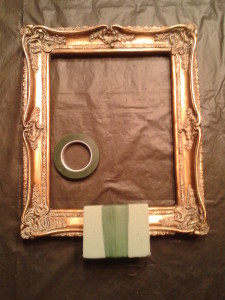 4.  Hot glue Spanish moss or shredded grass to cover the foam.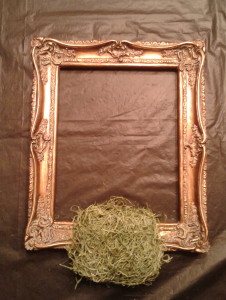 5.  Insert flowers and other decorations into the floral foam.  Be sure that the back of the arrangement is relatively flat because this side will be going against the wall when it is hung.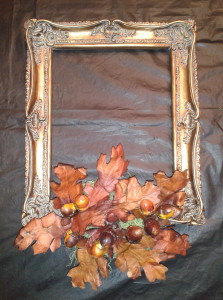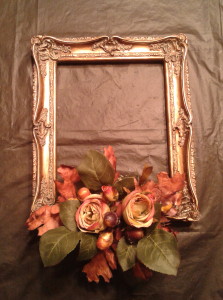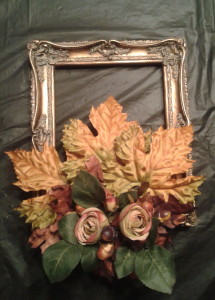 The final photo shows the framed floral decorations that I created for the upcoming Fall season  and I think they look great!  As you can see from the difference of the second photo and the final photo, I decided to add some large fall leaves that I had in my floral box. I think it gives the framed floral decoration a little more "presence" and the pair look wonderful hanging on our dining room wall.  This craft idea can be used for any season throughout the year, just use flowers or decorations that are appropriate for the particular holiday.