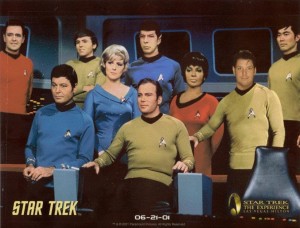 As the first guest writer on Barbara's Lifestyle Blog I have some pretty big shoes to fill.  I think Barbara chose this time to have a guest writer on this specific topic because she admits she knows nothing about Star Trek and over the years I have forced her to watch all the Star Trek television shows and movies and to attend exhibitions shows over the last few decades.
For those of you who don't know me, yes, I am a Trekkie!  (That's me in the above photo – the second guy from the right in the gold uniform!)    I have been watching the show since I got control of the television remote many years ago, longer than I'm willing to admit to!  I can tell you the plot of any of the original series episodes within 30 seconds of seeing it and I'm proud of it!  Every year Barbara makes me my own mini Christmas tree completely decorated with Star Trek ornaments.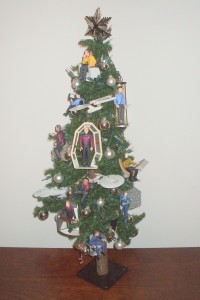 Why am I rambling on about Star Trek?  Because today is Gene Roddenberry's birthday and he is the father of Star Trek.  Gene Roddenberry was born in El Paso, Texas on August 19, 1921 and he died October 24, 1991.  Growing up Gene wanted to be a police officer like his father.  He attended Los Angeles College and studied Police Sciences. There he gained an interest in aeronautics and earned his pilot's license through the Army Air Corps Civilian Pilot training program.  In 1941 he graduated and enlisted as a pilot in the newly formed Army Air Force.  During World War II he flew 89 combat missions in the South Pacific.  During this time he also started writing.
After the war Gene went to work as a pilot for Pan American World Airways.  His interest in writing continued and in 1949 he quit the airline to go to Hollywood to be a screenwriter. To support his family while building his writing career he joined the Los Angeles Police Department where he eventually rose to the rank of sergeant and and became William H. Parker's chief speech writer.
In 1956 his writing career gained steam and he was able to quit the LAPD.  Over the next several years he wrote episodes for several series including "Have Gun – Will Travel" and "Highway Patrol".  Ultimately he started to produce his own television series.  Star Trek was picked up by Desilu Studios and was aired on NBC starting in 1966.  The original series lasted for three years, but reruns can still be found on late night television in syndication.
Gene Roddenberry Interesting Facts
His full name was Eugene Wesley Roddenberry.
He was the first member of his family to achieve a college degree.
He achieved the rank of Captain and was awarded the Distinguished Flying Cross and Air Medals.
Wrote under the pseudonym "Robert Wesley" in his early career.
He had affairs with both Nichelle Nichols and Majel Barrett who he later married.
He was the first writer/producer to be honored with a star on the Hollywood Walk of Fame.
In 1992, a portion of Roddenberry's ashes flew and returned to earth on the Space Shuttle Columbia mission STS-52.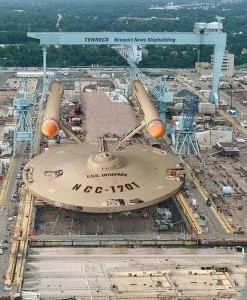 Star Trek
Space…the final frontier.
These are the voyages of the Starship Enterprise,
its five-year mission
….to explore strange new worlds
…to seek out new life and new civilizations
…to boldly go where no man has gone before.
Gene Roddenberry (August 10, 1966)
Star Trek is by far the most successful franchise Gene Roddenberry created.  While he had little to do with some of the later series and movies his name recognition is so great he is always given creator, writer or producer credit.  The franchise to date includes: Star Trek, Star Trek: The Next Generation, Star Trek: Deep Space 9; Star Trek: Voyager, Enterprise, Star Trek: The Animated Series, 13 movies, hundreds of books and Star Trek: Comic Books.
Over the years there have also been a couple of Star Trek events I have participated in. The first was Star Trek: The Experience  which ran at the Las Vegas Hilton from 1998 to 2008  This was an interactive Star Trek set where you walked through and were attacked by the Borg or Klingons. Quark's (the theme restaurant) had a fun atmosphere and the food was fair.  The gift shop had some amazing props and show artifacts.  I got my Command uniform there (that's the red one from Star Trek: The Next Generation) and a Star Trek Visa Card which unfortunately Bank of America no longer offers.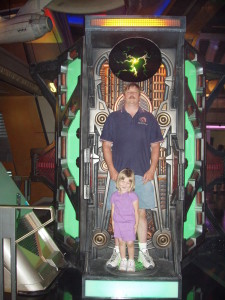 We also went to see a Star Trek exhibit in Philadelphia in 2009 while we were taking one of our summer road trips.  They had various uniforms, props and a full bridge where we took some photos  (I wish I had dressed a little less casual…)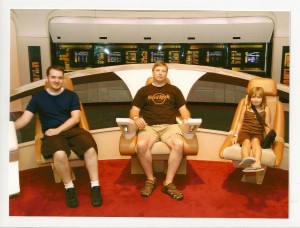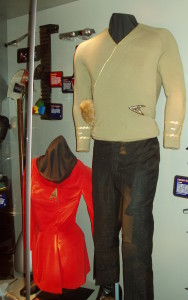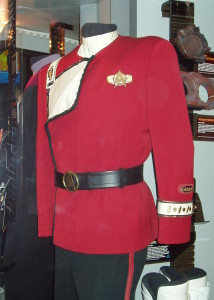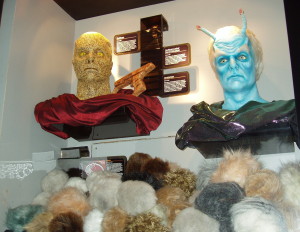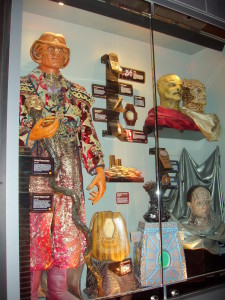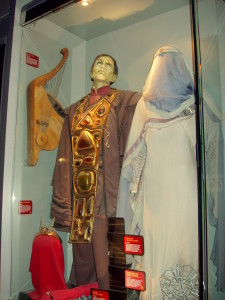 Social themes in Star Trek
While Gene Roddenberry was far from perfect (he had several extramarital affairs, he is said to have stolen other's ideas and reportedly had actors call him "Master"), he was a visionary and extremely socially conscious.  He constantly fought NBC on social issues such as woman's rights and racial equality.  Originally he cast Majel Barrett as "Number One", captian Pike's first officer, but NBC didn't think the public would accept a woman in a position of authority.
He also cast Nichelle Nichols in an equal role (not as a servant or entertainer of some kind).  When the network wouldn't hire her as a full time cast member he hired her as a day player and cast her in as many roles as the rest of the crew.  Nichelle wanted to leave the show after the first season, but Dr. Martin Luther King asked her to remain on as she was a role model for African Americans.  Remaining on the show lead to the first interracial kiss on TV in the 1968 episode "Plato's Stepchildren".
Star Trek Trivia
Star Trek technology is alive and real today.  Key examples are:

3 1/2 inch floppy disks
Tablet computers
Flip Phones (communicators)
Video conferencing
Flat Screen Television

Amazon has 56,777 Star Trek items for sale
The original name for Star Trek was "Wagon Train to the Stars"
DeForest Kelly was originally offered the role of Spock
James Doohan lost his middle finger on his right hand during World War II.  He hid it during almost all of the episodes.
Spock's mother was unable to make the Live Long and Prosper sign with her hand. She had to pre-position her hand and lift it.
Majel Barrett played in the original Star Trek, Star Trek: The Next Generation, Star Trek: Deep Space Nine and several of the Star Trek movies. She provided several of the voices in the animated series and she was the voice of the computer on most of the series and movies.
Contrary to popular belief, I was only aboard the Enterprise for a short time.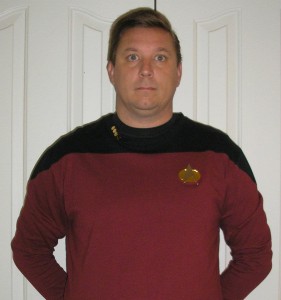 I hope you enjoyed reading this guest post as much as I enjoyed writing it.  If you did, please leave some wonderful comments so Barbara will let me write another!
Jeff Jones